Details

Published on Monday, 23 September 2013 23:16
Elite Men's World ITT Championship
Montecatina Terme to Firenze, 57.9km
Well after calling the 1-2-3-4-5 in the TTT on Sunday and landing two places on my 8/1 each way recommendations on Sky and Orica Green-Edge, it's time for the Individual Time Trial, one that looks like it will be a cracker this year.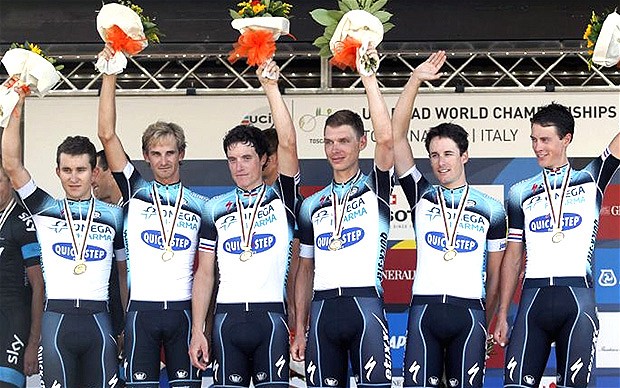 It was the tightest of marigins that Omega Pharma Quick-Step won by on Sunday, ironically the 0.8 seconds they won by was the same margin they lost to OGE in the Tour de France Team Time Trial. OGE actually led at the 3rd intermediate checkpoint, but Tony Martin's power in the closing kilometres saw the victory swing OPQS's way. Sky did a stonking ride as I thought they would to finish in 3rd, and I also even called that BMC would be just outside the top 3, with Radioshack Leopard next, they finished 4th and 5th. Full results of the Men's World Team Time Trial Championships are here.
The course is the same as for the Team Time Trial so Martin and Cancellara will have the slight advantage over Wiggins in that they have already raced hard over the course. It is flat and fast and as we saw Sunday is perfect for Tony Martin.
Contenders and Favourites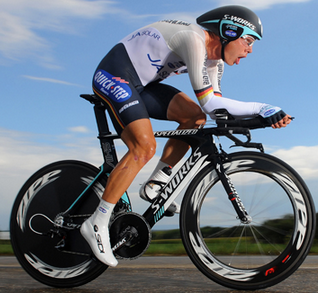 Tony Martin has been installed as the favourite for the race and has hovered around even money for the last week or so, with no real move one way or the other following his victory in the TTT. There is some 11/10 available and even though he let me down in the TDF when backing him at a short price, I still think he will win it. He more or less pulled that team to the line single handedly in the last kilometers with his extraordinary power pulling back the lead that OGE had claimed at the final Checkpoint. This is clearly a course for him and he is going to be very hard to beat in his search for three in a row. Last year's course was 11km less than this and I think the further the race, the better for Martin. He won by 5" from an inspired ride by Taylor Phinney, who was in fantastic form coming off the 4th place rides in the Olympics road and TT race. After Phinney, the nearest rider was Kiryienka, almost 1'45" behind Martin!
Bradley Wiggins silenced any doubters about his fitness with victory in the Tour of Britain, and his TT ride in it (and the recent Tour de Pologne) was super impressive. He held nothing back and really went for it, and he well and truly crushed the field. He hasn't had a good year, but this has been his plan ever since falling out of the Giro. He has shortened a lot in the betting in the last week, coming in from 3/1 to best priced 6/4 now, to almost make him joint favourite with Martin.
He clearly has got the power and drive back, but I think when it comes to it, Martin will still have a slight edge. He has practiced on the course Sunday. He knows what it takes to win on it. He will have been in Italy for almost a week more than Wiggins who had to curtail TOB celebrations to get to Toscana. I think it will be very close, but I am taking Martin to shade it from Wiggins and have backed him at 11/10.
What about Cancellara? Well, yes, normally you would have to have him right up there with Wiggins and Martin as co favourites, but not this year. The word on the street (and I heard it again directly from someone at the Tour Of Britain Sunday) is that he is completely focused on the Road Race and is not as bothered as he should be about the TT. More on the Road Race soon, but the course for that, together with his 'training' in the Vuelta suggests he has a really good shot at it and he knows it. For that reason I am not backing Fab nether win nor place (but have included him in a double for the Road Race with Martin for the ITT which pays 7/2).
I would like to have picked Taylor Phinney each way for the 3rd spot, but once again we have a shocking display from the bookies. Of the bookies that are offering each way betting, they are only paying out on the first two. Even though the rest of the field are all racing for a 3rd spot and a bronze medal, the bookies don't care, they are not interested in the business - two riders prices make up over 87% of the book, how can you back them each way? Pathetic. I guess that's the problem when they get spanked by good tipping, they shut up shop and run a mile.
And just to show how rubbish their collective offer is on the race, Bet365, one of only two with a 'Top 3' market, are paying out 9/10 on Phinney to place in the top 3, even though he is 16/1 to win. I will try to get 6/4 or so on Betfair when the liquidity picks up nearer the off, but I am also tempted to lay Cancellara for the top 3 at 4/7 or so..
Match Bets of Interest:
Denis Vs Dowsett @ 4/6 (Dowsett didn't seem to have recovered so well from his sickness judging on his poor TT (for him 5th was poor!) so I think he is worth taking on with the very talented Rohann Denis.
Chavanel Vs Kwiatkowski @ 1/2 (Chava should have too much for Kwiatkowski, his young team-mate)
Jungels Vs Tamouridis @ 4/11 (Jungels is a supremely talented 20 year old and will be a star of the future. Current National Road and TT Champion (ok, I know it's only Luxembourg but..) and winner of a TT at the Frankfurt Rundfahrt and Niedersachsen-Rundfahrt. Tamouridis is also dual national Greek Champion, but hasn't done much else this year. And with the news today that Alonso has pulled out of the Euskaltel-Euskadi deal his head probably won't be in the right place..)
Phinney Vs Cancellara @ 6/5 (well this is a bit better than backing him at 9/10 for the top 3 when you consider that if he gets on the top 3 he probably has beaten Cancellara.. only taking this price for the purpose of a match bet accumulator)
The first three in a treble is a solid 5/2 bet, add in Phinney in a 4-fold and it pays 13/2
Course Map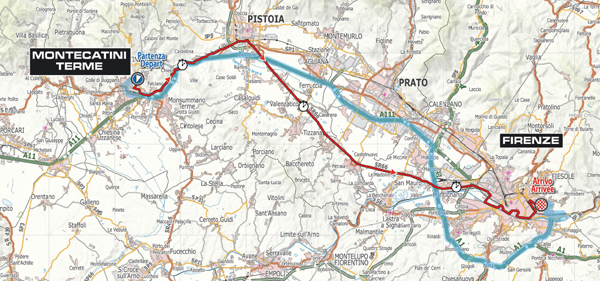 Course Profile