Details

Published on Tuesday, 27 August 2013 21:20
Vuelta Stage 5 Preview
Stage 5 - Sober to Lago de Sanabria 168.4km
Two days after I picked him to win stage 2 Daniel Moreno only goes and wins today's stage in superb style skipping away from the pack in the last kilometer and hanging on from an impressive looking Fabian Cancellara who took second.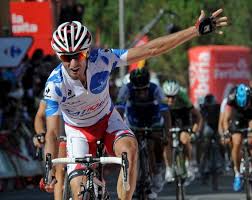 The race was blown apart going up the Mirador de Ézaro as expeced with the sections at 20-30% causing carnage. About 50 got over the top together though and with the peloton easing just a little against the headwind in the last 30km most seemed to get back on. Little attacks went, with LL Sanchez involved in one, as I expected he would, but they were never let get too far away and were caught before the final ramp to the finish.
My selection Farrar seemed to be in the peloton, as Kirby and Kelly discussed a question I sent in and debated whether he was going to be involved at the finish.. well I say they debated my question, but I actually asked did they know whether Farrar had got back in or not, a question they didn't answer! Seeing as they are sat in a studio in Feltham they probably only know as much as you or me watching it on TV! As it turned out it looks like he had not got back in after getting dropped on the Mirador, as he rolled in 14" down.
My other main bets though fared better, Michael Matthews was indeed good enough to land my top 3 bets at 4/1 average and my lay bet on Gilbert at 7/4 also landed as he was not involved at the finish. I hope I put some of you off backing Meersman too though as he finished outside the places (albeit just - in fourth place!). Edvald Boasson-Hagen looked good for a place in the last 300m but got passed in the shadow of the finish line and finished 6th.
Stage 5 has been described by the organisers as a day for the sprinters but it looks to me like a day for a possible breakaway winner. The route still has over 2000m of climbing along the way so the sprinters team's will have a hard job controlling things if they want it to finish in a gallop. The bookies are pricing it up as a likely sprint finish too with Farrar the 9/2 favourite. Trying to pick the breakaway candidates that are likely to go on the first climb up to the Cat 3 Alto do Covelo is nearly impossible though with 196 riders still in the race and a lot of Spanish riders who will be looking to get up the road.
The likes of Flecha (80/1), Verdugo, Losada, Vicioso and other riders like Hoogerland (200/1), Ratto (150/1), who was 9th in this year's GP Miguel Indurain, and a rider I like a lot Adam Hansen (80/1 on betfair, no bookie offering a price right now) could all be in the mix. Problem is there are only odds available on those I have shown here so as hard as it is to pick a winner, it's hard also to get a bet on them! I will try to get bigger prices on Hansen, Ratto and Hoogerland just for an interest, but the chances are that it will come down to a sprint as the sprinters team's need to grab every little opportunity they have in this race, there are few chances for glory this year.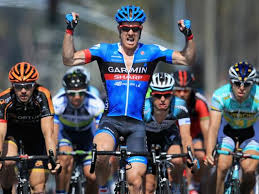 I picked Farrar for today, that didn't work out, but I am going to stick with him tomorrow. He has been in very good form this year, winning a stage in the Tour of California, taking 2nd twice and a good 3rd in stage 3 of the Eneco Tour. Given the lack of decent sprinters in the race he should easily take this sprint if everything falls right for him, which it often hasn't! 11/2 or bigger is a fair price I think, if it wasn't so lumpy he would be 2/1 or less I think. Evens or so is also not a bad price to place in the top 3. Michael Matthews looked very strong today too, beating Meersman, so I would rather be with him again tomorrow too for a top 3 placing - no prices available at the time of writing but I'll try to get matched at 6/4 or better.
Stage 5 Route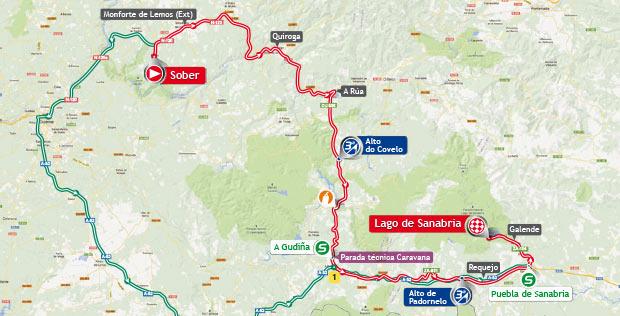 Stage 5 Profile