Details

Published on Thursday, 12 September 2013 23:15
Vuelta Stage 19 Preview
Stage 19 - S. Vicente Barquera to Oviedo.Alto Naranco, 181km
3 seconds. It takes me longer to pronounce Reinardt Janse Van Rensburg's name, yet that is all that now separates Nibali from second placed Chris Horner after yet another dramatic finale on the climb up to Peña Cabarga.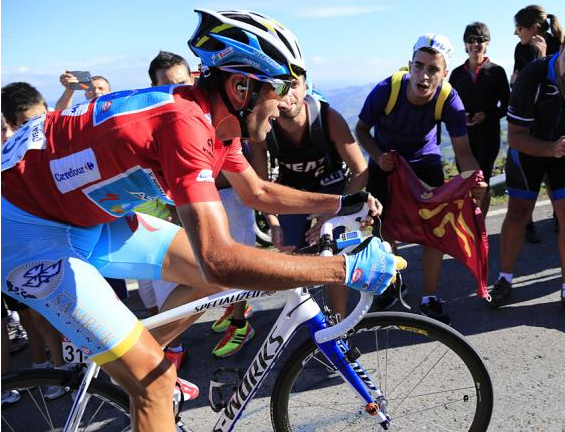 We yet again had a surprise winner in Sky's workhorse Vasily Kiryienka, who got in the break of the day that contained 15 riders and at one point built up a lead of around 10 minutes. The break contained strong men like Hansen and CA Sorensen and climbers like my pick Txurruka. The break split and regrouped a few times over the third and second last climbs before finally Kiryienka skipped away and gradually built the lead up to over a minute. Behind Sorensen and Hansen were joined by Txurruka and a few others and went in pursuit but Kiryi was just too strong and went on to take a superb win to save Sky's Tour.
In the GC group, Movistar had worked hard all day, but as they hit the slopes of the Peña Cabarga with about 4km to go it was first Saxo Tinkoff and then Katusha who lit things up with Moreno and Caruso pushing hard at the front with Rodriguez in their slipstream. Behind, Nibali was in a spot of bother, bumped in to Valverde and it all started to blow apart. Roche and Valverde got dropped on the really steep parts, as did most of the others, Horner saw his opportunity and went hard at the front again, dancing on the pedals. Suddenly the red jersey was slipping from Nibali's grasp.. Valverde and Roche battled back and actually helped pull Nibali to the line, so inadvertently helped keep him in red and spoil my in running bet of laying Nibali to be in red at the end of the stage at 1/12... Three miserable seconds..
Roche rode brilliantly again to finish with Valverde and Nibali and has cemented a top 5 spot it would seem, he now has over 2 minutes on Pozzovivo. Rodriguez tried but couldn't get away, and with Uran's poor performance again (he came in 11 mins down) busting my match-bet treble, it was a disappointing day on the betting front. Back to the drawing board for tomorrow.
Stage 19
Stage 19 starts off innocuous enough with a 103km jaunt along the coast before it turns inland and things get a little bit more difficult. First there is an intermediate sprint, followed by the uncategorised climb of the Alto de La Campa, which is still about 10km in length. The next challenge is the 3rd Cat Alto de San Emiliano, which kicks off a frantic final 40kms. This is followed by the second intermediate sprint which the organisers have placed at the top of a lump on the way to the next Cat 3 climb of the Alto de la Manzaneda, which although is only 3.6km long it averages 6.2% so will still be a test for weary limbs. The final climb of the day, to the Cat 2 summit finish at Alto Del Naranco is nearly 6km in length and averages only 4.2%, but as they hit 3km to go it hits 10%, with the final 2km averaging 6.5%. This is a far more steady climb than the Peña Cabarga today or the Angliru on Saturday so it will be interesting to see who makes the most of it ahead of Saturday's last throw of the dice.
Contenders and Favourites
For many riders, tomorrow is their last chance for glory. Saturday's Angliru stage is brutally hard and Sunday is a procession in to Madrid. Well at least it should be, but what happens if there is still less than 10 seconds separating Nibali and Horner? Is it game on? Will they be attacking each other for bonus seconds on the course and attacking/sprinting for time at the finish!? Would be awesome to see a race end like that rather than the usual photo opportunity parade followed by a mass sprint.. And the way this Vuelta has gone, I wouldn't be surprised!
Anyway, getting back to tomorrow's stage, as I said, many will see this as their last chance of glory and there could be frantic racing again for the first hour. They will all want to get in the break as it has a good chance of staying away if the GC men watch and mark each other. With only 15 points separating Edet, Ratto and Txurruka in the KOM classification it is still all to play for with 2 Cat 3s tomorrow excluding the finish (and plenty of points available on the way to the Angliru on Saturday). Even though Txurruka had a hard day today I wouldn't be surprised to see him involved again tomorrow. The KOM was a target of his at the start of the Vuelta, I even backed him to win it at 13/2.. it's unlikely now, but you'd never know. He is available at 40/1 with William Hill.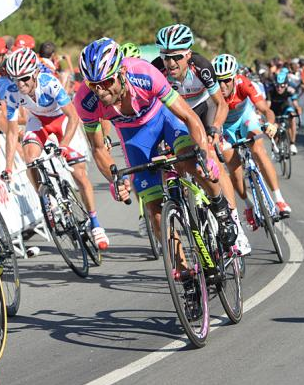 I fancy Scarponi to be in the break again, he missed out today but I think this is perfect for him, expect him to try his best to get in the big move. There is some 33/1 available with BetVictor, that might me a good place to start with an each-way bet. Or how about Simon Clarke to try to go again? He was out front all day today and even at the finish it was impressive to see him for a while ride in front of Horner in the last few kms when he was caught. He clearly has the legs now so he might be up for it again, and at 150/1 he is worth a shot too maybe for a few pounds each-way. Juan Manuel Garate may well be riding his last Vuelta, he is from Irun which is only 250km along the coast so he will be familiar with the terrain and the possible crosswinds they may face. He is as big as 80/1 with
Paddy Power which will be another small each-way bet for me. Bauke Mollema is of course another to consider, but he did come in 12 minutes down today so I'm not sure he is taking it easy from now on with the World's in mind.
UPDATE: 9:30am - the Belkin website says he took it easy yesterday with today's stage in mind and he will be going FULL GAS today! "We didn't see a lot of opportunities today. Therefore, we were all able to save our energy for tomorrow," said Sports Director Merijn Zeeman. "Bauke and David can win the stage tomorrow. We'll do everything to get them in the mix for the win. The final is quite explosive, which suits our men."
If it does come down to the favourites battling it out then it may be a 'surprise' winner - the slopes are not that steep, so I don't think it is a finish where Horner will ride away from Nibali, or someone like Rodriguez will sprint away too easily with 2km to go. I think we could have a slightly larger group than usual as the GC men mark each other somewhat and might be thinking of the hard day that follows. I wouldn't be surprised though if Nico Roche gives it a blast, the slope of 6% was just like the finish on stage 2 and we saw how he powered up that. He knows that 5th is almost secure now and he said his performances so far have filled him with new confidence and freedom to attack and try things he normally wouldn't. 40/1 might be an interesting one to be on if they are together with 1km to go.
Finally, watch for Samu Sanchez to attack possibly on or just after the penultimate climb - maybe even to bridge to a team-mate who may have been in the earlier break. Sanchez is from Oviedo where today's stage finishes. Euskaltel will surely want to go out with a big performance and with a top 10 position almost certain now he may well give it one last go. 28/1 isn't a great price given what he has done so far in the race but I'll try to get better on Betfair. UPDATE: money has come for Sanchez, but still 28s with BetVictor. Down to 22/1 on Betfair.
So a few small each-way bets on Txurruka, Scarponi, Garate, Mollema with win bets on Roche and Sanchez.
Route Map

Profile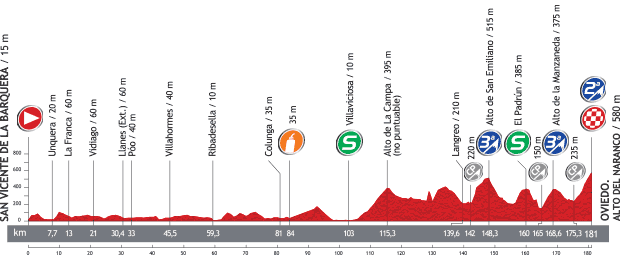 Last KM