Details

Published on Wednesday, 11 September 2013 22:35
Vuelta Stage 18 Preview
Stage 18 - Burgos to Peña Cabarga, 186.5 km
Well what an incredible surprise at the end of today's stage. Bauke Mollema shot off the front with 700m to go, surprising the sprinters who looked at each other waiting for someone to take up the chase. He put his head down and comfortably won to land my biggest winner in a long time at 129/1!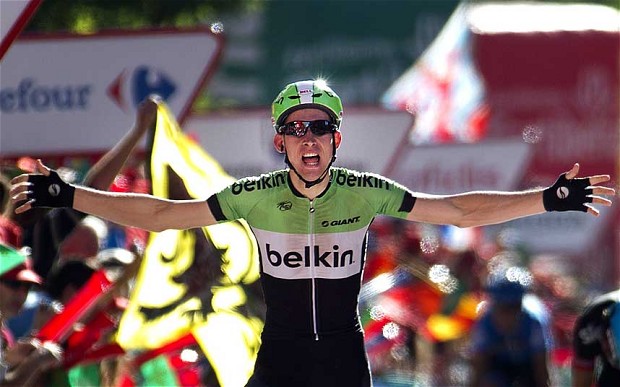 I had mentioned Mollema early in my preview as one who may try to get away on the climb, but as it turned out that didn't happen (but Ulissi, one of the others I mentioned as a likely lad did give it a go). I added an update to the preview at 9.20am where I pointed out that his agent had tweeted that he was in good form and 'let's see if he can get close again for a stage' - so clearly they Belkin camp had thought about it. I thought about trying to ask for 200/1 but instead just took the 130s on Betfair. I was stunned to see him break from the reduced peloton though, didn't expect that at all. Still, I'm delighted and my Vuelta bank balance is looking a hell of a lot healthier.
Added to that, to make it an incredible day for me, Richeze took a top 3 placing at 6/4, which was my other main recommended bet and the match bet also landed at 5/2. Matthews, Richeze and Roux all beating their rivals. The only slight blemish was I layed EBH to place and he finished a superb second. Will Tyler Farrar ever catch a break though? He did the hard part today getting to the last km with the lead group, but was in the wrong place again and failed by inches to take 3rd. Paolini, my main bet of the day was unlucky, got boxed in in the sprint and seemed to give up when he couldn't get out, but he still finished 7th. Just very happy I stayed clear of backing any of the sprinters too.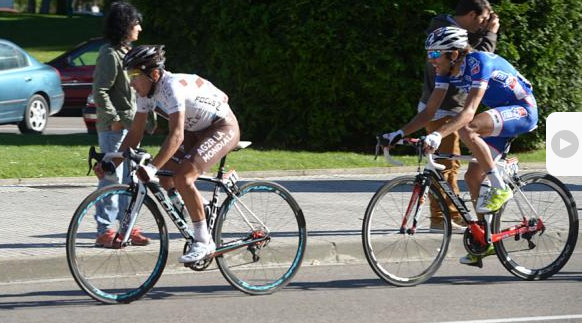 The stage can be summed up as follows - Hansen and Aramendia went in the first few kms, got a big lead at one stage but faded as the peloton closed in fast. Saxo pushed hard at the front in cross winds and suddenly the race was in three main pieces as echelons formed. Word filtered through that Pozzovivo and Pinot were not in the leading group and Saxo, Leopard-Trek and Astana powered on at the front. They never got back on and in the end they both lost 1'31" to lift Roche well clear of both of them in to 5th place.
Stage 18
And so we are back again in to the mountains. Thursday's stage start's out easy enough but after 75km they hit the first of 5 climbs on the day, the Cat 2 Alto de Bocos. It is short at only 3km but they climb 200m in those 3km, averaging 6.6%. Next they hit two more Cat 3s before starting the Cat 2 climb of the Alto del Caracol after 136km. Once over that there is a descent for more or less 35km before starting the final climb of the day.
And what a climb it is - the Peña Cabarga is one of the hardest in the whole race, even more so coming after a hard day in the saddle like this. It may be just 6km long, but it averages a savage 9.2%, with sections inside the last km hitting 15, 18 and even 20%. It was on this climb in 2011 that Chris Froome chased down and then rode away from Cobo in an amazing finish - watch the video below to get in the mood - incredible racing and it shows just how brutal this finish is going to be..

Contenders and Favourites
It is going to be a stage for the light climbers and the seriously strong puncheurs like Purito. Interestingly in that stage in 2011, the 3rd guy over the line was none other than my hero today, Bauke Mollema! He was a big price of 100 on Betfair, which I took, he is 66/1 generally (missed some 175s on Betfair though!). He may not win it, but at least he has form and that is too big a price to leave - he owes me nothing after today!
There is a fair chance that a break will make it tomorrow too, if they have more than 4 minutes I think going over the second last climb they are going to be hard to catch. It might take a while for the break to go given it is more or less down hill for about the first 75km, but there should be some groups go on the first climb, and I wouldn't be surprised it there were 10 or more in it. I picked two riders a few days ago who did very well for me, Scarponi landing the each way at 33/1, coming 2nd to Geniez, and Txurruka who was in the break of the day too. I am going to stick with them again tomorrow and am backing them at 33s and 60s respectively. Others that are likely to be in the break - Edet, in search of mountain points, Barguil as he is in such great form, Cardoso who I picked at 200/1 on Monday (150/1 for tomorrrow), Ratto or Geniez again. Benat Intxausti finished 10th on this stage in 2011 and he may be allowed to go up the road tomorrow, so at 200s I am having a small interest too.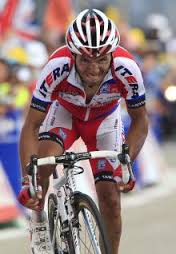 But I think it will ultimately come down to the GC men and they will reel them in on time for a battle royale on the summit finish. Rodriguez I think will have to attack tomorrow. He knows the stage finish will suit him, his legs are seemingly getting better and better again and he needs to start taking back time. This is the perfect opportunity to take back at least 30", like he did when winning here in 2010 from Nibali. That time he left it very late to attack Nibbles and only took 20", I wouldn't be surprised if Moreno dishes out some punishment first and Purito goes with about 2km to go. He is favourite for tomorrow's stage and my points above show why, and why I am making him my main bet for tomorrow, reinvesting some of my Mollema winnings at 11/4 on Betfair.
Horner is obviously looking strong, especially on finishes like this, so I would expect him to be right up there too.. unless he finally has that bad day that everyone keeps saying he is going to have sooner or later. I don't think it will be tomorrow, maybe over the next two days. I just can't bring myself to back him though. Nibali showed signs of weakness Monday, and he could be put in a spot of bother on these gradients again tomorrow. I think Valverde, Purito, Horner and others will attack a lot over the last 5kms and he could be isolated again and may slip again - will he lose enough time to lose the red jersey? It is possible he could lose maybe 30 or 40 seconds and also if Horner takes a top 3 he will also get bonus seconds. His coach says he is putting out 20w less than he was producing in the Giro so clearly he isn't firing on all cylinders.
Pozzovivo is being talked up by some as he is only 53kg etc, but I just don't think he is good enough to get away from these guys. The real battle for him could be just to try to distance Roche, something he is capable of doing. But he has a lot of time to pull back now and Roche is in the form of his life, even if this finish is not what he likes with the sharp switches in tempo. Leopold Konig finished very well in 3rd on Monday but I don't think he will be with the main GC guys at the finish today, may lose 20 or 30". Valverde will try and attack, he has to too, especially if NIbali cracks, but I don't think he is explosive enough to distance Horner and Purito.
So overall then, I am having a few small outsiders bets on Mollema, Txurruka, Scarponi and Intxausti, and my main bet is on Purito at 11/4.
Match bets that interest me -
Herrada to beat Cardoso at 8/13
Uran to beat Moreno at 8/11
Rodriguez to beat Valverde at 8/15
A treble on them pays 12/5 with Ladbrokes.
Chris Froome beats Juan Jose Cobo on Peña Cabarga, Vuelta 2011.
Route Map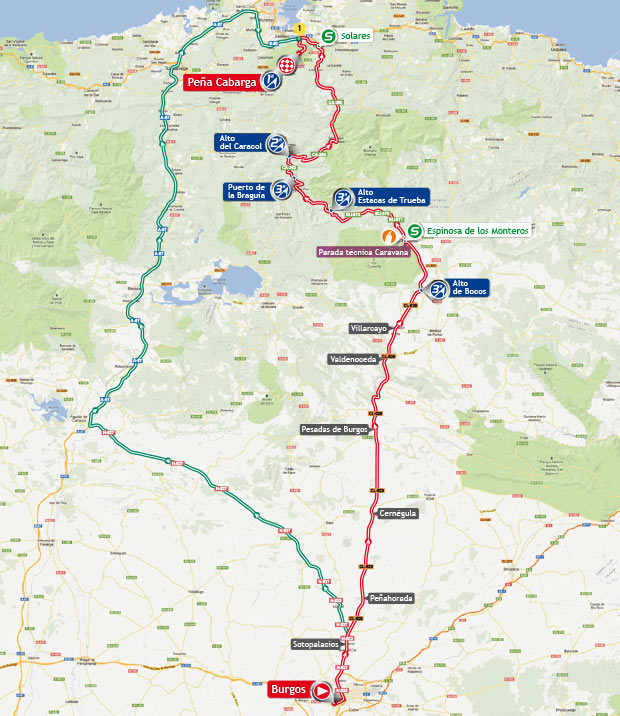 Profile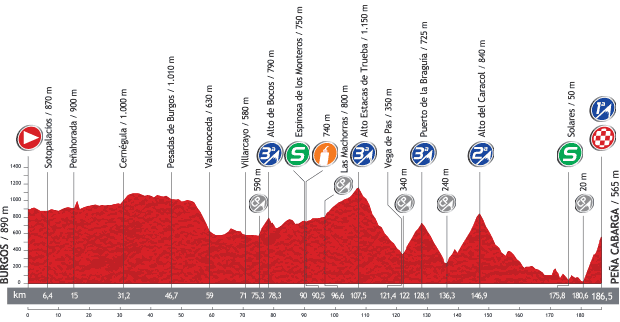 Peña Cabarga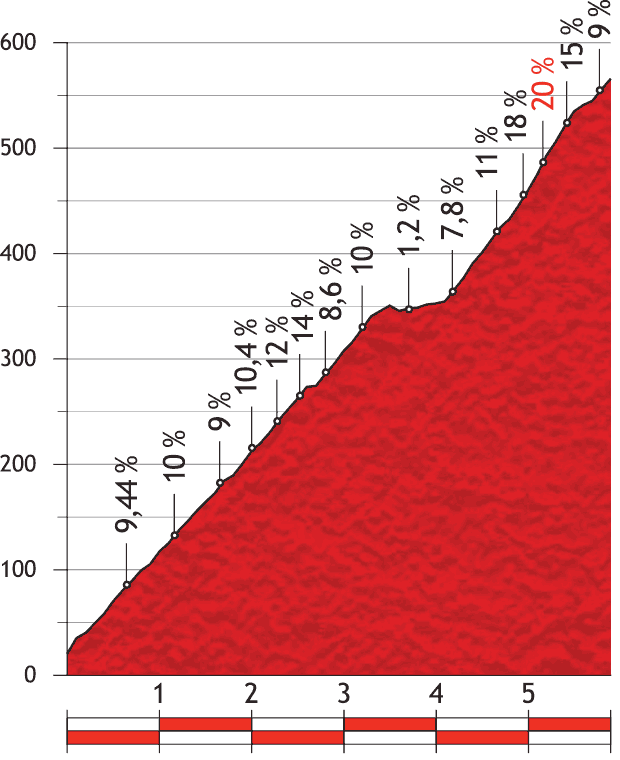 Last KM