Details

Published on Monday, 09 September 2013 22:35
Vuelta Stage 17 Preview
Stage 17 - Callahora to Burgos, 189km
Move over Thibout Pinot, France has a new great hope. Another stunning ride from 21-year old Warren Barguil of Argos-Shimano today as he first outfoxed his break-away companions to jump clear and then out-foxed Rigoberto Uran in a two-man sprint finish.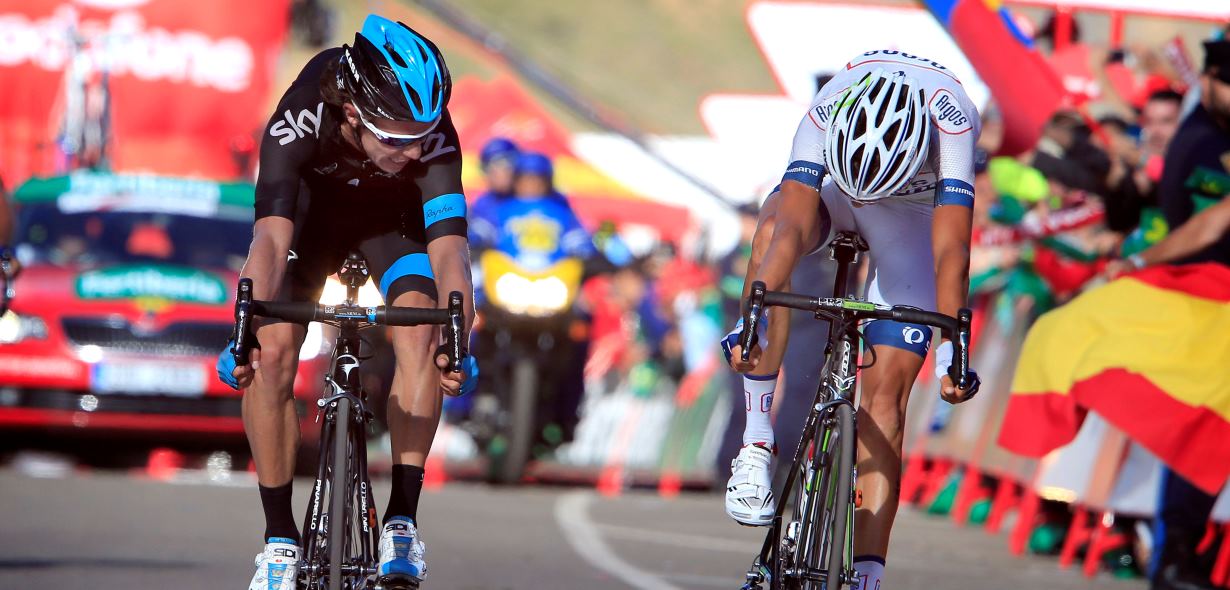 It was a super ride from Barguil all day - he looked the strongest in the break of the day, powering at the front regularly, and as it started to break up and he lost patience with the others lack of interest in pulling through he simply rode off the front away from them. Uran didn't panic though and let a few others try to luck at pulling him back before finally pulling the trigger and powering up to him with just over 1km to go - Barguil seemed to ease up and let Uran catch him, possibly now looks like he was bluffing!
Uran, who I had picked out last night on twitter as one I was keen on (and highlighted the gamble on him from 40s in to 15s this morning) looked nailed on to win, but suddenly Huzarski and Nerz (who I had picked out yesterday!) almost caught them. Uran jumped but Barguil won by the smallest of margins in a bike-lunging finish. But behind the drama was cranking up again. Roche attacked, Rodriguez went after him and sailed by him and suddenly Nibali looked in trouble. Horner, Valverde and Pinot rode away from him and all took some time off Nibali. Not a lot of time, but enough to make the race very interesting again going in to the final week or racing.
Stage 17
Tuesday is of course the second rest day, and a well deserved one it is. It has been a cracking Vuelta so far, today's stage being one of the most exciting and fascinating to watch with racing and suffering going on all over the mountain as multiple battles raged. The riders come back from the rest day on Wednesday knowing there are only four hard days racing left before the procession in to Madrid. Or will it be a procession?! What happens if there are only 10-20 second between the top GC men?! Then it is game on, no holds barred, every man for himself to try to win it. It would be amazing to see instead of the usual sparkling cava procession with a sprint.
On paper it is supposed to be a day for the sprinters, even though they have to get over two Cat 3 climbs along the way, but they are short and easy. I say a sprinters stage on paper, but this Vuelta has behaved nothing like it should have 'on paper'! The stage looks made for a large breakaway again, and I wouldn't be surprised to see frantic action inside the first 10km on the drag out of Calahorra as riders try to get in the break of the day. It might take several attempts though to make one stick as we have seen on several days, everyone wants to be in the break!
Once they do get over the last climb it is downhill to flat for the last 50km, with a tail wind, so it is sure to be extremely fast. The break will need 4-5 minutes gap hitting the last 50km to have any chance of staying away. As they hit Burgos they do a little loop around the town which takes in the little climb of 'El Castillo' (thanks @TimmermansRick!) with 6km to go - it's not too long but steep in parts so may cause the sprinters some problems.
The roads are tight and twisty on the way down and it may help a late breakaway who tries to get away on the way up, as it will be very difficult to organise a coordinated chase on the way down. If you struggle on the hill then you are going to find it very hard to get back to the front in the very fast run to the line. The final 2 or 3 kilometres through Burgos are a little tricky with some roundabouts, sharp turns and a bridge to cross. But it is almost pan-flat and the roads are wide (4 car lanes wide in parts) so they should be ok. The final km on the Calle Vitoria is dead straight more or less and dead flat, a perfect sprint finish.
Contenders and Favourites
There will some thinking about the breakaway, and many more just thinking about getting through the day with the final days in the Asturias mountains still to come, including Saturday's monster climb up the Angliru. I think whatever early break that goes will be pulled back as both the sprinters teams and the teams of the guys who fancy themselves on the last little climb will be looking to keep things under control.
First, a few fancies for who might get away. This finishing run in is made for someone like Flecha, a little kick up with a twisty run to the finish - I would think he has his sights set on giving it a go tomorrow. He may well get the likes of Cancellara, Mollema, Ulissi and possibly even the likes of Sanchez or Majka all trying to go with him and if two or three good riders get a small gap they might have a chance.
It is most likely going to end in a sprint though and the things to consider are a) will all the sprinters be at the front hitting the 1km to go banner, or will some have been dropped in the final kick, and b) will the twisty run in up until less than 3km to go mean the sprinters will be scrapping with limited team support again as has been the case in most 'sprint' finishes?
The bookies find it hard to separate the top 5 in the betting though, with Matthews, Richeze, Boasson- Hagen, Farrar and Meersman available as low as around 5/1 with different bookies. The truth is I find it hard to back any of them at those sort of prices! Matthews is justifiably favourite I think given his stage win and that he was unlucky to puncture another day when favourite too. Richeze has been excellent in these messy scraps but just cannot get his nose in front. Boasson-Hagen I think will not have the sprinters speed on a flat finish like this and Meersman has been outside the podium places too often for me to back him with confidence. In fact, I wouldn't be surprised if there was another 'shock' winner.
Luca Paolini finished 4th when Gilbert won on stage 4, beating Meersman and lots more of the 'sprinters' lining up tomorrow. He is a very big 80/1 with BetVictor, he's only 33/1 with Bet365 so I think he is worth a small bet each way. 5th in Milan San Remo, winner of Omloop Het Niewsblad this year, he may well get involved in a scrap at the finish and if there are a reduced number of sprinters in there he might podium at least.
If I had to pick one of the favourites I think I would side with Richeze to place given the nature of the run in and the fact that Lampre still have 8 riders in the race, Garmin and Orica have only 5. I don't really fancy any of the short priced guys strongly enough. I will watch and update in-play though so keep an eye on twitter.
I would also rather back the following match bet treble which pays out 5/2 with Ladbrokes.
Richeze to beat Farrar @ 4/6
Matthews to beat Wagner @ 4/9
Roux to beat Morkov @ 4/9
UPDATE: 9.20am
Following a Twitter chat with the Vacansoleil twitter person this morning I have had small bets on Flecha at 40s and 32s on Betfair, their DS Cornelisse said: "Nine riders or four: we go for the break." Flecha time!".
I asked would he fancy the last part of the course and they replied:
@Cyclingbetting We'll know this afternoon, but that is certainly one of the options!

— Vacansoleil-DCM (@VacansoleilDCM) September 11, 2013
I also have had a small bet on Mollema at 130s, his agent was talking him up this morning on twitter too:
Last part of La Vuelta starts today. @BaukeMollema is getting into his Worlds form. Let's see if he can get close again for a stage..

— SEG Cycling (@SEGcycling) September 11, 2013
Route Map

Profile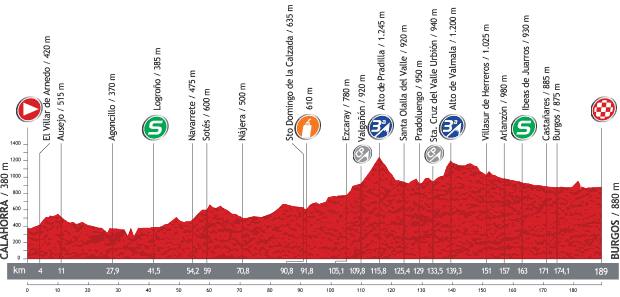 Final 10km Burgos