Qatar
The thirteenth running of the Tour of Qatar starts on Sunday the 9th of February with many riders making their season debut, joining others who have already ridden in the Tour Down Under, San Luis or Dubai. Four-time champion Tom Boonen returns after a positive showing in San Luis, looking to take back the title he last won in 2012.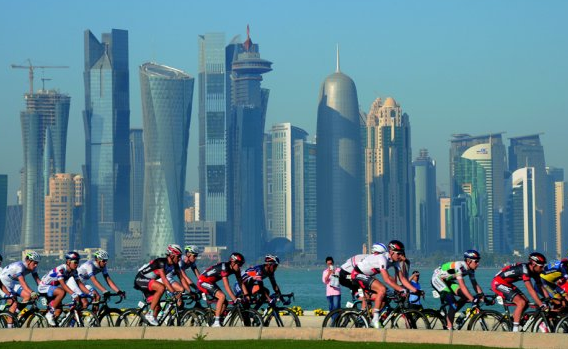 Previous Winners of the Tour of Qatar
2002 Thorsten Wilhelms (GER) Team Coast
2003 Alberto Loddo (ITA) Lampre
2004 Robert Hunter (RSA) Rabobank
2005 Lars Michaelsen (DEN) Team CSC
2006 Tom Boonen (BEL) Quick Step-Innergetic
2007 Wilfried Cretskens (BEL) Quick Step-Innergetic
2008 Tom Boonen (BEL) Quick Step
2009 Tom Boonen (BEL) Quick Step
2010 Wouter Mol (NED) Vacansoleil
2011 Mark Renshaw (AUS) HTC-Highroad
2012 Tom Boonen (BEL) Omega Pharma-Quick Step
2013 Mark Cavendish (GBR) Omega Pharma-Quick Step
This race has been dominated by sprinters over the years given the profile is more or less dead-flat, but the 10.9km time trial on stage 3 should shake things up and probably decide the overall GC. The main challenge though that could cause trouble in the bunch is the well-publicised winds in Qatar. The wind can really whip up and with head/cross winds facing the riders from the very first stage, those that are not yet firing on all cylinders or lose concentration and position could find themselves on the wrong side of splits and lose time.

Omega Pharma Quick Step seem to love this race and have won 6 out of the last 8 runnings of the race, with Cretskens and Cavendish adding to Boonens four titles. They will be going for it again this year, but without Cavendish who has decided not to race it after competing in the Dubai Tour. Boonen is here though and after a few good sprints in the Tour de San Luis in January he is sure to be involved in the GC battle once again.
The Route and Stage Predictions
The 19 teams tackle 5 sprinters stages and the 10.9km TT around the Lusail Moto GP Circuit. The circuit is almost completely flat but the winds can play havoc with the peloton and expect echelons and attempts to cause splits by the stronger men.
Click on each tab to read stage previews and recommendations.
Stage 1
Stage 1 - Al Wakra to Dukhan Beach, 135.5kms
Sunday 9th February
I'll keep it brief as time has been against me today and they're isn't really much to say about the route other than they head south from the start at Al Wakra before turning and heading in a more general north westerly direction and in to head/cross winds along the way. The route is very exposed and we are sure to see some of the stronger teams push it in the last 50kms or so in an attempt to split the pack. There are a number of roundabouts they are going to have to deal with inside the last 4kms, one of which comes only 550m from the line. The finish is a long straight along the coast heading in a northerly direction, in to a head wind.
The Contenders: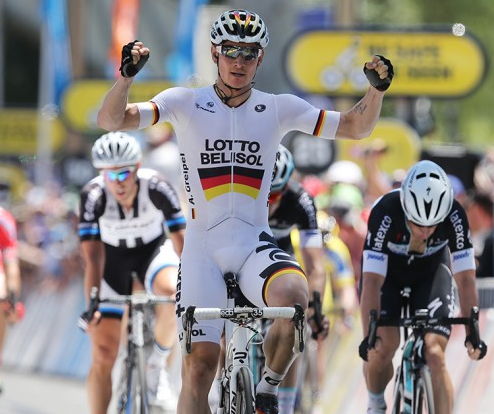 Looking at the betting, this appears to be André Greipel's to lose, in the same way Kittel was red-hot favourite for today in Dubai. He ranges from Evens with BetVictor (1/1) to 8/5 with Bet365. Next in the betting comes Tom Boonen, best priced at 6/1, Arnaud Demare (13/2), Elia Viviani (11/1) and Alexander Kristoff (14/1). Of the five of them, Greipel we saw was in great form in the TDU taking 2 stages and a 2nd (and 2nd in the People's Choice behind Kittel) and he clearly deserves to be hot favourite.
Boonen did alright in the Tour de San Luis, placing 3rd on one stage in the uphill sprint won by Nizzolo. I'm not sure he will have the outright flat speed to beat Greipel in a match race though so I am letting him alone. Viviani did alright at times in the TDU, coming from a mile back to snatch 3rd behind Greipel in Stage 4, but other than that he didn't really feature as much as you would have expected. He is preparing for the world Track Championships so will be looking for better results here, but I'm not sure Cannondale will be able to control things like they will need to in the cross winds, Viviani has a habit of getting himself lost in the last few kms.
Demare and Kristoff are making their season debuts so it's hard to know what form they are in, Demare has a good power sprint on him for a finish like this but I think with his lack of race miles and not the best of leadout trains in FDJ, a placing in 2nd to 5th place is probably the best he can hope for. Kristoff's best results seem to come after long, hard races, and this is only 135kms, so until I see his form tomorrow I am going to leave him alone too.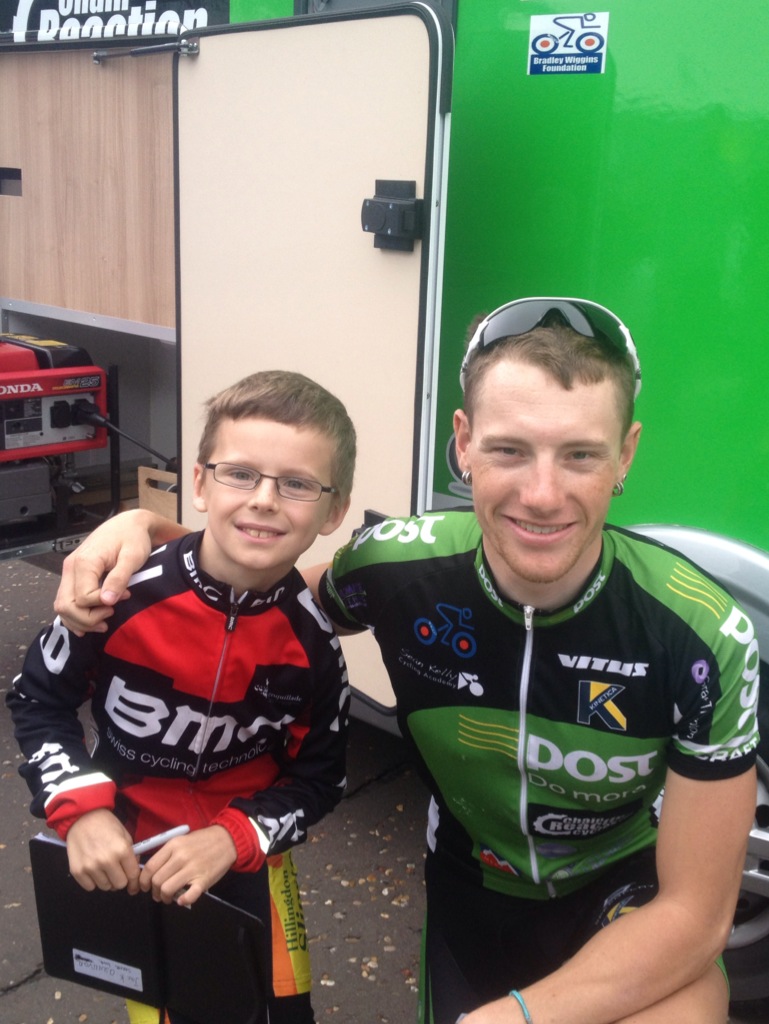 Instead, I am plucking for two outsiders at big prices for an interest to fill the placings behind Greipel - Sam Bennett at 66/1 and Andrea Guardini at 50/1. Sam Bennett was a revelation in the Tour of Britain, taking a stage and two second places behind Cav on the final stage in London and that heart breaker when he was caught on the line by Ciolek. He has moved to NettApp Endura this year and the 23 year-old could be a real star in the making. A great all-rounder, he has a very powerful sprint coupled with a very clever positional brain. Just look at how he pushed none other than Mr 'don't dare push me' Viviani off of Cav's wheel in the last 500m in London, something that upset Viviani so much he tried to punch him after the stage!
He is reportedly in fantastic shape and has been talking about how he has been doing specialist training with NetApp Endura specifically on his sprinting and he has improved because of it. At 66/1 I am very happy to have some of that, if he puts in a big showing tomorrow we may never see a price like that on him in a sprint again.. It's a long shot given it's his first race in the team, with the big boys like Greipel, but it is worth a few quid each way as I'd be kicking myself for days if I don't back him and he does the business!
The other one I am going for as I said is Guardini at 50/1 - he just finished 3rd today on the last stage of the Dubai Tour behind Kittel and was only beaten by a bike length or so and put in a few other good rides during the week too. He may be a bit tired from the transfer, but with that preparation in his legs, 50/1 is too big to turn down given the unknowns about some of the seasonal debuts.
A hard first race to call as anything can happen and usually the first stage of this race can be quite brutal and chaotic, but I'm happy with these three selections to start the week off with.
Recommendations:
Andre Greipel - 3pts win at 8/5 with Bet365
Sam Bennett - 1pt e/w at 66/1 with Paddy Power
Andrea Guardini - 0.5pt e/w at 50/1 with Betvictor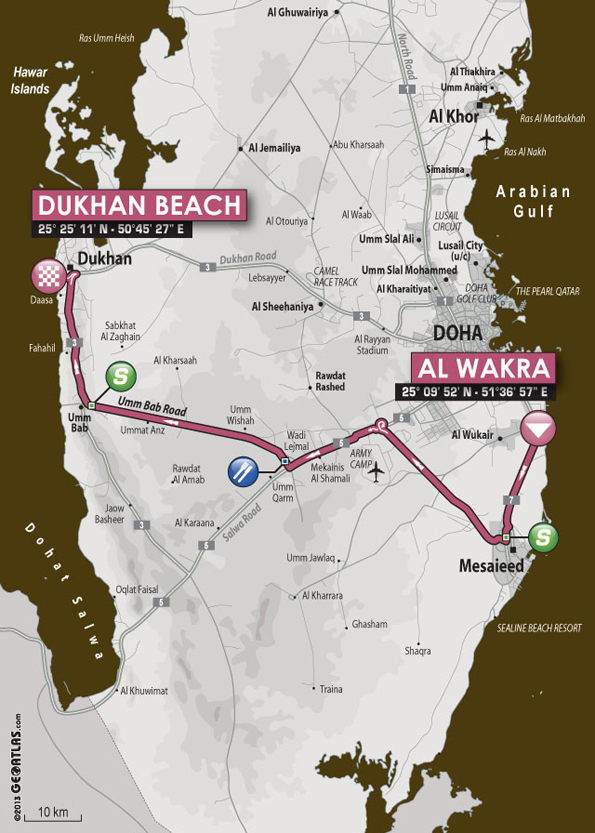 Stage 2
Stage 2 - Camel Race Track to Al Khor Corniche, 160.5km
Monday 10th February
Stage 1 didn't work out quite as I had hoped with the sprinters denied by the five-man break which stayed away to the finish. Niki Terpstra proved to be the strongest at the finish though, easily outpsrinting his rivals to take the stage and the overall leader's jersey.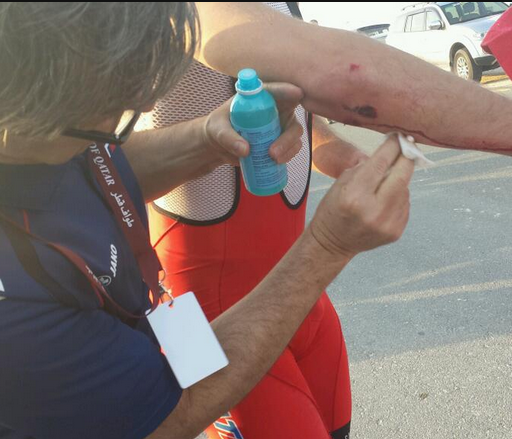 It was Terpstra's day from the start as he signalled his intentions very early on, first taking off on his own to take the first intermediate sprint and then was joined by his four final partners shortly after. He took max bonus at the second intermediate also and with a small gap at the finish and the winner's time bonus he now holds a 9" lead to Jurgen Roelandts and 23" to the main protagonists headed by Kristoff and my 400/1 pick Sam Bennett. Kristoff crashed inside the last 3kms but was awarded the same time (see pic right).
Sam Bennet finished 14th on the stage, but more importantly placed 3rd at an intermediate sprint to nick a bonus second so he now sits in 6th place on the GC and is leading the young riders competition.
Terpstra is a strong rider and has shown he is clearly in very good shape - he will be hard to dislodge from the top of the GC, but Cancellara and Stannard finished in that front group so they are still well in the hunt. Not so for Tuft, Sergent, Haussler, Devolder, Rast, Riblon, Iglinsky and many more who lost between 4 and 10 minutes today in the cross-winds.
Stage 2 goes from the fantastically named Camel Race Track to Al Khor Corniche in the north-east of the peninsula, zig-zagging from east to west switching from head to tail winds and everything in between. Expect more of the same as today with attacks looking to split things up, but the sprinters team should be more alert and awake to that possibility tomorrow and try to keep things under control. I expect that first intermediate sprint to be hotly contested and a break might establish itself after that.
Mark Cavendish won this stage for the last two years running but as he is not here this year it looks like a chance for the likes of Greipel, Guardini and Markus to make amends for missing out in Stage 1.
I don't need to repeat myself from stage 1 regarding Greipel, all I said regarding his results last month still stands and he is still hot favourite to get off the mark in this stage. At 6/4 though I am going to leave him alone I think for tomorrow and instead look at some bigger priced outsiders with chances of placing.
Again, I am also sticking with Andrea Guardini as a likely top 3 candidate, he was 8th in this stage in 2012 and 3rd last year. He rolled in at the back of the first group today, so just conserved energy when the result was already gone. At 25/1 with Paddy Power he is taking a half a point each way of my capital.

Barry Markus is an interesting candidate also as he finished 2nd in two stages last year behind Cavendish and 3rd in the stage to the Doha Corniche. He was right up there in the sprint for the minor places today too finishing 2nd behind Boonen to land 7th place. At 25/1 he is worth a small bet each-way as I can see him challenging for a top 3 place tomorrow should it end in a normal bunch sprint, which I expect it to.
And of course I can't desert Sam Bennett, he will be full of confidence now he's wearing the white jersey and only 22" off the lead and I expect him to be going full gas tomorrow at the finish, so at 50/1 I'll give him another go.
As for the overall now, Terpstra is as short as 2/5 to hang on this lead and win the GC contest. This means that the like of Cancellara have been pushed out to as big as 11/1 with Paddy Power. I'm tempted to have another point on him, but Terpstra is no slouch over a short distance TT like this and is clearly very strong right now. 23" is definitely possible for Cancellara on a really good day but I think it would require a poor TT from Terpstra in order to lose it now.
Recommendations:
Andrea Guardini - 0.5pt e/w at 25/1 with Paddy Power
Barry Markus - 1pt e/w at 25/1 with Paddy Power
Sam Bennett - 0.5pt e/w at 50/1 with Bet365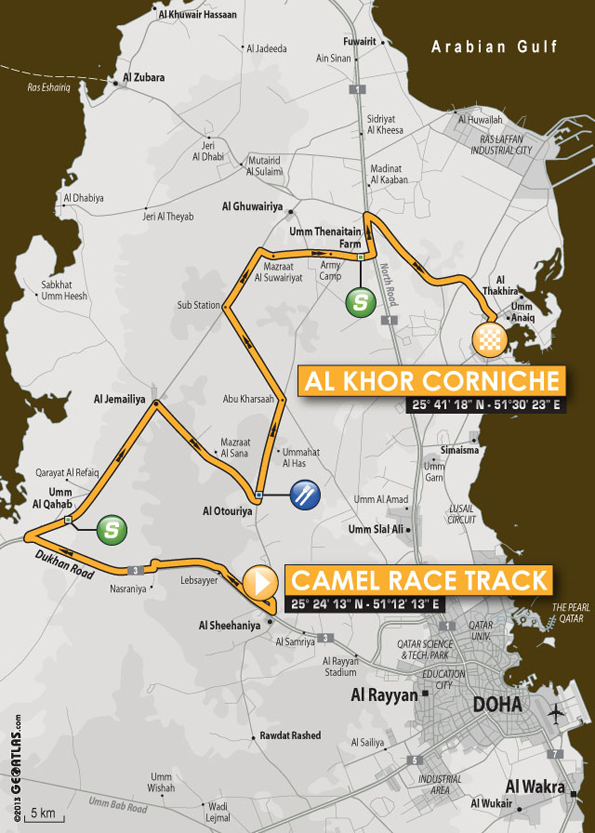 Stage 3
Stage 3 - Lusail Circuit, 10.9km Individual Time Trial

Tuesday 11th February
Stage 3 sees the riders tackle a 10.9km out and back Time Trial looping around two hair-pin turns and 3 tight roundabouts, but it is for all intents and purposes dead straight for the vast majority of it. This course is perfect for the really strong time-triallists who can put the power down hard on the straights, some of which are nearly 2kms long.
10.9km may not seem like a lot but it could still see large time differences between some of the main protagonists, especially the TT specialists versus the sprinters, and should see the GC drastically reordered come Tuesday afternoon. Looking at the time gaps at last week's Dubai Tour TT, which was over 10.1km, there was 31 seconds between Phinney in 1st and Sagan in 6th.
Over shorter distances like this though you can see sprinters put in very good rides, just look at Dubai where Sagan finished 6th and Kittel finished 11th, or at the Tour de San Luis TT where Boonen finished in 7th place.
The winds are going to play a big part in this stage as the riders have no where to hide and the nature of the shape of the course means that they will face head and cross winds as well as tail winds over the course of the 10.9kms. It's who can deal with the winds and put the power down the hardest on the straights that will decide the stage, and possibly even the top overall GC placings.
Contenders and Favourites:
With a course as I've described and the strong winds they are likely to face, you have to look to Fabian Cancellara as the strong favourite to take the stage. Despite reportedly not having come through recent weeks very well because of illness (and that crash with the car!) he still put in a pretty good ride in Dubai to take 5th place, just 25" back. With that pipe-opener under his belt I feel he will be right up there amongst the best times and should prove very hard to beat. He is obviously preparing for his classics defenses and in general these races are great preps for him in the nice warm weather, but I think he will give this full gas and if his ride is good enough to take the GC then he should be able to defend it to the end. (edit - obviously since I wrote this his GC chances are gone with the wind....)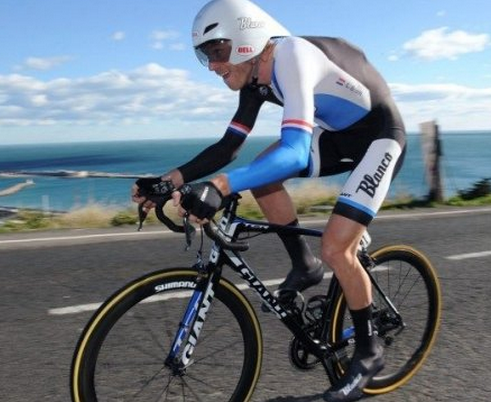 Lars Boom will also be right up there, the big Dutchman is a very powerful time-triallist - winner of the very short 2.5km TT in 2011, he managed to beat Cancellara by 4", Dowsett by 5" and Boonen by 6". A multiple TT winner over the years, he also won the TT in the Tour Méditerranean over 22km on the 7th February, so he clearly goes well early in the season too. This has been a target for him this year and he came in comfortably in the front bunch today (Sunday). Expect a big ride from him.
Niki Terpstra I would have had down for a 5th to 10th place at best pre-race, but it's amazing what wearing the leader's jersey can do to lift your speed. He is obviously flying at the moment, he was on the attack all day on Sunday and easily disposed of his breakaway companions at the finish. 2nd in the Dutch TT championships in 2013 and multiple world Team Time Trial Champion, he should be capable of a top 6 placing now I believe, whether he is good enough to stick within 23" of Cancellara we will have to wait and see, but it is within his capabilities with the GC title at stake.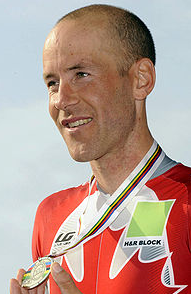 Svein Tuft and Jesse Sergent are also capable of doing good times, but both suffered in the wind on Stage 1 and finished over 10mins down. Two things that we can take out of that - either they both are not in great shape and got caught out because of the inability to hold a wheel or when they saw the gap grow to an uncatchable distance they took it easy and saved energy for the TT. Tuft is superb against the clock - a multiple Canadian champion, he won three TT races in 2013, including a stage at the TDF (TTT) San Luis and the Tour of Slovenia. It may be a tad short for him to really get a good time, most of his wins seem to have come over distances around the 20km mark rather than 10km. Sergent won a TT in the Eneco Tour in 2011 over 14.7kms and with his track background he likes these shorter tests.
**Update 10/2/14, 19:00** Others who could put in a big ride are the recently crowned Australian road race champion Michael Hepburn, Lieuwe Westra or the clearly in great from Tom Boonen. Boonen is very capable over shorter distances like this, although at 10.9kms it might be just a little too long.
Ian Stannard carries my remaining GC hopes now seeing as Cancellara lost over 7 minutes after getting caugh up in a crash just as the race split. Stannard has a big engine and clearly has very good legs seeing as he made the selection on both days so far, he sits nicely in 7th place, just 26" off the lead.
He put in a great performance to finish 2nd to Wiggins over 16kms in the TOB last September, hopefully he can produce a ride like that again tomorrow. He is 25/1 but I won't be backing him as I have the 66/1 for the overall already in play.
Early prices has Cancellara at best price 6/4 which is pretty short but he should take all the beating - I think he has the right combination of technical skills to negotiate the bends and roundabouts quicker than most and the power to really hammer it on the straights. It could be another strange result tomorrow but I still think Cancellara is the bet at 6/4 to get us back on track.
So who will follow him home? That's a really hard one - there are 5 or 6 riders who could fit the last two spots on the podium as mentioned above. There isn't a great deal of value available though and the only bookie offering each-way betting is Betvictor and that's only on the first two places. It's not a day for big stakes, especially in light of how chaotic the race has been to date, but I think the most likely to follow Cancellara home (at worst) is Boom for the reasons I wrote above two days ago. Add to that his strong and ambitious showing today when he shot off the front with Wagner with 2km to go and I think he should be pretty close to winning this.
Recommendations:
Fabian Cancellara - 2pts win at 6/4 with Bet365
Lars Boom - 1pt e/w at 4/1 with Betvictor
Match Bet Accumulator - Cancellara Vs Boom (3/4), Hepburn Vs Roulston (19/50), Terpstra Vs Westra (7/20), Tuft Vs Boaro (1/2) - Four-Fold pays almost 4/1 with Bet365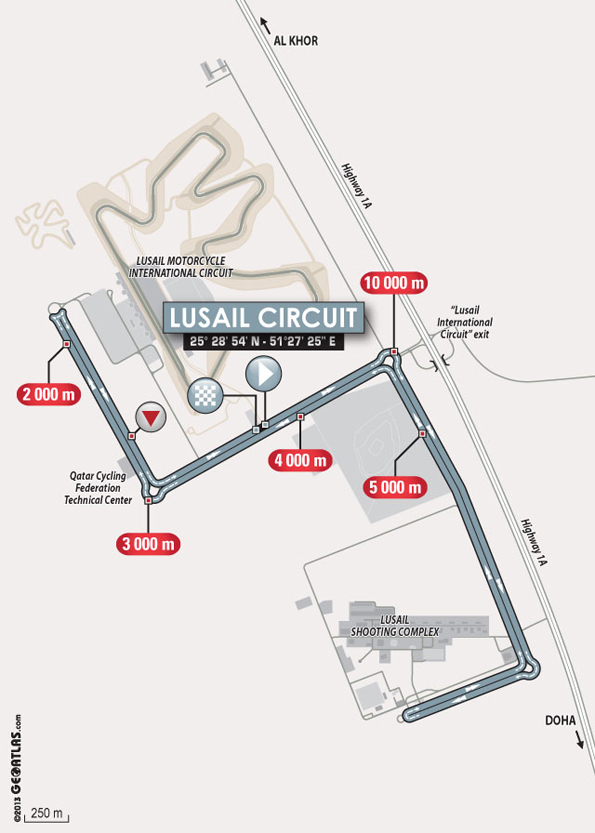 Stage 4
Stage 4 - Dukhan to Mesaieed- 135km
Wednesday 12th February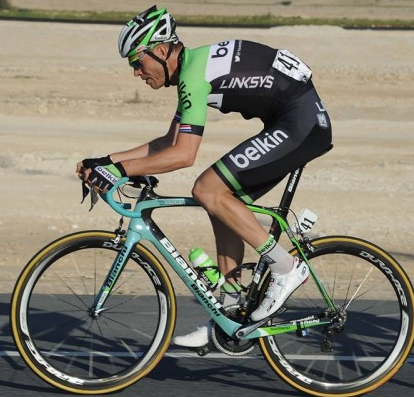 Well, it doesn't get much closer than that - Lars Boom was denied by less than a second by a mightily impressive ride by Australian Champion Michael Hepburn to deny me my first decent winner of the week.. But the small (16.65%) return from the 1/3 odds on the each way bet didn't make up for the 2pts lost on Cancellara and the match bet. Not been a great week, but that's how it goes. Hopefully we can find a winner before the end of the race to level us up at least. My pick Fabian Cancellara was best at the intermediate check point up until Boom smashed through 4" quicker, but he faded in the 2nd half and finished in a tie for 3rd place with surprise-of-the-day Daniele Bennati.
Niki Terpstra continued to show how strong he is at the moment, taking 5th place just 8" back and there were good rides also by Gilbert, Elmiger, Van Keirsbulck, Mouris and Steegmans to round out the top 10. Ian Stannard moved up a place to 5th and now sits just 12 seconds off taking a podium spot.. in fact, just 35" cover the first 5 so there could still be some very exciting racing over the last two stages. Terpstra's 21" lead looks comfortable enough, but you just can never tell with this race.. he could suffer from one of the many crashes and punctures that have affected the race so far..
Stage 4 is another flat stage that will see the riders buffted by winds, with cross/tail winds hitting them for most of the latter part of the stage. It will be quite strong towards the end of the day, so it could cause some splits and problems again, but it is more than likely to end in a bunch sprint. Some riders may have saved something in the TT with the hopes of going on the attack today but the breakaways are likely to be reeled in before it ends in a bunch sprint. Cavendish won this stage last year with Kruopis in 3rd and Kristoff in 7th, Boonen won from a sprint in 2010 and Haussler won on a gusty day in 2011.
Tom Boonen was superb when winning easily on Stage 2 and he put in another excellent ride to finish in 15th spot in the TT. With time bonuses available and he being just 4" off a podium spot, I expect a very agressive day from him. OPQS have a lot of cards to play with 5 riders in the top 10, but I think if they can get Boonen on to the 3rd step of the podium, at least, they will do their best to do so, whilst at the same time being mindful of protecting Terpstra. At 3/1 best price I think he is quite short, but I think he will be going flat out for the win and could well do it.
André Greipel might have to look after Roelandts tomorrow, well at least the Lotto squad will so I'm not sure that he will be a good pick for tomorrow's stage, and the 15/8 best price tonight doesn't appeal to me. Roelandts has only got a 3" lead over Boom and 7" over Boonen and I think taking second (or possibly better) might be the team's ambitions now. Greipel has no problem riding for his friend and key lead-out man Roelandts - he knows he will repay him many times over during the season, so he may put personal ambitions aside tomorrow.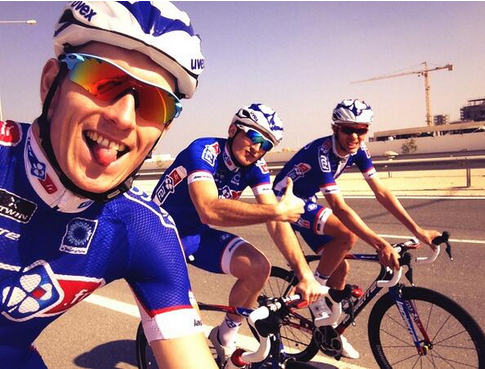 Arnaud DéMare rode a good TT too, finishing just 26" behind Hepburn. After missing the splits in Stages 1 and 2 he will be keen to get up in the sprint again but with several of the FDJ riders crashing on stage 2 (including Ladagnous and Boucher who had to retire and Offredo and Le Bon who were injured but could continue) then he is unlikely to have much assistance at the finish. At 6/1 he doesn't appeal to me either tomorrow.
Michael Mørkøv has been very active in the first two stages, making the final selection but losing out to Boonen on St2 and coming in second in the second group just 7" down on St1, He finished 30th in the TT but I'm sure he was thinking about the days ahead and kept something up his sleeve. At 66/1 with Paddy Power , that got me interested, he is only 25/1 and 28/1 elsewhere.
Sam Bennett will have to take a small portion of my capital too again though tomorrow as I believe he too held something back in the TT today with tomorrow in mind. With Cancellara starting just behind him he was under instructions not to overdo it today and once passed by him with 3km to go kept things sensible. The wind conditions and course will suit him tomorrow I've been told and with some possibly staying out of the sprint tomorrow he may well come in to contention. At 100/1 with Bet365 I think that's worth a half a point each-way.
Andrea Guardini has had too many chances for my liking this week but he too seems to have taken a rest day today, rolling in in 131st place. Barry Markus missed the key break on stage 2 and might be looking to make up for that, but with Boom's 3rd place in the balance, he may be on other duties tomorrow. It's a really tricky stage once again so stakes are being kept sensible, but hopefully we'll see some or all of my picks at least contesting the final!
Recommendations:
2pts Win on Tom Boonen at 3/1 with Paddy Power
0.5pt each way on Michael Mørkøv at 66/1 with Paddy Power
0.5pt each way on Sam Bennett at 100/1 with Bet365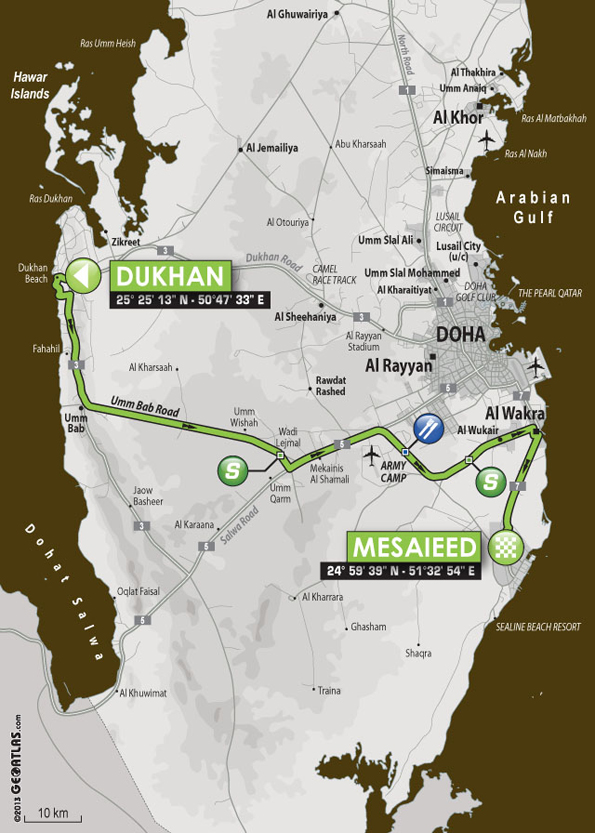 Stage 5
Stage 5 - Al Zubara Fort to Madinat Al Shamal, 159km
Thursday 13th February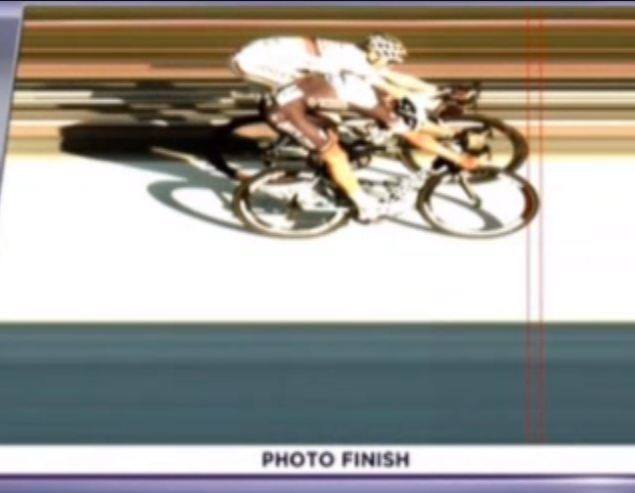 Tom Boonen showed today that he is back to his best by beating none other than André Greipel in the sprint to the line to take stage 4 of the Tour of Qatar and land my headline 3/1 tip. It was almost a fantastic outcome for me with my 100/1 tip Sam Bennett putting in a superb performance to finish 5th, just outside the Top 3 placings.
It was a ridiculously fast stage today with a tail-wind driving them for the vast majority of the road to . Riders were tweeting in almost disbelief after with regards to their average speeds. Race leader Niki Terpstra's pic of his speedo showed avg speed of 57.1kmph (below), others were showing around 56.6kmph. Either way it was phenomenally fast, possibly amongst one of the fastest pro races ever. In a chat with ex-pro Dan Lloyd after he told me the fastest race he was ever involved in was 54kpmh average speed, which is a big difference!
My team mates where amazing today.Thnx to keep me in front guys!!!and wanna blow your mind?look at this pic: pic.twitter.com/rCy52b9vA9

— Niki Terpstra (@NikiTerpstra) February 12, 2014
As I thought might happen, when it came to a dogfight at the finish, Boonen was the boss.. Greipel's train stalled with a few hundred metres to go (probably tired from protecting Roelandts all day) and Boonen got first jump. Sam Bennett, who had expertly dived on to Greipel's wheel with about 500m to go found himself boxed in as the Lotto train stalled but it is a measure of how well he was going that he said he was disappointed with only finishing 5th as he had great legs.. You and me both Sam! Barry Markus of course took a top 3 after I decided not to back him and Michael Mørkøv was nowhere to be seen at the finish despite taking one of the intermediate sprints during the day (he actually finished 25th).
Big loser on the day was Lars Boom who punctured at the end of the stage and lost so much time he slid right out of the top 10. Ian Stannard moved up one place to 4th, need one more spot for a podium payout at 66/1!
Stage 5 is going to be another fast one with the riders first heading south east with a tailwind again before turning a sharp left after about 70kms and heading north towards Madinat Al Shamal where they do two laps of the finishing circuit around the city. It's a tight circuit with a sharp left turn just before the finishing line and it should be a fast and furious sprint finish tomorrow.
The bookies are making it a 7/4 coin toss it seems between Greipel and Boonen tomorrow with both of them on offer around 6/4 depending on the bookie, or in Betvictor 's case, both of them are 6/4. It's very hard to split them now, as we saw today, Greipel is vulnerable when it's a real battle of a stage and he has to work harder than normal. Boonen is clearly in superb form, but will he get away with it for a second day in a row?
What about others down the list? Markus got closest to the front two today and with Boom now out of contention Belkin should put all their effort behind giving him a shot at a stage win. He has been backed already in to 12/1 in places but there still is some 15/1 with BetVictor and I have had a half a point each-way on that as I can see him getting closest to the front two again tomorrow. Kruopis got close too today, taking 5th but I think that's about as close as he is going to get so even the big-looking 22/1 doesn't appeal to me.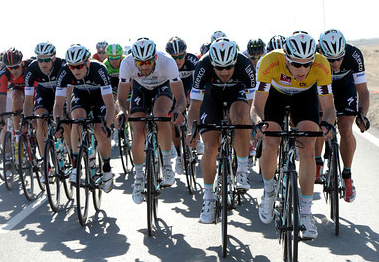 Katusha looked like they meant business at one point near the finish, sweeping towards the front, but Kristoff failed to deliver and eventually finished 5th. I can see something similar tomorrow so staying away from him too. NetApp Endura did a really nice job of bringing Sam Bennett to the front with a couple of kms to go and he did well to take 5th so is justifying my faith and belief in him - so I can't desert him now just in case he does pull off another great ride and go a few places better. At 50/1 he is taking a quarter point each way again.
If I was forced to pick one out of the top two though I think I will lean back towards Greipel again tomorrow. Roelandts looks safe enough for a top 3 now so I think it will be all systems go for the Lotto train tomorrow and they will get it right this time.
Recommendations:
André Greipel - 4pts win at 6/4 with Bet365
Barry Markus - 0.5pts each-way at 15/1 with Betvictor
Sam Bennett - 0.25pts each-way at 50/1 with Bet365
Get the best tyres money can buy with a CyclingBetting special offer!
Continental GP4000s clinchers for under £27 with free delivery!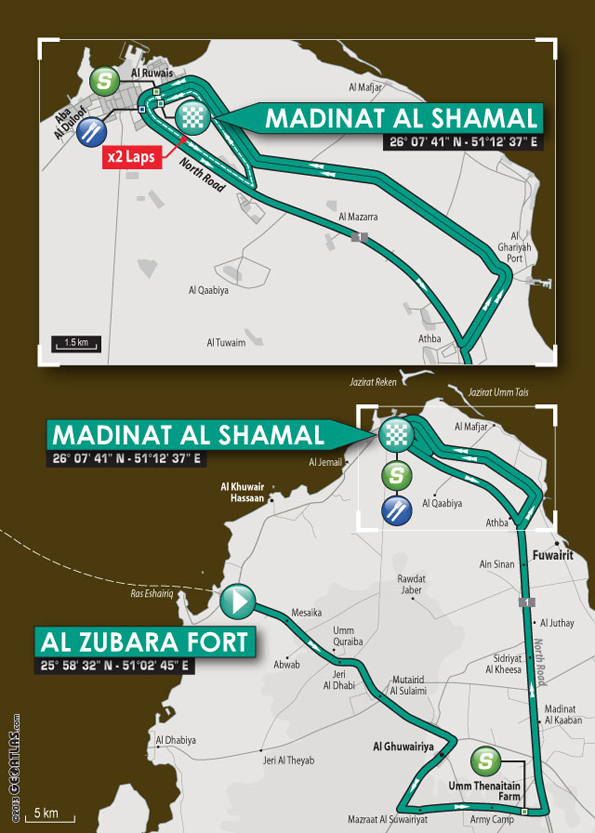 Stage 6
Stage 6 - Sealine Beach Resort to Doha Corniche - 113.5km
Friday 14th February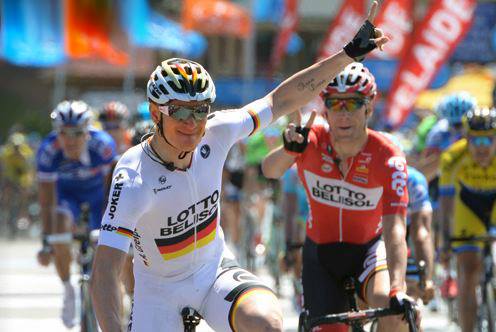 Like clockwork.. that is how it went for Lotto Belisol and my bet today when they destroyed the oppostion and André Greipel won easing down in the sprint from Kruopis and Bos. So two (three if you count Boom's place) winners in a row and we are back on track..
Bos was an annoying 3rd though because the immediate reaction at the finish was that it was Barry Markus who had taken 3rd for Belkin, which would have meant my 15/1 shot had placed too and I was very happy. Can't be too disappointed though as I had a reasonably decent bet on Greipel at 6/4.
So strong was the Lotto leadout that Roelandts held on for 5th, ahead of Sam Bennett with another great ride and Tom Boonen and Terpstra. Markus actually punctured with less than 10km to go and still managed to finish 13th, think it would have been a lot different if he hadn't had that mishap.
Stage 6 is a short 50km spin up the Arabian Gulf coast to the city of Doha where they will do 10 laps of a finishing circuit of 6kms. They will face a head/cross wind as they head up the coast but it is almost certainly going to come down to a sprint finish in Doha.
We have lots of previous winners of this stage lining up this year, with Tom Boonen, victorious in 2007 and 2008, Andrea Guardini in 2011 (Bos was 3rd) and Arnaud Démare in 2012. Mark Cavendish won this in 2013 (Markus in 3rd) and 2009.
Tom Boonen is going for a hat-trick of stages in this year's race and a hat-trick of stages at this particular stage so he is sure to be heavily involved again tomorrow, but the exertions of the week may be catching up with him, he was caught out today and boxed in and could only manage 8th place. André Greipel is sure to get the same armchair ride to the finish he was given today though and I expect him to be too good for Boonen, and the rest, again tomorrow.
Barry Markus was unlucky today I think, a terrible time for a puncture, but with a 3rd place in this stage before I was tempted to give him one more chance tomorrow to get in to the top 3. Guardini is a previous winner but he hasn't been getting close enough at all for me and I can't have him tomorrow, even at the huge odds of 50/1 with BetVictor and Paddy Power, he is only 12/1 with Bet365..
Paddy Power and BetVictor decided not to be very nice with their markets for tomorrows stage though, BetVictor are only offering two places in their betting (paying 1/3 the odds for the place) and Paddy Power are paying only 1/5 the odds for first 3. At least Bet365 are offering a normal sort of market. A poor showing from the bookies again, incredibly it took Paddy Power nearly 24 hours and three complaints before they settled yesterday's stage, today's stage had started by the time they finally settled it, a really poor effort from Paddy Power.
Having looked at the prices though there is little that appeals to me in the outright betting. Greipel is only 5/8 to win, and although I think he will win as convincinly as today, that's a very short price. Boonen is 2nd favourite at 8/1 best price but I'm leaving that too, can see him outside the top 3 again tomorrow. Previous 3rd placer in this stage Barry Markus looks ok at 16/1, but for tomorrow I have gone for some match bets instead.
My Selections:
First up I had 5 pts at evens on Sam Bennett to beat Matteo Pelluchi with Bet365 - Pelluchi is nearly twice the price of Bennett in the win market, so why was Bennett the outsider of the two in a match bet? I hit the evens (just missed 11/10) and it was immediately cut to 17/20.
Secondly, I have gone for a 2pt match bet treble of Greipel to beat Boonen (1/3), Kruopis to beat Bennati at 2/5 and Bennett to beat Pelluchi (8/13) - the treble pays 2/1. (Shows also how good a price the evens was on Bennett, PP were only 8/13)
Finally, a more ambitious 1pt match bet accumulator for fun - Greipel V Boonen, Roelandts V Terpstra (will be leading out Greipel, Terpstra will roll in in the pack as GC winner), Bennett V Pelluchi, Bennati V Sutton and Markus Vs Guarnieri. It pays nearly 7/1 with Paddy Power.
Thanks to @gthehousecat for pointing out that Barry Markus was 33/1 with Paddy Power and even though they are only paying 1/5 the odds for the first 3, it's better than the 18/1 best he is everywhere else. So I had a half point each way at 33/1.
The week didn't start great and I thought we were going to struggle to find any winners, but it improved with three winners in the last three stages, hopefully we can go out with a bang tomorrow! I was unlucky with my 66/1 shot Stannard who looks like missing out on a podium spot by just one place and 17", but Cancellara was a disappointment in the TT and the overall, losing lots of time in the wind.
Just on an aside though, I am going to be starting a new, much busier and more serious job next Thursday so it might mean I have to scale back on the amount of work I put in to the previews for a while.. hopefully I can keep doing as much as I can but I may have to scale back to the key events for the time being. I plan on doing Oman and will see what I can manage after that. Ian.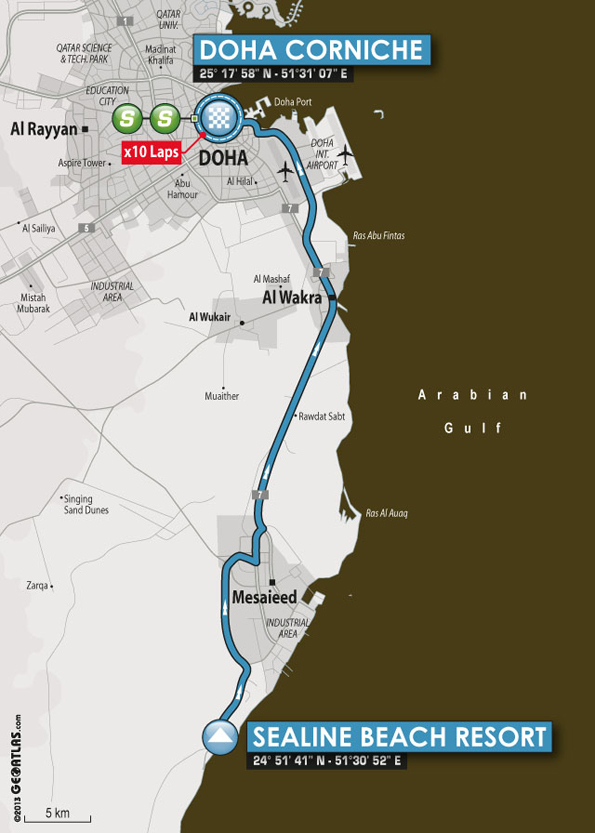 Overall Contenders and Favourites



Sprinters Vs Time Trial men - who is going to come out on top? Time bonuses could play a crucial role in the race - there are 3, 2 and 1 seconds available at the intermediate sprints and 10, 6 and 4 seconds available to the stage winners each day (bar the Time Trial stage).
Tom Boonen heads the betting at the best price of 5/2 (as short as 6/4) followed by Fabian Cancellara who is available at 7/2 but is as short as 11/8, so there really is nothing in it for the top 2. Boonen can take finish line bonus seconds and maybe not lose too much to Cancellara in the TT, Cancellara will probably easily beat Boonen in the TT and can maybe even pick up bonus seconds on the road too if the need arises.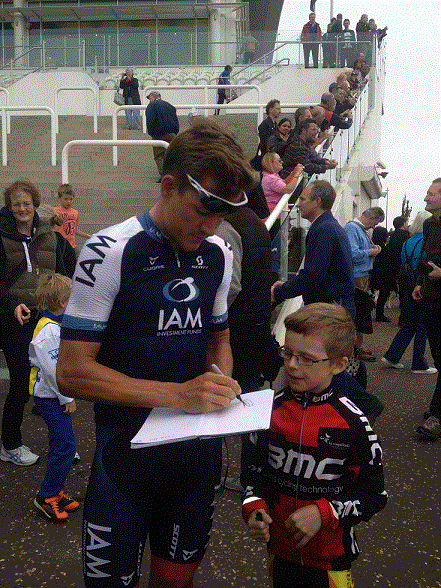 Lars Boom and André Greipel are next at around the 7/1 mark, again one being a TT'er and the other being a finish line bonus grabber who can possibly ride an ok TT. Prices then start to jump up around the 16 to 25/1 mark for the like of Terpstra, Kristoff, Haussler and Sargeant. It's very hard to pick any of these over each other though given the lack of form to go on and the credentials of the top 2 in the betting.
Heinrich Haussler likes this race and is a multiple stage winner and point classification winner, plus he finished 2nd in 2011 in the overall GC. He should be up there in most sprint finishes but I don't think he is good enough to get the top bonus points nor do well enough in the TT.
To me though, Cancellara looks a very strong candidate for the overall. The word was that he wasn't feeling great for the Dubai TT, he had been ill over the winter and so on and that his targets were later in the year. It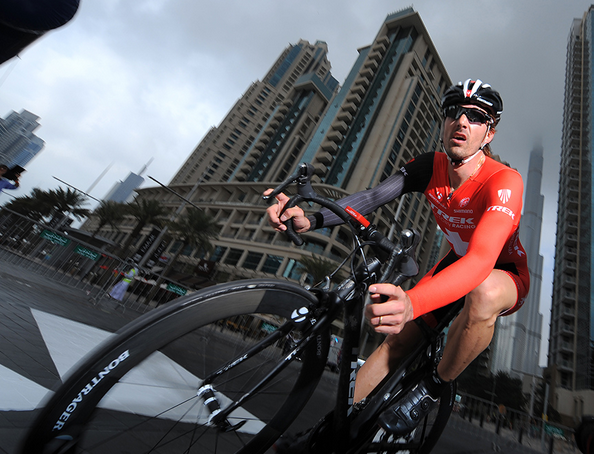 was enough to put me well off him for that TT, but he actually rode a really good TT - finishing in 5th place only 25" behind Phinney and only 3" behind Martin. There is no-one in this field of the quality of Phinney or even Martin and I fully expect him to put in a big Time Trial and put himself in the leaders jersey on Stage 3. He should be perfectly fine in the first 2 stages, he is good at being in the right place at the right time and may even look to get his team to split the race early to shed some potential rivals. if it comes to it he may even get involved in sprint finishes to get some early time bonuses, or more importantly to keep them off his potential rivals.
He's got quite an experienced team with him in the shape of Popyvich, Roulston, Devolder and Sergent and I think at 7/2 he is my top pick for the overall.
Tom Boonen may well do an alright TT, but I don't think he will be within 30" of Cancellara so unless he wins some stages (and I doubt that's possible with Greipel here) then I can't see him dislodging Cancellara.
Outsiders at big prices - Going back to my rationale for stage 1, Sam Bennett at 400/1 was just too good to ignore. He may be involved in all the sprint finishes, is capable of taking intermediate sprint seconds and is not a bad time traillist. He finished 22nd in the TT at the Tour of Britain and at one point was the leader early on in the day. He may just get close enough to Cancellara to land the each-way money at a price of 100/1.
Ian Stannard rode a brilliant TT at the 2013 Tour of Britain, finishing 2nd behind his more illustrious team leader Wiggins. It was a fantastic ride from him that day but it wasn't a great surprise given the kind of engine he has. He is super powerful and may get right up there in the top 3 in the TT. He also should be safe enough in the bunch with the cross-winds and at 66/1 with Paddy Power he might be worth a small e/w investment too.
This is a very hard race to call, it would be nice to keep the good run going though, so let's hope Cancellara can do the business and we get two super rides from our big outsiders!
Recommended Bets:
Fabian Cancellara - 2pts win at 7/2 with Bet365
Sam Bennett - 0.5pts each-way at 400/1 with Paddy Power
Ian Stannard - 0.5pts each-way at 66/1 with Paddy Power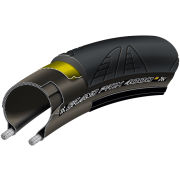 Get the best tyres money can buy with a CyclingBetting special offer!
Continental GP4000s clinchers for under £27 with free delivery!