Details

Published on Sunday, 19 January 2014 21:06
San Luis Provence, Argentina.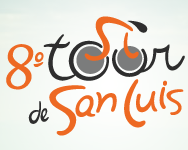 The Tour de San Luis starts on Monday January 20th, taking in 7 stages and over 1000kms. This is a UCI 2.1 ranked race and has attracted a quality field, probably the best field that has ever taken to the start line. A total of 12 World Tour squads are there with some of the world's best riders.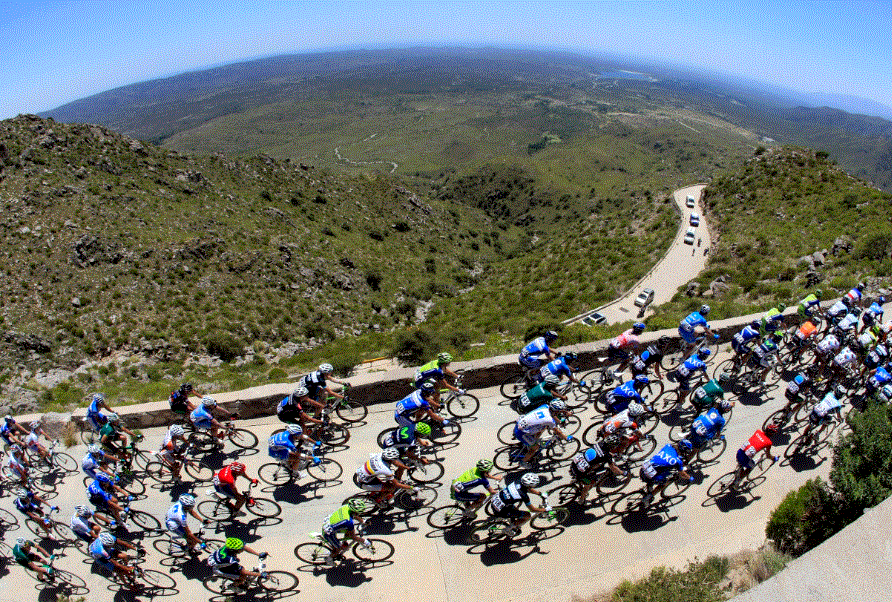 The local Argentinan riders do well in this race, as it is the major focus of their season, and a lot of the European and North American riders go there for early season conditioning. Like the Tour down Under, it is almost impossible to guess just what kind of form the riders will be in for their first race of the year, maybe even the riders themselves don't really know until they hit those 10% gradients!
Previous Winners of Tour de San Luis
2013 Daniel Diaz (Arg)
2012 Levi Leipheimer (USA)
2011 Marco Arriagada (Chi)
2010 Vincenzo Nibali (Ita)
2009 Alfredo Lucero (Arg)
2008 Martin Garrido (Arg)
2007 Jorge Giacinti (Arg)
Daniel Diaz of the San Luis Somos Dias team won the 2013 edition of the race, one of 4 Argentinian winners out of 7, with Levi Leipheimer taking it in 2012 and Vincenzo Nibali in 2010.
It is a top class field though that is participating this year again, possibly one of the best that the race has seen. Giro winner Nibali, TDF runners-up Quintana and Rodriguez and sprinting superstars Cavendish and Sagan. Tom Boonen makes a welcome return to racing too and there's plenty of South American superstars auch as Atapuma, Acevedo, Diaz, Duarte and Betancur. The race offers a great prep for riders looking to get some early season form in warm weather, with a variety of stages to suit most riders. There are three summit finishes, three sprint stages (two of which are uphill sprints) and an individual Time Trial over 19.2km on the 3rd to last day.
The Route
Click on each tab to read stage previews and recommendations.
Stage 1
Stage 1 - San Luis to Villa Mercedes, 164km
Monday, 20th January 2014
The opening stage from San Luis to the town of Villa Mercedes, where Mark Cavendish took the stage victory 12 months ago. The stage will almost certainly end in a sprint finish again and you would have to fancy Cav to make it two in a row. There even seems to be a little sign for the sprinters trains to get themselves sorted with about 10km to go, but on second thoughts it's probably a warning for a train level crossing. Let's hope they all get through.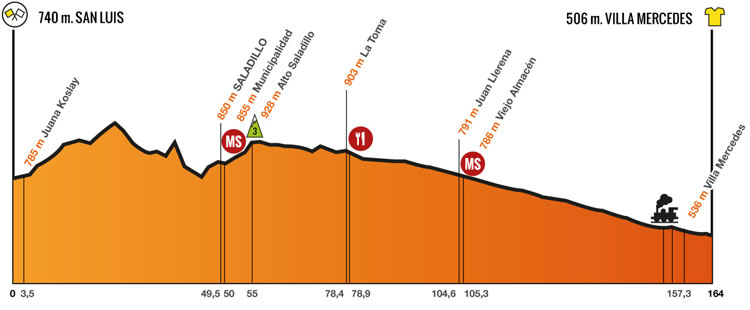 Stage 2
Stage 2 - La Punta to Mirador Del Potrero, 175.8km
Tuesday, 21st January 2014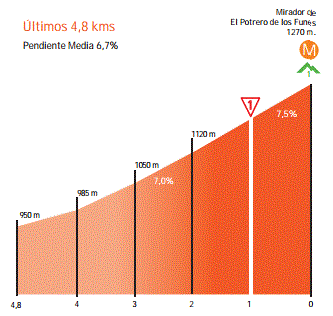 Stage 2 has a real sting in the tail, but it looks like a pretty boring profile up until the last 7km or so during which they loop back on themselves a few times along the route. An early break will probably go in the first 40km but expect them to be reeled back in, possibly in time for the sprint with about 40km to go. The finish though is at the top of a Cat1 climb, which averages 6.7% over the final 4.8kms. It is a finish for strong men and will be the first real shake-up in the GC.
After Gaimon soloed to victory on a blisteringly hot day in stage 1 yesterday, he holds a very healthy lead of 4'35" over his main GC rivals going in to this stage. Hard to know how he will get on today, as Garmin put it yesterday, no-one knows who he is so he might just slip away. He has been racing in the US for 8 years before signing for Garmin-Sharp this year, but will have never been in a situation like this before and will relinquish that lead before long you would think.
Nairo Quintana was reportedly ill yesterday, (as was Pettachi who had to abandon) so I am not interested in backing him today. He is joint favourite with Daniel Diaz at 7/2 best price and it is too short to risk backing him until we know he is ok again. Likewise Dani Moreno, Katusha told me yesterday that he was after recovering from his crash and he is fine, but he lost 35" to the main pack in the run-in, unless he had a mechanical I didn't hear about.. Daniel Diaz is clearly very much at home in this race and these climbs and probably will be right up there again, but I am not interested either in that short price. I think Benat Intxausti will be baby-sitting Quintana today if he is not feeling 100% so am not backing him. With the illness affecting Quintana and Rodriguez reportedly feeling unwell also, my 8/1 on Nibali is now as short as 4/1 without him actually gaining any time!
It is very hard to pick a winner with all the unknown South Americans that can get in the mix, will Nibali be on form, is Rodriguez still ill etc, but if we were to pick two that might be in with a shout, I'd plump for Jurgen Van den Broeck at 10/1 and Miguel-Angel Rubiano at 40/1. JVDB was 6th on this finish last year (4" ahead of Diaz) and has been training really hard all winter seeing as he missed the latter half of 2013 with injury. I think he will be in better shape than many and can give this a real go today. Same for Rubiano in terms of experience, 9th here last hear, 5" behind JVDB and 3rd the year before behind Contador, but 7" ahead of Diaz. I know who I would rather be on at 40/1 instead of 7/2 that's for sure.
1pt each-way Jurgen Van Den Broeck at 10/1 with Ladbrokes
1pt each way Miguel-Angel Rubiano at 40/1 with Betvictor.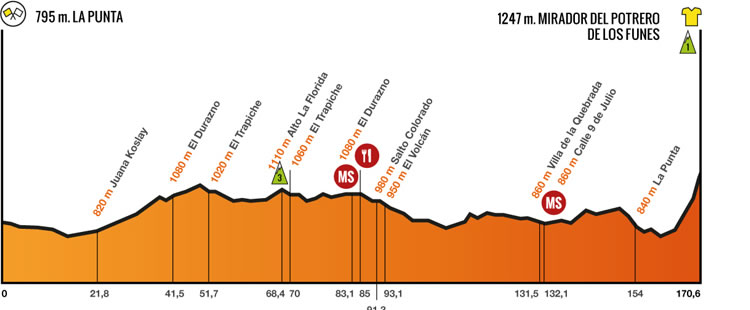 Stage 3
Stage 3 - Tilisarao to Juana Koslay, 175.8km

Wednesday, 22nd January 2014
Stage 3 looks on paper like it should be a sprinters stage, but it is an uphill finish that could rule out the pure speedsters like Cavendish, Modolo and co. With the rolling profile it could feature a long breakaway which goes inside the first 50km to grab mountains points on the Cat 3 climb 53km in. Peter Sagan finished 2nd behind Gavazzi in last year's race and should be hot favourite to go one place better this year. Gavazzi isn't in the starting list this year but 3rd place on the stage last year Ventoso is and is one to watch as is Boonen, Rodriguez and Nocentini. And that's not even mentioning the armada of local riders who will be pushing hard for this stage.
With Phil Gaimon winning stage 1 (must have been 500/1 or more) and Arredondo winning stage 2 (again must have been 500/1!) this race has been hard to pick a winner in so far.. Thankfully Domenico Pozzovivo did a great ride yesterday to move up in to 9th place and in with a shot at a podium spot. He is in to as low as 13/2 to win from the 125/1 I backed him at. It was another sensational ride from Phil Gaimon, who is rapidly becoming a legend in my eyes, especially after he replied to a tweet I sent him asking why Tom Danielson didn't wait for him at the top of the climb!
.@Cyclingbetting@tomdanielson nah. I should have told him to take off and win the stage. His job was done for me. I'm still new to this.

— Phil Gaimon (@philgaimon) January 21, 2014
He is still available to back at 14/1 for the overall and I have had 1pt each way on that - he has 4'19" lead to his big rivals now Quintana and Atapuma. He rode very well with Danielson up the climb and if he can limit his losses to 60 to 90 seconds on the summit finishes to come he might just hang in there.
This is a hard stage again, but if I was to go out on a limb and chance a bet on this I would go with Sagan over Cavendish at 2/1 or better, but also Boonen at 12/1 each-way and Ventoso at 16/1 each-way are two bets that look ok to me.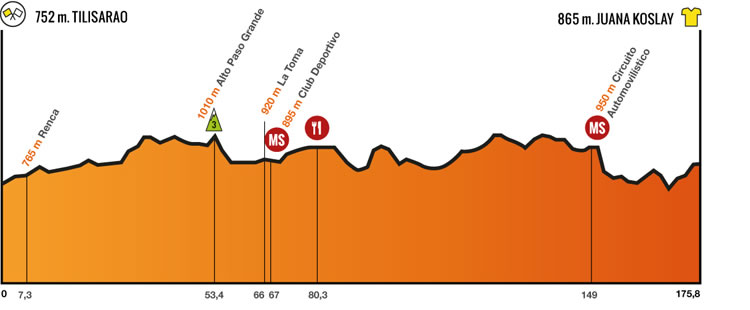 Stage 4
Stage 4 - El Potrero de los Funes to Alto del Amago, 168.7km
Thursday 23rd January 2014
Stage 4 is where things get really serious and is the first real test of the GC candidates. There's what feels like a 145km lead in to the main event, which sees a sprint and two categorised climbs in the last 22kms which should again reshuffle the GC.
There's a Cat 3 climb first which starts with 10.5km to go, and almost immediately after that finishes, after 3.5km, it kicks up again to the Cat 1 climb to the finishing line. The climb averages 7.2% over the last 10.5km but there are kilometres which average 11.5% and 10% with 5 and 4kms to go. The final kilometre averages 10.7% but has a short flat sprint to the line for whoever is figthing out the finish.
Of the top finishers last year, Jurgen Van Den Broecke, Daniel Diaz and Rubiano in 6th, 7th and 9th place are the only top 10 finishers on the stage who reappear this year, but with the likes of Santambrogio and Ulissi finishing in the top 10 last year it gives some clues as to the type of rider the finish suits. Expect these guys again and the likes of Rodriguez (if he has the form, he says he is going there for preparation..), Quintana, Pozzovivo, Dani Moreno, Atapuma and Anacona to be involved at the finish. More analysis to come closer to the stage date.
*23/1/14 13:00* - Phil Gaimon holds on to his impressive lead, but today will be a big test of his credentials as the race winner. The climb will test most riders to the limit of their climbing abilities, but by all accounts Gaimon can climb pretty well and with Danielson at this side he might just do ok to hold on to his lead for another few days. Nairo Quintana proved on Stage 2 that despite being ill he is still one of the best in the world when the road steepens, so he is rightly a very strong favourite for today's stage at the prohibitively short odds of 17/20 with BetVictor, which was the first price available. Thankfully William Hill came out with 6/4 as I was writing this and I have had a bet at those odds, can't see it lasting long and he should go off around evens I'd guess.
This short price leaves us to try to pick out some value from the rest of the field then in order to find a winner, but again, with the uncertainty of the racing, the field, the terrain etc, stakes are kept sensible. My pal Pozzovivo needs to make a move today I feel if he wants to try to move up the leaderboard, there are plenty of riders he can pick off in the GC above him and hopefully move up to the top 3 at least. He opened at 14/1 which was massive, by the time I got on he was 10/1 but had a bet each-way on that.. He is only 3/1 second favourite with William Hill!
Rubiano could go well at 20/1 as can Atapuma at 6/1 and Zubeldia at 16/1. Diaz doesn't seem to have the same form this year, finished 2'42" down on Stage 2 so is a poor bet at 14/1 and 20/1 I think. I can't see Nibali or Rodriguez being in the mix either, they are not quite race fit yet either it seems.
I'm happy though with my 4pts on Quintana at 6/4 and 1pt each-way on Pozzovivo at 10/1.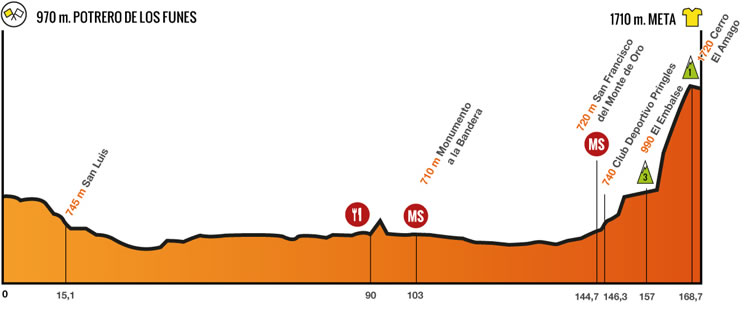 Stage 5
Stage 5 - San Luis to San Luis, 19.2km (ITT)
Friday 24th January 2014
Stage 5 is an out-and-back Time Trial over just 19.2km and it looks perfect for the likes of Taylor Phinney and Adriano Malori. Leandro Messineo of the the San Luis Somos Todos team finished 2nd behind Svein Tuft last year so he should be respected this year too. It will be interesting to see how Jurgen Van Den Broeck goes on his reapparance after an injury-marred 2013 season, he finished 10th in this TT last year, but his time trialling was improving as the season went on last year. Nibali is also a big name to watch, having taken 4th place last year and 2nd in 2012. Others to watch would be Christian Meier of OGE and Tom Danielson of Garmin-Sharp.
*Update - 24/01/2014* So Quintana roars away from them all on Stage 4 to land the 6/4 tip easily, with only Godoy of the San Luis team finishing within 1 minute of him. Phil Gaimon battled valiantly but lost 4'.15" to Quintana, but it was good enough to hold on to his leader's jersey, albeit by a meagre 4 seconds. Atapuma and Rubiano who I also said should go well finished in 3rd and 5th place respectively too. Big losers on the day were Pozzovivo who lost nearly 4 minutes to slip down to 14th and JVDB who lost over 7 minutes as he suffered badly in the heat.
The good news for our 14/1 each-way bet is that Gaimon now has a 1'15" cushion to 3rd place De Maar and although De Maar is a former national time trial champion, it was the Curaςao national championships that he won in 2012! Gaimon is reportedly ok against the clock so hopefully he can hold his position or possibly even gain some time over Quintana, it is short at only 19km. He sounds defiant though and even had one of those space-age POC helmets flown out specially to him for the TT so he means business. He is still clear 2nd favourite in the betting at 3/1 so hopefully he can land the place money for me.
Today's stage is a short back and forth course that drags up to the top of Giro 180° where they do a 180° turn and come back to San Luis. It is short at only 19km so it shouldn't take them too long at all. The first rider is off at 15:20 local time (18:20 UK time) and Phil Gaimon goes at 17:58 local time (20:58 UK time).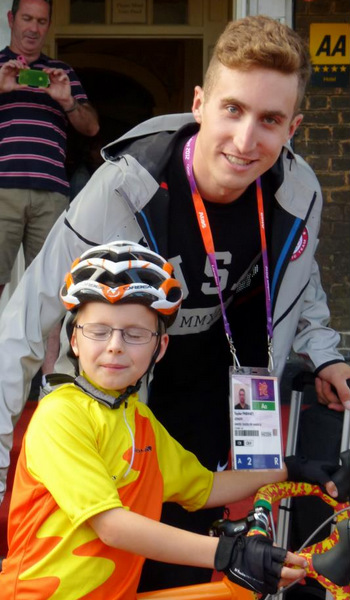 Taylor Phinney was first priced up at 17/20 and that price was just far too short in my mind, no way I was backing him at that price, but then William Hill went 3/1 and that was a MASSIVE price - but by the time I got there it was already 2/1, in a matter of minutes.. I still took a decent bet at 2/1 as I was expecting him to be 5/4 or Evens. Not long after pointing this out though they dived for cover again and slashed him to 13/10. Although that price is a lot shorter than 2/1, it is still a price I probably would have backed him at!
Who can challenge him? Well his main rival has to be Adriano Malori from Movistar. With multiple TT victories in his palmares, this former Italian TT champion is surely one of the main rivals to Phinney. So much so that WillHill made him favourite when they opened their book. That has since been corrected with Phinney sharing 13/10 co-favouritism with him but the 5/1 with BetVictor looked interesting were it not for the fact that they were offering WIN ONLY on the stage. A poor show all round from the bookies today, guess this week has hurt a little - with Phinney at 7/10 and a win-only market restricting each-way betting, BetVictor may as well not have bothered.
Vincenzo Nibali looks very much out of sorts this week so I am not interested in backing him, especially at 5/1, even if he beat Malori by 5" in this TT last year. Third favourite Eduardo Sepulveda is a 22-year old Argentinian track pursuitist riding for the Bretagne Seche Env. team. He has had some mediocre results in small TT races in Europe so cannot see how he can be 3rd favourite in a race like this ahead of the likes of Kessiakof and Kangert, who look far more interesting each-way at 20/1 and 33/1 with WillHill, but they too are offering win only, so cannot recommend a bet there either.
A link to the start times can be found here, thanks to PelotonWatch.
So it's a big 5pts and very confident shout for Taylor Phinney to do the business in San Luis for us tonight at 2/1 with WillHill, with a 1pt hedge on Malori at 5/1 with BetVictor.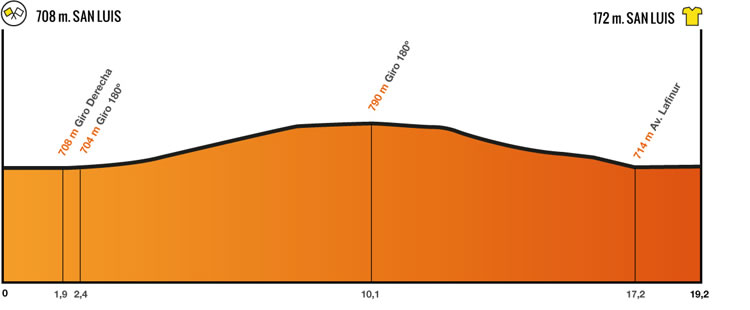 Stage 6
Stage 6 - Las Chacras to Mirador del Sol, 184.4km
Saturday 25th January 2014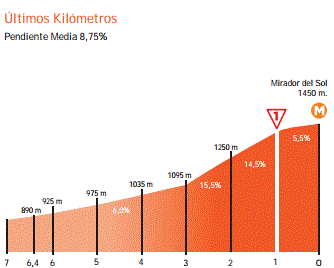 Stage 6 is a lot like stages 2 and 4 in that there is nothing really to concern the riders for 177km then it suddenly kicks up hard for what is surely going to be the final selection process for the GC places below Quintana. Quintana has a comfy 26" lead over Phil Gaimon now and he is not going to trouble him so it is all over bar an accident for Nairo, I can't see any of those below him making up the time required to steal it from him..
Like the finish to Stage 4, the climb up to the first category climb of the Mirador Del Sol is preceded by a Cat 3 climb at its base starting in the town of Merlo with 9km to go.
The Cat 1 part up to Mirador del Sol is a tough climb, averaging 8.75% over 7kms, with parts hitting 14.5-15.5% average with 3 and 2kms to go. It eases off to only(!) 5.5% average for the final kilometre. Alberto Contador won this stage in 2013 from Daniel Diaz, and it was the exact same pair filled first and second in 2012. Jurgen VDB finished 10th last year and José Serpa has finished in the top 4 in 2010 and 2012 so expect to see him in the mix again.
But there can only be one bet on this stage and that is a big bet on Nairo Quintana at 10/11 with Ladbrokes, he is only 1/2 with BetVictor which is more in line with his chances I think. He crushed them all on stage 4 and his strong time trial (16th) shows that he is completely over his stomach problems and he should win this comfortably.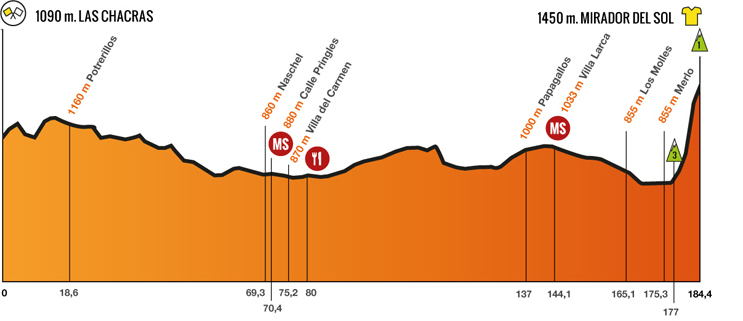 Stage 7
Stage 7 - San Luis to Terrazas del Portezuelo, 148.1km
Sunday 26th January 2014
It may look lumpy on paper but the stage should be a procession as is the tradition for the Orange jersey wearer. The sprinters should battle this one out, but once again there is a little ramp up to the finish which may suit the likes of Tom Boonen or Peter Sagan a little more than Cav.
The prices available show a mix of opinion amongst the bookies as to the chances of the top three sprinters with Cavendish 6/4 with BetVictor but 15/4 with William Hill who have Boonen their 6/4 favourite and Cavendish at 3/1! At least they agree on Sagan, both making him 3/1.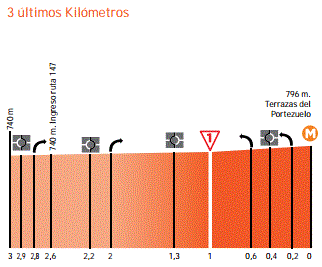 The last 3km as I said slope up ever so slightly and it should make it a head to head between Sagan and Boonen. Sagan has had a very quiet race so far and needs to try to take something out of the race for Cannondale. Boonen was led out by Cavendish in the uphill finish to the sprint on stage 3 and for a while looked like landing the 12/1 for us, but he faded in the last 100m to be passed by Stage winner Nizzolo and Ventoso.
He has shown though with that cameo that he is as fit and ready as the reports I was getting about him and is sure to be involved again today. Whether he returns the favour to Cav for stage 2 is the question, we don't know for now. If he does lead Cav out then there is a possibility that Sagan can mug Cav in the uphill drag to the line.
If Cav leads out for Boonen again then Sagan will know he faded in the last 100m so will be looking to pounce. He has had a Tour to forget really but did a very good time trial, finishing 10th ahead of the likes of Nibali, Kangert and Van Den Broeck. I expect him to make his mark today and nab the stage at 3/1 from Boonen with Modolo an interesting e/w bet at 10/1.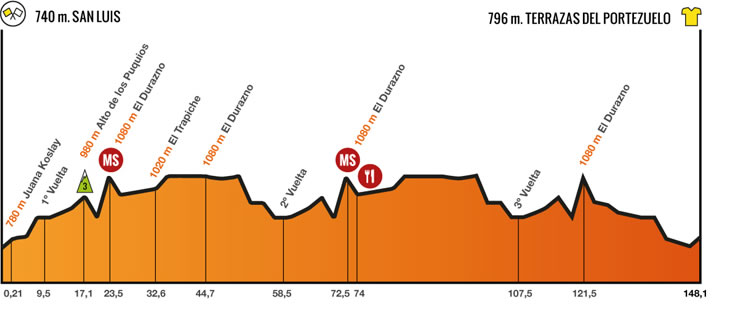 Exclusive Promo! Get an extra £10 off a £100 spend with Probikekit! Click banner and use code CPBK10 at checkout to qualify!
Overall Contenders and Favourites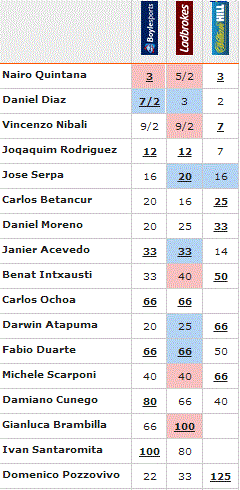 Looking at the betting we can see that there is nothing in it in terms of favouritism between last year's winner Diaz and Quintana. Diaz obviously loves this race and has lots of excellent form to justify being at the top of the betting, ranging from 2/1 to 7/2. Nairo Quintana looks perfectly suited to the summit finishes and should hold his own in the TT too and he too is around the 3/1 mark. He has also spent his winter in Columbia so will be more acclimatised and comfortable than the Europeans.
If you took both of them as being 3/1, the odds are suggesting that there is a 50% chance of the winner coming from these two which means that there is only a 50% chance the winner comes from any one of the other 148 riders! Even though Quintana does look like a strong favourite, that seems like a probability to take on..
Vincenzo Nibali is best priced 8/1 (9/2 general) and the 8/1 looks like an alright each-way bet considering he should be right up there on all the summit finishes and will do well in the TT again. It all depends on how well 'tuned up' he is this year. (Nibali was pushed to 8/1 after I took the screenshot with Will Hills which I have taken)
Joaquin Rodriguez has been saying that he is only going to the race to get some condition and training in so I couldn't trust him even at 12/1. He can probably do ok on the climbs, but could lose a minute on the TT.
Jose Serpa is biggest price 20/1 and he should be right up there in the top 5 or 6, but the 34 year old may find a few of his younger rivals a bit too good for him this year.
Carlos Betancur started last year well, getting 3rd in La Fleche Wallone and 4th in Liège–Bastogne–Liège but faded later in the season. He has stated that he will be focusing on the Tour de France this year, so with that in mind his preparation may have changed this year so I cannot trust he will be giving it 100% this week. His team-mate Domenico Pozzovivo though may be a more interesting bet at the standout price of 125/1 with
William Hill, he is only 22/1 with Boylesports. He can climb with the best and may just be given a bit more lee-way than Betancur. His Time Trialling has improved massively too, remember he finished 3rd in the Stage 11 TT in the Vuelta last year behind Cancellara and Martin, but ahead of Nibali so if Betncur is not 100%, we could see a big ride from Pozzo, and although his form isn't clear, 125/1 is too big to ignore.
So who else should we be considering at bigger prices? Acevedo could have been an interesting option but has been ill recently and missed almost a week of training so I am not touching him. Benat Intxausti is interesting, as he rode well towards the end of 2013, winning the Tour of Beijing with some canny riding, but unless something seriously bad happens to Quintana, Intxausti will be riding for him.
One rider who I would like to back is my old friend Jurgen Van Den Broeck who I have been backing for the TDF for a number of years.. He crashed out again out of the Tour last year and his knee injury forced him to miss most of last season. He has been training really hard in recent months though since he got back on the bike and has been putting up some impressive numbers in testing apparently. He starts his seasons well generally and has some form and experience of this race. He should do a good TT and can hang with most of the best on the climbs. Unfortunately at the time of writing no bookie is pricing him up for some reason, but if they do price him up I will consider backing him depending on the price.
Daniel Moreno is in the same situation with Katusha, he should be there to support Rodriguez, but he may well be given the nod to press on if in good shape and Rodriguez isn't firing on all cylinders. At 33/1 he may be worth a small each-way bet. He did have a smash with a car in training at the end of December but was back in the gym and on his bike on the 1st January, so hopefully he's ok.
**Update - Hills cut Pozzovivo to 33/1 from 125/1 within 10 minutes of I having my bet and posting it on twitter last night. I tried to get a reasonably small bet on each way and they offered me £2 each-way only! I still took it, better than nothing, but poor form from them.. *20/1/2014, 08:17*
Main bet - 2pts each-way on Nibali at 8/1 with
William Hill
1pt each way on Pozzovivo at 125/1 with
William Hill (now 33/1)
0.5pt each way on Moreno at 33/1