March 9th - 16th 2014, 1,447kms

Paris-Nice. Conjures images of some famous battles and legends like Sean Kelly. And for many it used to be the start of the 'serious racing' where Grand Tour contender's often met for the first time in the season.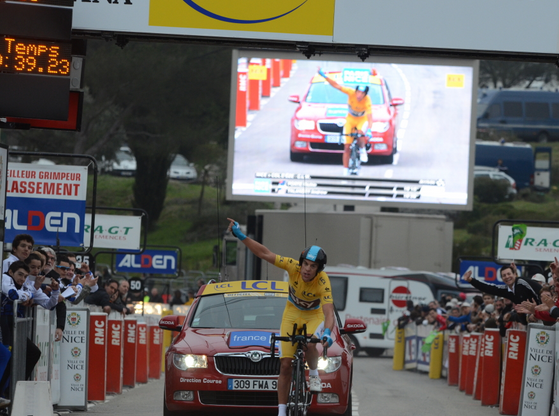 Previous Winners of Paris Nice
2013 Richie Porte (Aus) Team Sky
2012 Bradley Wiggins (GBR) Team Sky
2011 Tony Martin (Ger) HTC-Highroad
2010 Alberto Contador (Esp) Astana)
We had the Ruta del Sol already this year, but this is the original and best 'race to the sun' with riders heading from drab, suburban mid-France to the sun and the glamour of Nice. The weather looks like being kind to them this year too so it should make for good, exciting riding.
The big news that came as a surprise Friday afternoon was that Richie Porte, who at the time was sitting in 3rd place on the list of favourites around the 6/1 mark, was switching to ride the Tirreno Adriatico later in the week. This came about because Chris Froome, whom you'd have expected to be odds-on favourite for T-A had to pull out because of lower back inflamation.
This provided a fantastic window of opportunity where bookies were still offering 50/1 on Geraint Thomas, who as a consequence of this Porte switch had now become Sky's team leader in the race. 50/1 was duly snapped up and he is now 11/1 best price.
Looking at the short list on the right of the most recent winners, it is clear to see that Time-Triallists and climbers have done very well in recent years. Whereas this year, the ASO have only gone and created a race that is thrown wide open - there is no time trial and no mountain-top finish!
It should lead to attacking racing all week as climbers, puncheurs and even sprinters scrap for every second they can steal along the way, as there is a high chance the race might come down to a handful of seconds won in an intermediate sprint somewhere. It could all even come down to the very last stage finish in Nice on the 17th March.
The Route and Stage Predictions
As mentioned above, the key thing about this year's Paris-Nice is the absence of a Time Trial that could have lead to a boring race dominated by teams managing it for their TT guy to win.. It should lead to a much more diverse and exciting race with a far bigger chance of attacking on almost every single stage. There are a number of stages for the sprinters but the race could all come down to the last stage in to Nice with the Col d'Eze, which normally is the scene of a time trial, likely to provide enough action to probably reshape the final top 10.
I'll be updating these stage previews every night before each stage so make sure you come back for that.
Click on each tab to read stage previews and recommendations.
Stage 1
Stage 1 - Mante-la-Jolie to Mante-la-Jolie, 162.5km
Sunday March 9th
This first stage looks almost certainly like being one for the sprinters. It's a strange start to the race in that they start very near the finish but head north in a figure of 8 loop for 31kms before then starting on to the finishing circuit which they start three more laps of after 63kms. The finishing circuit is 33kms long and they will have to crest the relatively easy Côte De Vert 4 times along the way. At an average of only 4.4% for 1.5kms it shouldn't really cause any problems, but expect some attacks on it last time around.
It's over 12kms to go to the finish though once they crest the top so you would expect any breakers to be reeled in by the sprinters teams before the finish to set it up for the sprint.
Nacer Bouhanni is favourite for the sprint, but to me is very short at 2/1 general (as short as 7/4). Yes, he is going very well, with a 1st and a 2nd at the Etoile, but despite another 2nd in Oman, he was beaten by several on stages 1,2 and 3, some of which you wouldn't have expected to be finishing ahead of him. So with that doubt in my mind I don't want to back him in this at such short odds.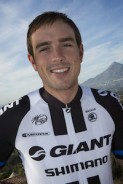 Instead I much prefer the chances of Big John at a nicer looking 7/2. Winner of 3 stages and the points jersey at the Tour Mediterannean, with another seven top 7 finishes this year, the Giant-Shimano Giant is clearly in superb shape. He may have been beaten by Bouhanni in the Med but I fancy him to turn the tables on him tomorrow. He has a good train with him and possibly a better one than the FDJ train so expect them to hit the front inside the last 2kms to take control.
Bryan Coquard is also a big shout for a top 3 place but I want to see how he goes tomorrow first as I think he may have to settle for 4th or 5th behind Degenolb, Bouhanni, Hofland and Kristoff. Hofland should beat EBH in a match bet.
Not a stage to go mad on but I like the look of Degenkolb to get us off to a good start.
Recommendations:
2pts win on John Degenkolb at 4/1 with Ladbrokes
2pts win Moreno Hofland to beat Edvald Boason Hagen at 4/7 in a match bet with Bet365.


Stage 2
Stage 2 - Rambouillet to Saint George sur Baulche, 205km
Monday March 10th
Well it was a pretty disappointing start to Paris Nice for me and Tejay Van Garderen as he pulled out after 80km with stomach problems.. Would have been nice to know beforehand that he wasn't feeling well, BMC took a gamble that he would recover, but clearly he hadn't.. Who knows, maybe he will recover in time for Tirreno-Adriatico, a race that looks much more suited to him.. mmm.. more for the conspiracy theorists!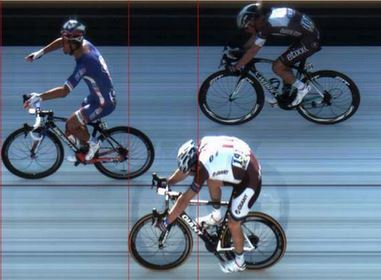 As for the race, there were plenty of crashes but that was about it for the excitement.. One of the early crashes injured Nacer Bouhanni, who was left with a nasty cut on his knee and in a lot of pain.. but he went to the medical car and they gave him some Doliprane he said in an interview afterewards and that, coupled with the adrenaline rush at the finish got him through the pain. Giant-Shimano did far too much at the front from a long way out and Bouhanni was just too clever and too fast for Degenkolb at the finish, who took 2nd place, no good unless you went each-way at 4/1! At least Hofland beat EBH in the match bet, even though he finished in 39th place, EBH finished in 109th! #lucky
On to stage 2 then and quite frankly there isn't really much analysing of the route to be done as it looks like being pretty much a repeat of Stage 1. A flat run from the Paris suburb of Rambouillet south-east to Saint George sur Baulche over a longer 205km, the only obstacle in their way is a Cat 3 bump, the Côte de la Ferté Loupière (1.2km at an average of 4.4%) 45km from home.
There is an intermediate sprint after only 61.5km and it may be that the GC men might go for it again today like Thomas did in stealing a second from his rivals. There is another sprint just 19km from the finish which could disrupt things a little for the sprint trains, but I can't see anything other than another sprint though at the finish. This last intermediate sprint comes as they enter a 19km finishing loop around the city, with the finish of the stage on the same spot.
I say it is likely to be a sprint, but there is one slight difference that might affect the outcome - the last 500m or so are slightly uphill as you can see in the third graphic below, around 3-4% of a gradient. It may not seem like much but it could have a big bearing in the outcome of the sprint. There are a few tricky right handers in the last 500m to watch out for though and given the amount of crashes a nervous peloton made on Sunday then anything could happen again tomorrow.
Weather conditions should be ideal again, 17º and sunny - but watch out for possible cross-winds as they head south. There could be splits in the peloton if some teams drill it at the front, but also if there are more crashes then riders caught out could lose a lot of unnecessary time.
Favourites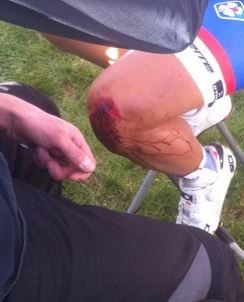 Nacer Bouhanni defied a crash and an injured knee today to beat Degenkolb and a surprisingly good sprint form Gianni Meersman. Giant Shimano blew it as far as I am concerned though as not only did they do far too much for far too long on the run in, but when it came to the crunch they lost Degenkolb in the leadout and he did very well to get himself in to the position to challenge for the win.
Tomorrow hopefully should be different. Other teams may keep it under control in the run up to the final intermediate sprint and then G-S need to get on top of things for the tricky run-in to the finish. The up-hill finish should suit him a lot better too and I think Degenkolb will get revenge tomorrow.
Bouhanni should be there or thereabouts too but with Geoffrey Soupe losing 17' today, he isn't feeling 100% so Bouhanni has lost one of his few good leadout men. He will have to be very, very close to Degenkolb and the G-S leadout in the final 500m or he won't be able to get past.
OPQS seem to be focusing on Meersman for this race, as he sprinted for intermediate bonus seconds and then was right up there at the finish too. It was interesting that Boonen wasn't involved in the sprint, they were supposed to be working for him but he went the wrong side on one of the roundabouts in the run in and lost valuable places which meant Meersman was very suddenly cast in to the role of team sprinter. Tomorrow could suit Boonen with the uphill finish but I'm not sure I want to be backing him with the tricky run-in and with Meersman possibly going for it again now that he has gained some valuable bonus seconds to take him in to 2nd on the GC.
Belkin and Hofland got it all wrong today with him finishing way back in 39th, but he knew they had got it wrong and says they will be better tomorrow.. I won't be taking a chance with him though. Bryan Coquard once again got caught in a bad position today and only finished in 6th place. Tyler Farrar finished in his usual 5th place but showed he is in reasonably good shape and up for the scrappy finishes and Rojas sprinted well to take the 4th spot. Orica Green-Edge could also get in to the mix after a disastrous stage 1, when Gerrans, Matthews and Goss were all caught up in various incidents, with Gerrans, Goss and Matthews all losing time. This finish could suit Goss or Matthews, but I'll wait and see how they do tomorrow I think, I'm not interested in backing them.
Tomorrow though is all about Giant-Shimano though and they need to box a little clever in the run in to outwit and outpunch 'the boxer Bouhanni'.. otherwise it will be a quick double for the FDJ man.
Recommendations:
2pts win on John Degenkolb at 7/2 with Ladbrokes
Tyler Farrar to beat Moreno Hofland at 6/5 with Bet365
Bryan Coquard to beat Alexander Kristoff at evens with Bet365
A double on the match bets above pays nearly 7/2.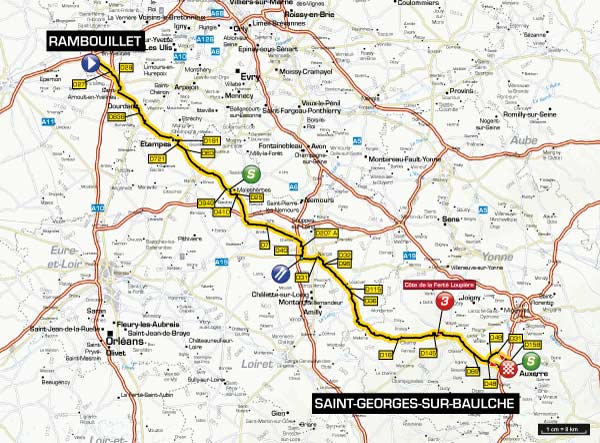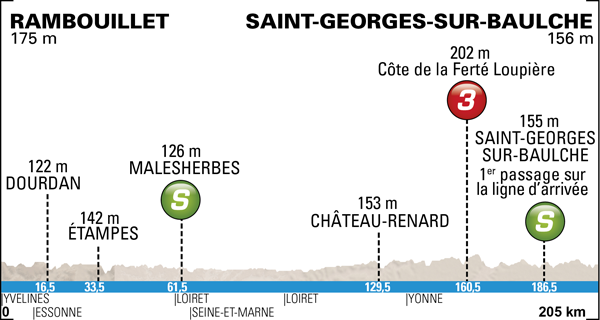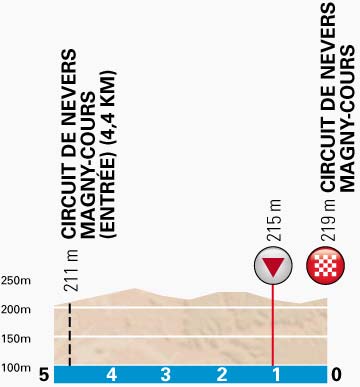 Stage 3
Stage 3 - Toucy to Circuit de Nevers Magny Cours, 180km

Tuesday 11th March
On paper stage 3 looks once again like a sprinters finish but the run in to the finish in Magny Cours is quite tricky and could cause some problems. The riders though will finish in the unusual and special surroundings of the Magny Cours racetrack and with a 500m long finishing straight, on a slightly uphill, 8m wide finish it should make for a fascinating sprint.
They head almost due south for the majority of the day, first passing the only little hill of the day after 74kms when they crest the Cat 3 Côte de la Chapelle Saint-André, but then the first intermediate sprint comes just 4km later. This might see the GC men shake it up on the climb with valuable time bonuses available just 4km later.
Then it's straight roads for another 63kms until the next sprint, when they then take a sharp right turn and head west towards Magny Cours. With 5km to go they hit a series of sharp turns and then 500m later they hit the circuit. Inside the last 3kms they will go round 3 hairpin bends so positioning will be crucial for a quick getaway for the last 500m straight. It's a rolling finish, with the last few hundred metres an uphill drag.
This is a power man's finish, the kind of finish that Boonen would like or the Thor Hushovd of about 5 years ago. John Degenkolb should love this finish, we'll get a better idea after stage 2 of his true form this week and his confidence levels.. Nacer Bouhanni has the sheer speed, but has he the power for the uphill finish? Again, stage 2 can show us more about that.
As it turned out, Degenkolb once again came 2nd, but this time to Moreno Hofland, who got the jump on him again despite the better work done by Giant-Shimano today. Degenkolb did beat Bouhanni as I thought he would but I would think he was as surpised as I was to have Hofland beat him. Having said that, Hofland is clearly on great form and I did say last night that he had said they would do better today! His team-mate Van Emden did a superb job charging up the left hand side of the field just inside the 1km to go to get him right to the front from a long way back, you can see it in the video below at 1'08". He went for it over 250m out to try to surprise the others he said afterwards, it clearly worked as once again Degenkolb was caught out.
One of the big stories of the day though was the crashes once again as not only did we see Lars Boom taken out the race by a crash, we also saw Gianni Meersman go from virtual leader (after stealing more intermediate time bonuses) to being docked 1'10" for excessive drafting of the team car. And boy was it excessive - as some joked on twitter today, he may as well have put his bike on the rack and sat in the car he was getting such a tow from it.. And then of course there was the slingshot from one of his team-mates (think it was Boonen), track-style as he worked his way back to the peloton!
The big winner on the day was my man Geraint who finished in 14th place after some incredible skills in the last kilometre, you can see it also in the video at 1'15".. He cut across the footpath to the left of lamp-posts to maintain a good position, and it paid off as he finished in a little group which because of a small break in the peloton were given a time gap of 5". This moves him up to the top of the GC, sprinters excluded, and puts him in a strong position now to defend for the rest of the week.. He's now in to as short as 9/2 2nd favourite, getting kinda excited now..!
So who to pick for stage 3 then? I was originally going to go for Degenkolb given the slightly uphill finish and wide circuit, G-S should be able to get it right to deliver him at high speed 200m from the line. But he was beaten again today and like yesterday was caught out by someone jumping first. G-S have to time it perfectly in that their last lead out man has to be going full gas with Degenkolb on his wheel when he finally peels off, giving the other sprinters less chance of getting the jump on him.
But, in his favour again, I don't think Bouhanni is 100% - if he was then I think I would be all over the 13/5 he is with Bet365. He didn't have the speed today to go with the front two and his knee has a lot of bandages on it. With a weakened train I think I will be avoiding him tomorrow. Hofland was well suited to today's finish as it turned out, a little like in Andalucia in the stage he won, it was a chaotic, twisty finish and the uphill worked well for him too. In a straight up power sprint though with a tail-wind, I think Degenkolb will hold him tomorrow.
Two riders impressed me today - first Kristoff, finishing in 4th and secondly Hushovd in 5th. These are two very strong 'power sprinters' and could well find themselves in the fight for the top 6 once again. Coquard has been unlucky/poorly placed, take your pick, with a second 6th place finish in a row and he could come close tomorrow too. But I fancy Kristoff to beat him in a match bet, it is 5/6 choice with Bet365 and I would rather be with Kristoff for a finish like tomorrow, he proved with his stage win in Oman he is pretty fast in a straight line, power man sprint.
Recommendations:
John Degenkolb 2pts win at 5/2
Alexander Kristoff to beat Bryan Coquard in a match bet at evens with Bet365.
Thor Hushovd to beat JJ Rojas Gil at 6/5 with Bet365
Add Hofland to beat Meersman at 2/5 if you want to double it up, adds 40% to your returns.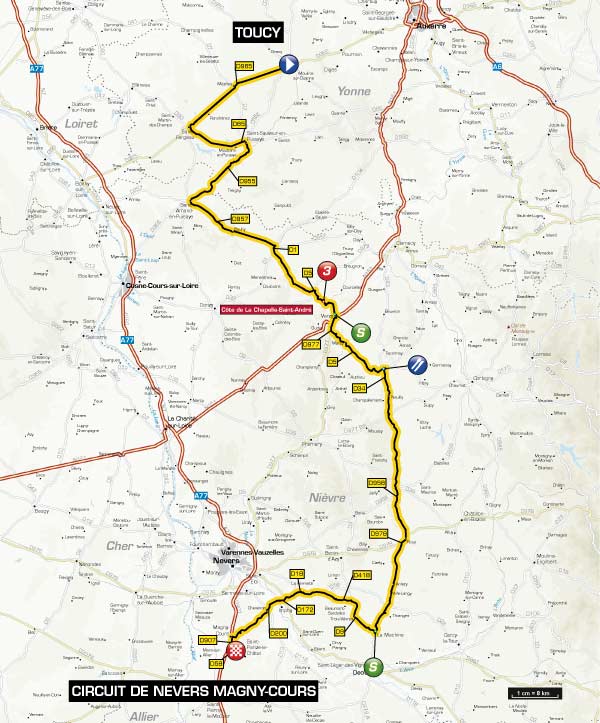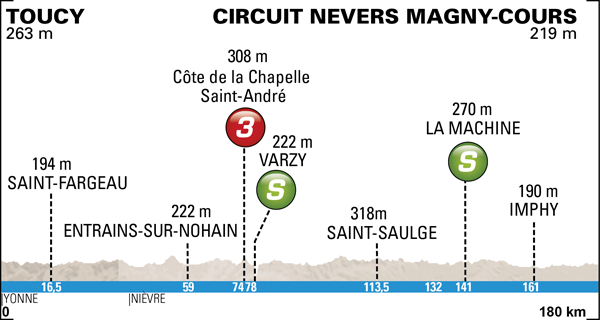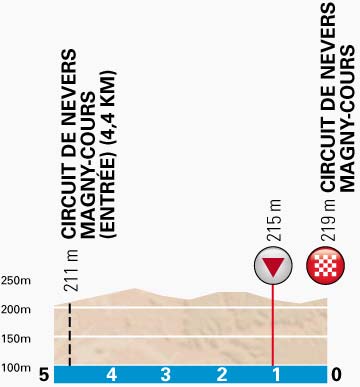 Stage 4
Stage 4 - Never - Belleville, 201.5km
Wednesday March 12th
So on we go, a little bit closer to nice, but finally a few winners in the bag. Degenkolb delivered to the script with a superb power sprint to land the 5/2 and Bouhanni was well beaten. Kristoff beat Coqaurd to land the evens match bet but Rojas had to go and spoil the day by beating Hushovd, who actually did pretty well to take 8th.
Stage 4 then and it starts to get interesting now. Degenkolb is surely going to lose the yellow jersey tomorrow as there are some lumpy roads to negotiate in their 201km run from Nevers to Belleville, including a horrible little climb up the Cote du Mont Brouilly only 14kms from the finish. But who will be in the yellow jersey tomorrow night? That is the question.. Thomas is in the driving seat at the moment in terms of the GC contenders so if he can hang with the main climbers tomorrow then he will be the new leader and my excitement levels will ratchet up another notch.
Interestingly, the bookies make Degenkolb favourite for the stage tomorrow, albeit in a wide open betting heat - he is 6/1 to win.. yes, he can climb ok, but these slopes are pretty steep and the GC men are going to be drilling it at the front. Maybe he can have some team-mates around him and they can chase back on in the run-in to the finish, but that's asking a lot too. I can't see it myself, but heck, it means that others are slight bigger prices because he's favourite!
The start of the stage is pretty benign but it starts to get lumpy as they head towards the Departement of the Rhone. First there is a Cat 3 climb of the Cote de la Clayette after 137km, then the Col de Champ Juin and Col de Crie, two more cat 3 climbs, follow after 156 and 164kms. With the action really hotting up between those climbs and the final climb of the day, there is an intermediate sprint to be contested.. if the GC contenders have split things up expect it to be very keenly fought contest for those bonus seconds. More likely though is there may be a small break just hanging out there in front of the main bunch which will be swept up on the Cote du Mont Brouilly.
The stage though should be blown apart on this final climb - it may only be a Cat 2 climb, nothing compared to a Cat 1 or HC climb, but this is going to hurt - 3kms at 8.4%, but it's a very uneven gradient which constantly changes in steepness as it rises. This makes it very hard to get a good rhythm going on it, especially if you are suffering, so the peloton could break to pieces. Expect the likes of Nibali, Betancur, Costa and Bardet to be pushing things at the front. We may see a small group of 4-8 get away over the top together, followed by 2s and 3s which may catch them up on the fast 13km descent to the finishing straight. So it could well come down to a reduced bunch sprint at the finish, I can't see a solo rider holding off the chasers.
Looking again at the betting, SImon Gerrans is second favourite at 8/1 and it's clearly a stage that he will fancy.. He may not get over the top with the very first guys, but he, and possibly a couple of his team-mates shouldn't be far behind and there should be a big chase down the other side to get back on. He then would have a very strong chance of winnning the stage given that most other sprinting types will probably not be there.
Rui Costa is 15/1 and there are only two ways I can see him winning this - either a) he goes away on the climb on his own and solos to victory (unlikely) or he gets away with 3 or 4 strong men who work hard together and stay away. Then, with the likes of Betancur, Bardet or Nibali he would fancy himself in a sprint. A reduced bunch of 20-30 and he may find a few too good for him.
Tony Gallopin is fancied by some for this but at 16/1 I am not all that interested. Betancur ranges from 17/1 to 12/1 but he is in the same boat as Costa - get away on his own on the steep climb, or win a very small sprint. A bigger sprint will not suit him, even if he beat Degenkolb in a sprint in the Haut-Var. If the finish wasn't so far from the top of the climb, a fast climber and descender like Nibali would have been an intersting looking bet at 28/1 but I fear it is too far for him to hold off other chasers, even if he went, which is not a given. Thomas should be able to stick close enough to the main GC men you would think, especially considering his strong showing in the hills of Andalucia.
It really could be anyone of about 20 riders win this and I am struggling really to find any standout candidates from the rest of the betting. Stybar and Van Avermaet are possibles as they are in great shape and won't be overly troubled by the climb, should be able to get back on in the chase downhill. Chavanel or Voeckler might try something from further out, but shouldn't make it all the way.
JJ Rojas Gil showed today that he is flying too and may be one of those guys that just hangs on to the coat-tails of the riders chasing the leaders up the climb and if he gets to the finish with the type of guys I've mentioned above then he is surely going to take all the beating in the sprint. If you want to back a young British talent, Simon Yates is 150/1.. Fuglsang at 125/1 looks big, he could be amongst the leaders on the climb if on a good day. And what about Frank Schleck? Haha. Only joking.
For now though, just one small bet, plenty going on tomorrow with Cheltenham as well!
Recommendations:
1pt win on Simon Gerrans at 8/1 with BetVictor.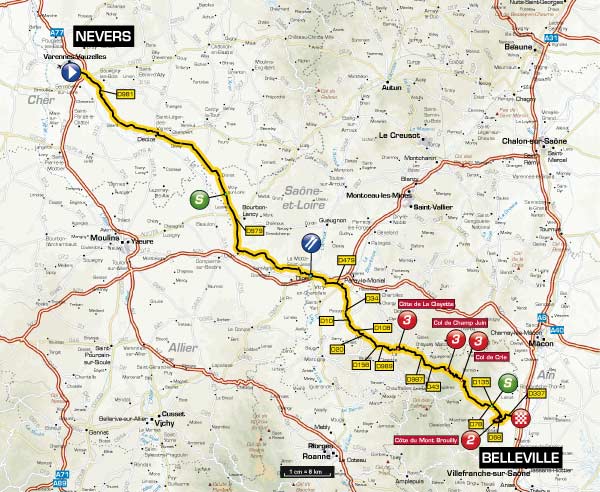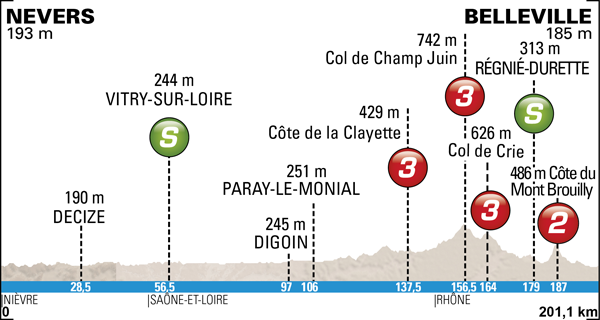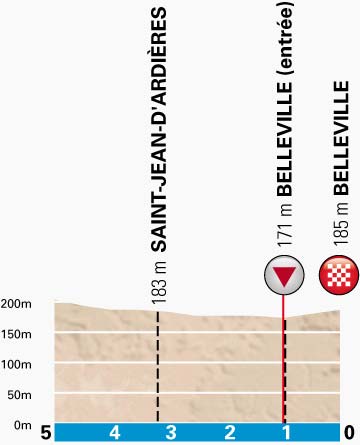 Stage 5
Stage 5 - Crêches-Sur-Saône to Rive de Gier, 153km
Thursday March 13th
A very exciting stage today saw Geraint Thomas move in to the yellow jersey at the half way point and is now the 2/1 favourite (or 7/4 with Bet365, with whom I hold a 50/1 each-way ante-post bet!).. I would like to lay out some now around 2/1 but might wait and see how stage 6 goes on Thursday.
Thomas though showed some tremendous strength in chasing down Slagter and to drive the two-up TT all the way to the finish with some serious firepower in their shadows for 13kms. There is now the danger of Slagter to him as he is only 4" behind him and clearly in in great shape too. But it is still wide open - there are still 32 riders within 32" of the yellow jersey! Sky will find themselves under a lot of pressure, but they looked excellent today and EBH looked like he absolutely buried himself along with Kiryienka.
Tomorrow's stage is a lumpy transition stage on the road to harder stages to come and it looks like a day for Big John again.. He rode his legs off today in a desperate attempt to retain his yellow jersey, but in the end it played out exactly as I thought it would, a few guys up the road and Degenkolb just struggled to go with the main group on the climb.
There are two easy Cat 3 climbs early in the stage and it could see the break of the day go inside the first 40kms. They then hit the first sprint after 87kms and shortly after start the 9km 3rd Cat climb up to the Cote de Saint Martin en Haute. But it's inside the last 30kms where things are going to heat up, as first they hit the 2nd Intermediate Sprint at km 126, then start up the Cat 2 Cote de Sainte Catherine. The climb begins just before the sprint, so expect a real battle for those seconds between Sky, Garmin and Giant-Shimano. This is the longest climb they have hit so far at around 15kms, and there are only 12.5km to go once they crest the summit, a little like today's stage.
I think it will more than likely come down to a reduced bunch sprint of maybe 40 guys and Degenkolb will probably be in there. If he is, he probably wins. Matthews was superb today too though, snatching 4th place, or winning the bunch sprint you could say, and he is sure to be close tomorrow too as the like of Bouhanni, Farrar, Hushovd, Boonen, Kristoff etc will not make it over with the front group I don't think. Rojas should though, as he did today when 5th in the bunch sprint for 8th place, and at 14/1 he could be worth an each-way bet.
Outsiders to try to get away in the last 15kms? Sylvain Chavanel had a nightmare today with a mechanical just as they started the final climb and he lost all chance in the race. He could well attack on the way up the final climb tomorrow and he can descend very fast down to the finish. He could do this solo or maybe with a few helpers, one of these could be Vincenzo Nibali - attacked today on the descent and might try the same tomorrow.. A Chavanel/Nibali combo could go all the way! Chavanel is 33/1 and Nibali is as big as 50/1 with Bet365.
Recommendations:
John Degenkolb - 3pts win at 5/2 with BetVictor
Vincenzo Nibali - 0.25pts each-way at 50/1 with Bet365
Sylvain Chavanel - 0.25pts each-way at 33/1 with BetVictor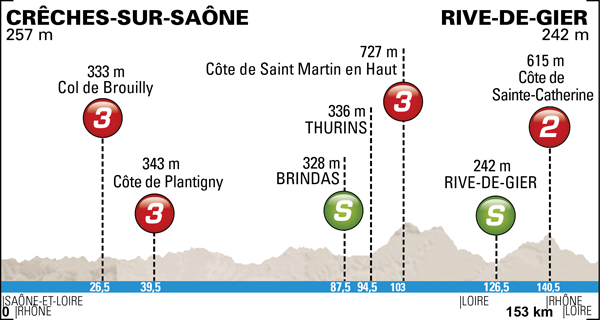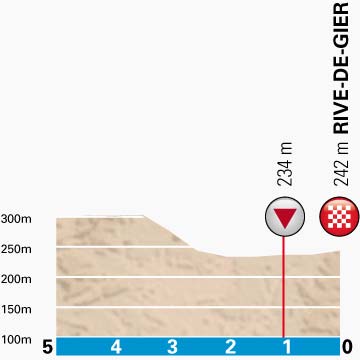 Stage 6
Stage 6 Saint Saturnin Lés Avignon to Fayence - 221.5km
Friday March 14th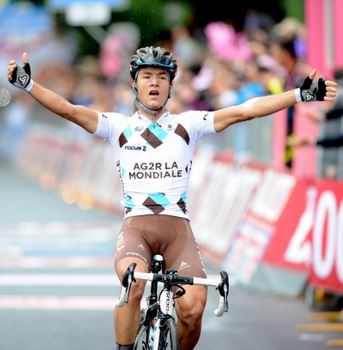 Well that was very annoying today to say the least! Chavanel indeed tried to attone for his misfortune on Stage 4 but he decided to go on a long suicidal break instead of waiting until the final climb/descent. He did attack his fellow breakaway companions to go solo but was always within site of the chasing bunch and it didn't last much longer. Then Nibali attacked too as I suspected he might but as they descended in to the finish Betancur, Jungles and Fuglsang jumped away and held a 9" gap going under the flamme rouge.
Meanwhile back in the bunch John Degenkolb was having chain problems and they decided between themselves on the run in to switch tactics and let Van Rensburg go for the sprint.. so Degenkolb ended up working his socks off for him. The bad news was Betancur won the stage and stole back 12" on Thomas and puts him firmly in the hunt for the race and a big danger to Thomas. The bookies think so too as they have slashed him t o 7/4 favourite ahead of 3/1 Thomas and 9/1 Costa and Nibali and 10/1 Slagter.
Tomorrow will probably have a big impact on who is going to win the overall with a tough stage ahead of them between Saint Saturnin Lés Avignon to Fayence. It's a long stage at 221.5kms but also has a Cat 1 climb which starts just 29km from the finish and finishes with just 19km to go. They then descend fast towards the finish and as they hit Tourettes the swear words will be flying as they hit a 1.6km Cat 2 climb up to the finish line, a real nasty sting in the tail.
Before that though they still have to crest a Cat 3 climb after only 36kms, then a Cat 2 after 164Km and another Cat 3 after 180km but it's the Cat 1 Cote de Bourigaile where there could be some serious splits appear. The foot of the climb actually sees them start on a finishing circuit - the Mur de Fayennce where the finish line is marked is actually the base of the Cote de Bourigaille. The Cote is 8.2Km at an average of 5.9%. The Mur though at the base of the climb is the steepest part, averaging 8.6% over 1.6kms. There are a couple of hairpin bends and when they come out the last one there is only the 200m sprint to the line remaining.
An early break is likely to go, but with so many riders still in contention and Betancur the favourite to take the stage then the likes of AG2R, Sky, Lampre-Merida and Garmin are going to look to keep the break on a tight leash. The first time up the Fayence willbe very interesting as Sky will have to try to control things at the steep bottom part but also need to keep some in reserve for the top parts where it gets steep again (7%+). But there then follows the fast descent back down to Fayence, where Geraint Thomas will come under more pressure. It could be like Thursday's stage where his rivals were attacking near the top of the final climb and then really pushing Sky on the descent.
When they finally hit the last 1.5km pull to the line, and if there is still a small bunch together, all hell will break loose - it's every man for himself! There is a good chance though that a small break could get away on the descent, and if they do it will take a massive effort to hold off the marauding pack. This looks like another opportunity for Nibali to attack like he did today near the top of the climb, charge down the other side and maybe with enough of a gap can hold on. That was my first thought so I took the 11/1 that Bet365 had early doors. Others were as low as 13/2 and even 9/2...
Betancur is the favourite for the stage though and this is an opportunity for him to move in to yellow. Geraint Thomas will have to be on his best form tomorrow as the attacks will be coming thick and fast inside the last 20kms. Sky may have to try to play it cool tomorrow for as long as possible and let others do the chasing as there are still so many in contention. They will need to keep something back I think for the last 20km so Thomas doesn't become isolated. EBH, Kiryienka and Lopez have big jobs tomorrow. Betancur is a definite candidate to try skipping away on those hairpins in the run up to the line, the question is, who can go with him?
I think Thomas will be able to hang on to him, or very close to him, so it could be incredibly close on the GC come tomorrow evening. He has shown how very strong he is already and should be able to handle a climb like this. It's the descent in between the last two climbs I'm worried about, he nearly lost it today on one of the descent's bends!
Ruis Costa later in the season I think would have loved this stage two, the finishing profile is perfect for him. But I think he is a long way from 100% at the moment, he hasn't been able to do very much yet this season. Fuglsang and Stybar at 20/1 are two possibles for the descent/final climb attack as are Slagter at 13/2 (way too short) and Kelderman at 25/1 (not a bad price). Michael Matthews is an interesting price at 33/1, he has been climbing superbly well for a 'non-climber' and he may well be still in the mix coming to the last climb again. He will have to get away solo or in a little group though as he won't beat the likes of Betancur or Thomas up these hills.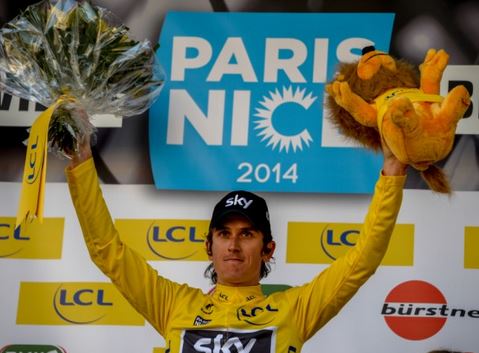 And what about Thomas? I think he will be right up there. He may not have so much work to do tomorrow because if anything, even though he is in the yellow jersey, it is Betancur who has to go out and do it tomorrow. As a result AG2R will have to work hard, and a number of their men including Bardet burnt a lot of matches today in the chase back. It may be that it is Betancur who finds himself isolated as they come to the last few kms, with Sky possibly having 3 or 4 up there. Thomas should be able to go with most of these guys should they attack unless he is caught out on a bad wheel, but that's where he has to ride clever tomorrow and cling to Betancur and avoid getting boxed in or on a wrong wheel. He may be able to mark Betancur when he goes and then sprint past him off the last hairpin bend. Ambitious I know, but he is capable of it.
How about one joker for the stage though, Rafal Majka was a rider I was hoping would go well in this race but it just hasn't happened for him. Saxo have had a pretty disappointing start to the year and Majka finds himself almost 4 and a half minutes down on GC. He will not be a marked man tomorrow and could well attack on the Col de Bourigaille. He finished 2nd in a stage of the Tour of Austria with a similar sort of climb at the finish to Sonnterberg and 3rd in Il Lombardia so this sort of finish might suit him. At 66/1 he is worth a small bet to try to salvage something from this race for himself and T-S.
So - once again, an almost impossible stage to predict - I haven't even mentioned the likes of Chavanel, Vichot, Gerrans (is not feeling 100%), Izaguirre, Navardauskas etc! But I like the look of Nibali and Thomas at 11/1 but keeping stages small on Thomas as we have the much larger 50/1 riding on him for the overall and it could be make or break day tomorrow!
Recommendations:
1pt each way on Vincenzo Nibali at 11/1 with Bet365
0.5pts each-way on Geraint Thomas at 11/1 with Bet365
0.3pts each-way on Rafal Majka at 66/1 with Ladbrokes.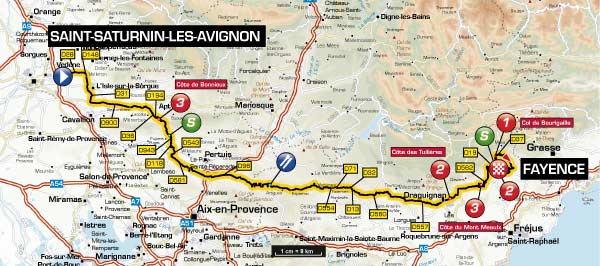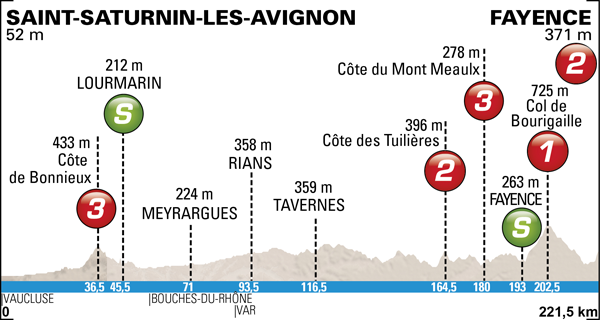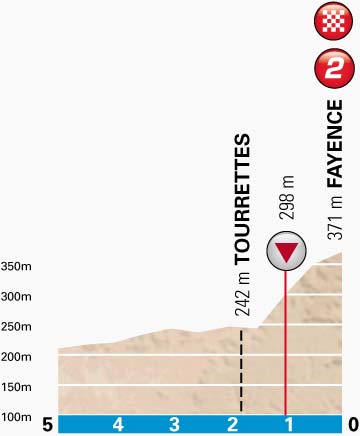 Stage 7
Stage 7 - Mougins to Biot Sophia Antipolis, 195.5km
Saturday March 15th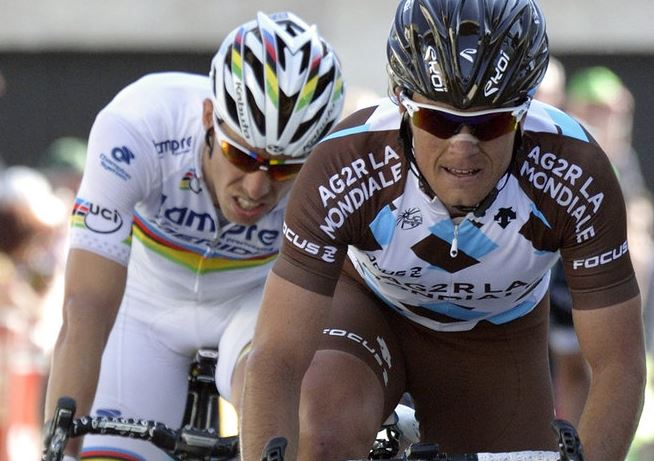 Bloody Zdenek Stybar.. he spoils things for me today with holding Geraint off for 3rd place, not only denying me a payout on my 11/1 each way bet, but he also took the bonus seconds for finishing 3rd. With Betancur pulling out a 3" gap on Thomas and taking 10" bonus for the win he is now in pole position with only two stages left.
It was a great ride from Betancur who looked out of it with less than 5km to go. It was a chaotic finish to a chaotic day, but one that ASO must have been delighted with given their brave choice of route profile. It was attack after attack, with local heroes Chavanel and Voeckler getting their share of publicity (and KOM points in Chava's case), Nibali repeatedly attacking and even Frank Schleck!!
But at the finish, a crazy last few bends saw AG2Rs Vuillermoz crash at the very front of the race with only about 500m remaining, which forced Slagter to drop his chain and left Rui Costa with a gap that looked like it might land the world champion his first win in the stripes. Betancur timed it to perfection though and came around him, with Thomas recovering well to limit the time loss and hold on to second place. Looking closely at the replay tonight, Thomas was on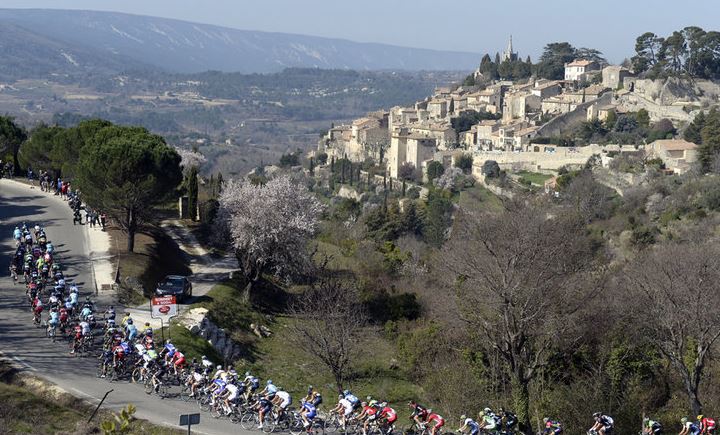 the left hand side of the road with just less than a km to go, but got stuck behind a Trek rider (possibly Frank Schleck) who was going too slow. By the time he went around him there was the gap to the leaders that could have cost him the race. I did warn him to choose his wheels right!!!
With two tough stages to come nothing is guaranteed but Betancur is definitely going to be hard to shift, but equally so is Thomas in second who has a 10" advantage over Costa. Credit to Rafal Majka who looked strong near the front for long periods of the climb and finished in 12th place, just 11" back.
Stage 6 may have been described as the 'Queen stage' but there are still two hard stages to come this weekend. Stage 7 is a longish 195.5km run from Mougins to the very greek sounding Biot Sophia Antipolis that goes in an almost indecipherable loop in to the hills above Antibes.
There is an intermediate sprint after just 34km, after only about 45mins on the bike and I wouldn't be surprised if OPQS and Sky tried to keep it together to allow Thomas and Stybar sprint for bonus seconds. Then they hit the start of the Col de Vence at 40km which is a Cat 1 climb that goes on for some 9.7km at just over 6.6%. In between that and another Cat 1 climb (the Col de l'Ecre) they hit a small lump in the Cat 3 Col de Cipiers which is only 3kms at 5%.
The Col de L'Ecre is the highest point of the week at 1119m, and it's a long draggy climb of 11kms at just 4.9% average. They then start what is almost a 70km descent back down towards the finish area, interrupted by the Col de Cipiers for a second time and then the Cat 2 Cote de Gourdon, 4.8km at 3.6% average.
At the 158km mark they hit the final intermediate sprint of the day when passing the start/finish line, before setting off on a circuit that they do twice before finishing in Biot Sophia Antipolis. The finish is quite a tricky one again with a rolling, lumpy last 5kms on twisty roads. To complicate things further, the final 2km run to the line is at 5% gradient and has a roundabout with just 100m to go!
This stage is very similar to the one in 2011 won with a solo break by Remi di Grigorio, but the finishing circuit was an identical loop. It was wet and horrible that day and there were loads of crashes but the riders were scattered everywhere at the finish.. gaps were 5", 7", 9", 11", 14" and so on and the names at the finish were a mixture of puncheurs, climbers, TT men (Samu Sanchez, Uran, Kloden, Martin, Wiggins etc). So literally anything could happen on this stage again tomorrow!
Betancur has been made favourite again for the stage but I can't see it happening 3 days in a row so I'm going to avoid him. Tom Jelte Slagter was unlucky again today as the crash in front of him when in 2nd place caused him to drop his chain when he seemed to be going well. He will like this finish and could be one for the short-list at 14/1 with BetVictor.
Michael Matthews has been getting better and better in this race and finished a respectable 30th today, only 32" back - if it comes down to a reduced bunch sprint you'd have to fancy him to take it in this form. He is a little short though at 13/2 so I will wait I think and maybe try to back him in play. Chavanel is too short I think at 10/1, he has tried hard over the last 2 days but was never really going to have much success with the moves he pulled, he might wait tll later in the stage tomorrow but I'm not backing him.
John Degenkolb is a big looking 18/1 with Bet365, he is only 10/1 elsewhere. He may just be able to hang in there tomorrow seeing as the climbs are early in the stage but I'm not sure - it is sure to be fast and furious all the way to the finish seeing as it is still all to play for.
Greg Van Avermaet at 50/1 might like this rolling finish, a little like Omloop, and Wilko Kelderman will be all out to make out for that misfortune today too when he punctured just as they started the final ramp. 35/1 is an alright price if you fancy him to bounce back tomorrow.
I'll watch and wait I think to try to pick a winner in play, it is so hard to see how it is going to pan out - it could be absolute choas tomorrow over the last 50kms. For now, I am happy to go with Tom Jelte Slagter as my only bet pre-race.
Recommendations:
Tom Jelte Slagter at 14/1 each way with BetVictor.
Watch twitter for my in-play picks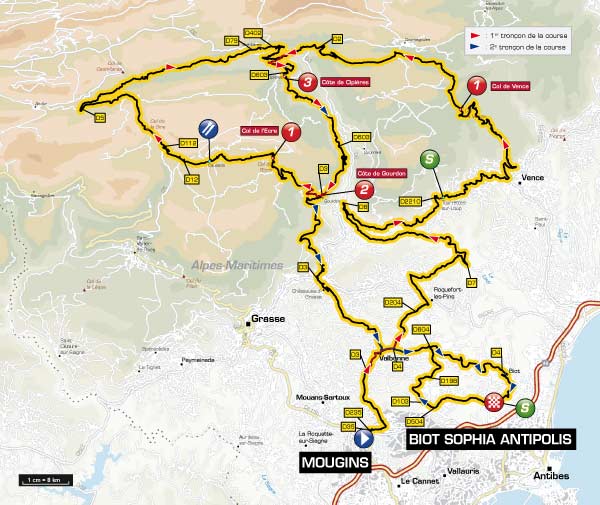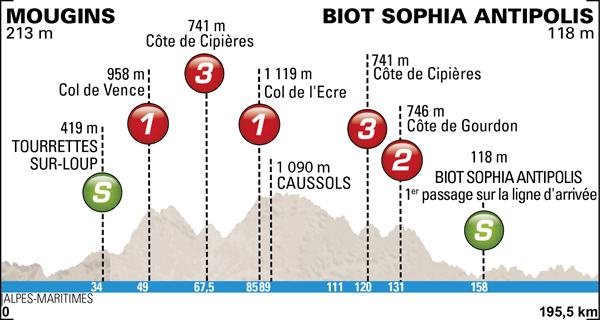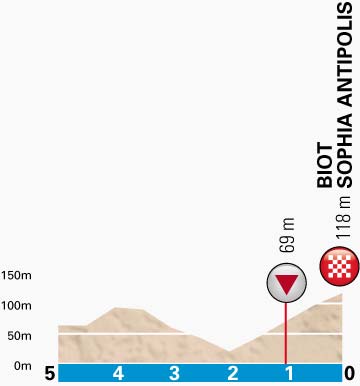 Stage 8
Stage 8 - Nice to Nice, 128km
Sunday March 16th
A bitter sweet day today in Paris Nice for me. First Geraint Thomas came down in a nasty smash that took him out of the race and with it our 50/1 each way bet. It was looking good for a 12.5/1 payout on a top 3 place too as he wouldn't have lost time today and should have been in the mix tomorrow too.
Luckily the one bet I had on the race, Tom Jelte Slagter to win at 14/1 was a winning one as he sprinted brilliantly to deny the unluck Rui Costa and beat the in-form Betancur who couldn't make it a hat-trick of wins. Betancur looks home and hosed now though for the overall but Rui Costa could still cause him some headaches tomorrow if he and his Lampre team can put the pressure on.
The final stage starts and finishes in Nice but goes out in to the hills for three Category 2 climbs inside the first 70kms, then with 80kms gone it starts to get serious with the Cat 1 climb of the Côte de Peille, which is 6.6kms long at an average of 6.8%, which should start to hurt after a hard week's racing. They then descend for almost 30kms back to the coast before heading up on a loop to take in the climb of the Col d'Eze.
The Col d'Eze is a regular feature in Paris-Nice and is a climb I have suffered on while riding my turbo to the Sufferfest videos chasing Alberto Contador! It may only be 4.3kms long but at that point in the race and at this point in the week there could be carnage up here. I really think Lampre will look to blow it apart and I think tomorrow is a day where Costa tries to make his mark. Be it by winning the stage, be it by possibly blowing Betancur and gaining enough time to win the overall (unlikely) or even just by showing everyone that he is world champion and his form is coming good.
There is a little plateau at the top of the Col and an intermediate sprint which could be important but then they descend again back down to Nice where there are only about 3kms of flat roads on the way to the finish on the Promenade des Anglais. There is a small climb of 500m at 6% 1500m from the finish, a 500m descent and then just 500m to the finish - it will be fast and furious and it could even be decided on that climb 1km from the finish if someone or a few jump hard and fast and get 10-15".
The last time they had a normal road stage like this one, rather than the more common ITT, in 2011 saw Tommy Voeckler win solo from a very young Diego Ulissi and behind him were mostly climber/puncheur types like Samu Sanchez, David Lopez, Izaguirre, Spilak and Izagirre. JJ Rojas was up in 8th place though, winning the 'bunch' sprint which is something to note.
It does suggest that with a day that is sure to be as frantic and intense then there is a high likelihood of a solo breakaway or a small group of 3-6 that might fight out the finish. Going through the list of favourites, my thoughts are as follows: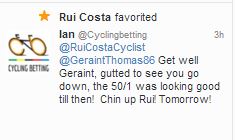 Rui Costa - great chance tomorrow. He has been showing his form is getting better and better this week and his frustration at getting his 5th 2nd place of the year was evident today. He tweeted in a conversation to Geraint Thomas - "I think number 2 is my number for this season :D My lucky number?! Get well mate." to which I replied telling him tomorrow was his day and he only went and favourited it!
I think Lampre will really look to tear it up the Col and he may well go for it in the last few kms and charge down the descent. How many go with him is the question, Nibali and Slagter look in good form and likely to chase him if he goes. But I think he has a real favourites chance to finally get off the mark and really cause Betancur some problems. He got caught out with some incident with about 2km to go that caused him to lose a lot of places today but came back really strong to get in a great position coming to the line and that effort may have cost him the win.
Tom Jelte Slagter - great result for him and me today, always looked in a great position and I was getting very excited with a few kms to go as you could see if you were following my tweets! Should be there or thereabouts again but maybe if there is an explosive attack and descent down the other side he may not make the race winning move.
Carlos Betancur - I think he has been good, but not great and he seems to have got away with this race a little bit. He has looked under pressure at times but his team have been excellent and have got him in the right place at the right time so far. But today he could only manage 3rd despite being in an excellent position so I think him and his team might pay for a hard week tomorrow. He could be left behind if the pressure is put on in the last few kms of the climb.
Sylvain Chavanel and Thomas Voeckler could well be eyeing up this stage too but Chavanel has been riding this race it seems in training mode with suicidal breakaways and continuing to push on even when most others would have sat up when only a few seconds in front of the bunch. Voeckler may go for a long one but I can't see him winning tomorrow.
Zdenek Stybar has been consistent and took another 8th place today and could be one of those to latch on to the late attacks. I don't think he will be in the top 3 though. JJ Rojas could have a great chance of winning this if it does come down to a group of 10-20 favourites at the finish, he would be one of the best sprinters likely to be up there. Same goes for Michael Matthews and Tony Gallopin who have been riding brilliantly all week.
But how about a few jokers? Simon Spilak has been going well and has been active on some of the climbs with little success, he may well fancy a go tomorrow from half way up the Col d'Eze to see who goes with him. At 50/1 he could be worth a small interest each-way. Or how about David Lopez? Now with Thomas gone home he is free to have a go tomorrow and do something on his own. 5th on this stage in 2011 he is a possibility for the attack on the Col d'Eze. He also is 50/1 and I have backed him each way.
BetVictor have either taken a lump on Nibali or they have a very strong view on his chances tomorrow as they go a frankly ridiculous 9/2 on him winning. I am not interested even in the 14/1 he is with Ladbrokes! That's over 3 times the price, which is a huge variation. I'd rather back his team-mate Fuglsang at 17/1!
So that's it, I think tomorrow will be a real battle and there could be men all over the place. I might be very wrong and a big bunch could come to the finish, but I am betting against it and going with the following selections..
Recommendations:
Rui Costa - 1pt each-way at 7/1 with Bet365
Rui Costa - 0.5pt win at 7/1 with Bet365
Simon Spilak - 0.3pts each-way at 50/1 with BetVictor
David Lopez - 0.4pts each-way at 50/1 with BetVictor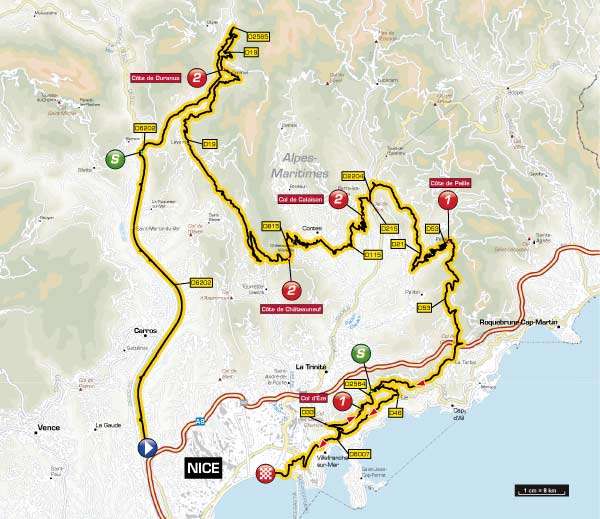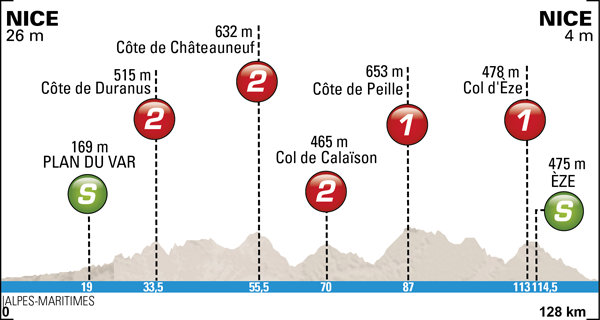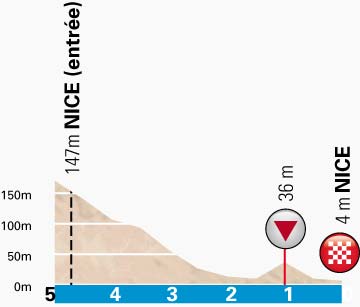 Overall Contenders and Favourites



Let's make no mistake about it, this is a bloody difficult race to pick a winner from given the parcours this year! There really could be any one of about 10 riders could potentially win it. With time bonuses available during stages and on the finish lines, and with some lumpy roads on the way to Nice, there could be 30" or less between the top 10 heading up the Col d'Eze on the last 20km of the race next Sunday.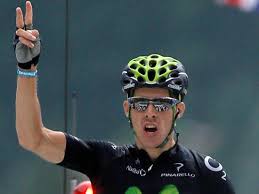 Working down through the list of favourites for the race, World Champion and my good friend from last year Rui Costa has been installed as favourite and you can see why. He is a very shrewd tactical rider and will love some of these finishes. He can hide out for a while on stages like the last one in to Nice on the Col d'Eze and attack hard near the top. He is also capable of picking up a stage win along the way or at least getting near enough to the winners that he has them in his sights heading to Nice. He came close to breaking his duck in the rainbow stripes with two 2nd places alreay so it looks like it will only be a matter of time before he wins, a far cry earlier than Philippe Gilbert last year!
He is the 11/2 favourite but I think I will hold off on getting involved until later in the week as I can't see his price shortening too much earlier in the week, and if there is a crazy long breakaway makes it on stage 4 or 5 then it might be I get a better price on him or decide not to back him at all. But I do think that stage 6 and 8 have his name on them, can see him trying things out on 6 and if it comes off great, if not he always has 8 still to try again.
Next is Vincenzo Nibali at best price 7/1. Vincenzo has just recently become a dad and there was a great golf tipster I knew once who used to write about the 'nappy effect' on golfers who recently became dads.. apparently it used to raise their game performance for about 6 months after. I'm not sure if this carries through to cyclists, but either way I don't think I'll be back Nibali for this race. He doesn't have long enough climbs to put his rivals under pressure and he is not going to break away from the likes of Costa, Chavanel, Betancur and Van Garderen too easily.
Carlos Betancur ranges from a frankly ridiculous 3/1 with 888 Sport to a still-short-in-my mind 8/1 with Laddies. Yes, he's in good form, and yes he did win a sprint against Degenkolb in the Haut-Var Matin race two weeks ago. But again, I can't see him getting away from some of his main protagonists too easy. He is though a likely candidate to be in the top 2 or 3 who might get over the Col d'Eze a little in front of the rest and given the sprint he possess's that can beat Degenkolb then it could win it for him. Again, I'll wait and watch for later in the week.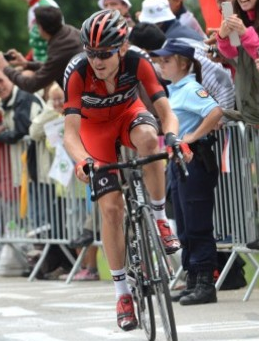 The next two on the list though I have backed. Tejay Van Garderen at 18/1 with Bet365 and Geraint Thomas (as I mentioned above already) at 50/1 each way. Tejay took some of my winnings from Kwiatkowski today as I think he has a solid chance of being up in the top 3. He showed in Oman that he has started the year well and he is full of confidence right now. He has said this is a big target of his and he has a very strong team with him - Phinney, GVA, Hushovd, Cummings, Stetina etc. Some very strong men there to string things out on the hills and set him up for an attack.
He showed on Green Mountain in Oman that he can ride away from some very good riders, with only Chris Froome finishing ahead of him, but DUran DUran and Purito behind him. His team could even set him up for time bonuses, with the riders mentioned above, there are few 'trains' stronger than them in the race. He has said he's a little disappointed with the lack of TT and mountain top finishes but that the team is very motivated and very confident of a high placed finish. He has finished 4th (2013) and 5th (2012) in this race in the past, I expect him to move up a few places on to the podium this year at least.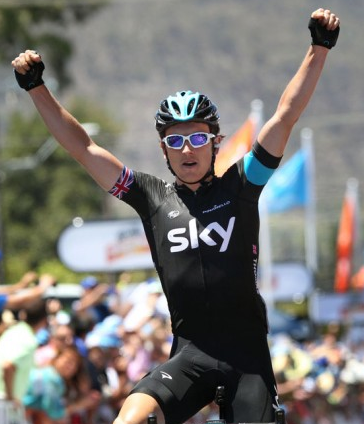 Next is Geraint Thomas.. I have been waiting since January to back him for this, ever since I got word that he was in excellent condition going to the TDU and that Paris-Nice was a target for him. Imagine my delight on Friday afternoon to see him still available at 50/1 after the news about Porte coming out hit the wires (thanks @gizza_tips for the heads-up!) .
Thomas looked very strong at times in Australia, one particular stage he was going so hard at the front Porte and the rest were struggling to hold his wheel. He has been marked down as a classics rider, then a grand tours rider but so far it just hasn't clicked for him. This is a great opportunity for him now as team leader in Paris-Nice to show everyone once and for all what he can do. A canny tactician and a gutsy attacker, we could see him going for stages 5 and 6 and 8. If he can get away with a small group he is the kind of rider who can jump again inside the last kilometre to take victory and possibly enough time to secure the GC too. He has a strong squad with him in Kiryienka, EBH, Luke Rowe, Knees and Lopez who will all be looking to impress to get on the squad for the Tour and Chris Froome's squad. I am hoping for an exciting week with my 1.5pts each way on him at 50/1.
Sylvain Chavanel is another rider in the same mould and he will be looking to make a good impression on home roads for his new squad IAM Cycling. 16-18/1 best price, he too could win it in the same way that I described how Thomas and Van Garderen could, but he is also the kind of rider who could surprise on one of the other stages too with a flyer in the last 5kms. He didn't look all that impressive though to me at the Omloop, coming in 26th place and he doesn't have as good a squad with him as some of the rest. Desolé, mais non Sylvain.
What about the rest? Tony Gallopin carries the hopes of his new Lotto-Belisol team but he is too short for me at 20/1 with a weakish looking squad behind him. Stybar and Gerrans are interesting around the 20/1 - 25/1 mark as they are two guys who could do well on the sprint stages and pick up some seconds and also hang in there on the hillier stages and maybe even steal some more time. I think though that if it is all to play for on the last stage and the big men put the hammer down they may find the pace on the Col d'Eze just a little too hot.
Tom Jelte Slagter has also been mentioned in a few places but I can't be having him, even at 40/1 with BetVictor. If you are looking for a big priced outsider that could be involved, then how about Rafal Majka for Tinkoff-Saxo at 100/1 with Skybet. 7th overall in the Giro last year, he can attack hard and can climb with the best on a good day and at 100/1 there are worse bets out there as he will not be such a marked man.
The full list of starters for Paris-Nice 2014 can be found here.
Recommendations
Geraint Thomas - 1.5pts each way at 50/1 with Bet365
Tejay Van Garderen - 1pt each way at 18/1 with Bet365
Rafal Majka - 0.4pts each way at 100/1 with Skybet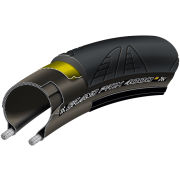 Get the best tyres money can buy with a CyclingBetting special offer!
Continental GP4000s clinchers for under £27 with free delivery!