Details

Published on Wednesday, 19 March 2014 23:55
Sunday 23rd March, 294Km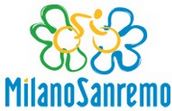 Here we go then, the first Classic of the season, the longest classic of the season - It's 'La Classica di Primavera', Milan San Remo! The race that last year was almost abandoned but instead was truncated to allow the riders to defrost!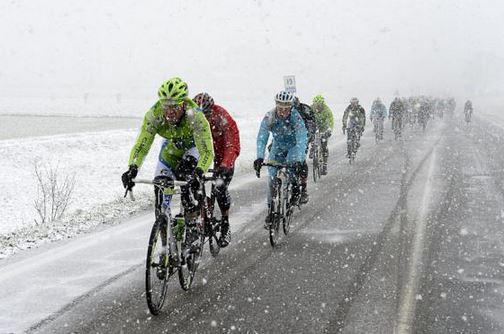 The Race
It was indeed an incredible race last year. The weather conditions were so bad that after 117km of racing the race was stopped and frozen, almost incapacitated riders were rushed on to team buses to defrost and try to get some feeling back in their limbs. At that point a break of 6 had over 7mins lead and when they transferred the race past the climbs of La Passo del Turchino and 'La Manie' and restarted again in Ovada, there were only 130km left suddenly out of the scheduled 298km they should have done.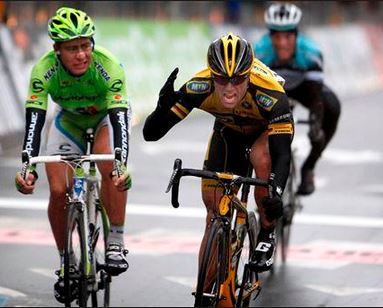 What wasn't a surprise was the like of Sagan, Chavanel, Paolini and Cancellara were there at the finish, what was a surprise though was that MTN Qhubeka's Gerard Ciolek beat them in a sprint. The look of shock on Sagan and Chavanel's face reflected mine as my bet on Sagan to win went down by inches! (right)
This year's race has been in the headlines for months now though and with each new route update there was consternation in the betting markets. What was a steady market with sprinters primed at the top of the favourites was thrown in to disarray and confusion when the announcement came out that they were adding an additional climb of the Pompeiana near the finish. It's a tough climb that was going to be sandwiched between the Cipressa and the Poggio with 20km to go and suddenly the race took on a whole new complexion.
Sprinters were up in arms - Cavendish threw the toys out the pram and said he would never race MSR again. Climber and puncheurs were suddenly drawn in to the reckoning with Froome saying he was going to ride. Sprinters prices leapt out as it looked like not only would they not be winning it but many might not have even started it. Cavendish went out to 14/1, Greipel to 100/1, Démare to 200/1, Degenkolb to 25/1, Kristoff to 80/1. Sagan, well he shortened to 2/1 favourite given his ability to get over climbs like that. Ulissi shortened, Gilbert shortened, Costa shortened, even Dan Martin was backed from 200/1 in to 50/1 (I had some of that..)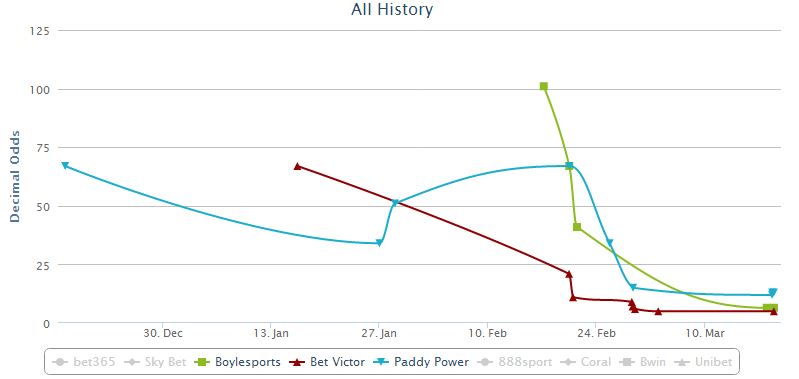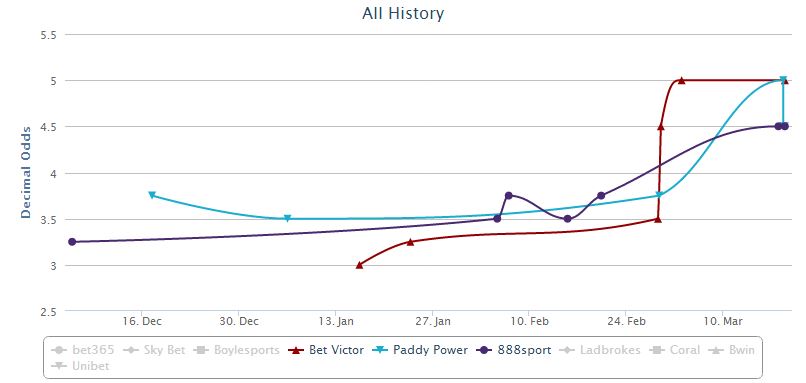 Then the weather gods intervened and said 'thou shalt not mess any more with the route of Milan-San-Remo' and caused landslides and problems on the Pompeiana, forcing local officials to declare it too dangerous and forced it off the route again. So back to the more sprinter-friendly route and cue more carnage in the betting - I got some Kristoff at 80/1 not long after he had won in Oman. He is now 33/1 (was 8th last year, just couldn't catch the race winning move) . I missed the move on Greipel, but he tumbled from 100/1 to 10/1 (see pic, top right). I managed to get some 14/1.. And now Cavendish is back in to 9/2 joint favourite with Sagan who has drifted out again from 2/1 given the sprinters are back! (see pic, bottom right)
And given the way the season has started with a bang for so many of these riders, this is going to be an absolute cracker of a race. A lot of the sprinters are in good form, a lot of the puncheurs are in good form, even some climbers are in seriously good form! Some have been going flat out early in the season while others have been quietly prepping for these - the monuments; the classics.
The Route
So we're back to what it was supposed to be before the brainwave of adding the Pompeiana. Well, maybe not! Because the news that was coming out of Italy on Tuesday was that due to heavy rain forecast for the weekend, the route could be subject to another change, a slight detour around Spotorno, the scene of a recent landslide. It shouldn't alter things much at all as they would just go up a gentle 3% climb to get around it and continue, and it also comes nearly 100km from the finish.
The route though is more or less the same as last year's then with the riders leaving Milan early in the morning with a long day in the saddle ahead of them. They head south, south-west for over 100kms on almost dead-flat roads before starting the gentle, lower slopes of the Turchino some 120km in. This may be over 25km long but with an average gradient of only 1.4% it shouldn't cause any problems to these guys. At times they are climbing at less than 1%, although it does kick up to about 5.5% for the last 2kms.
They crest the Turchino after 143km and then descend to the coast for about 10kms where they then skirt along the edge of Italy for the best part of 100km more on pretty flat roads before they start to reach the next obstacles. There are three little bumps in quick succession in the Capo Mele, Capo Cervo and Capo Berta and although they are nothing really, after 250kms they are going to start to hurt.
But the real action starts soon after with the climb of the Cipressa which they hit with just 22kms of racing left. If you want to win San Remo you will need to be near the front and out of trouble as the Cipressa is narrow and very fast. The average gradient of 4.1% is not difficult in itself, but the fact it comes with 272kms in the legs, coupled with the fact it will be full gas up the climb will mean we should start to see some cracks and attacks off the front.
A quick descent and a few kilometres on the flat and suddenly they are on the most important stretch of road of the race - the 3.7kms long Poggio di San Remo, one of the most iconic ascents/descents in cycling. 3.7kms at an average of 3.7% may not seem like much but it's the 500m section from 2.5km to 3km that averages 5.6%, with a max of 8% where things usually kick off. Attacks go left and right and last year it was where Paolini went hard last year and only Cancellara, Ciolek, Pozzato (briefly) and Sagan could stay with him.
Then, the famous descent. 4kms flash past in a blur of houses and tight bends and suddenly they are on the flat run in to the finish. A few lefts and right but nothing too dangerous and then the long, straight, wide sprint finish. If you want to see just how things can change on the descent, take a look at one of the best finishes in Milan San Remo history from 1992, the descent of Sean Kelly to catch Moreno Argentin and take a famous stage win. I have that signed winning jersey at home that Kelly wore that day, won it in a competition in a newspaper!
This race is always exciting, always dramatic and this year's promises to be no different. Watch the video below of last year's finish to get you in the mood, what a superb effort from Stannard and Chavanel, but what a canny ride from Ciolek to take the win.
Seven previous winners are lining up on Sunday to highlight the quality of the field. Ciolek (2013), Gerrans ('12), Goss ('11), Cavendish ('09), Cancellara ('08), Pozzato ('06) and Pettachi ('05) so plenty with chances of doing a double.
The Weather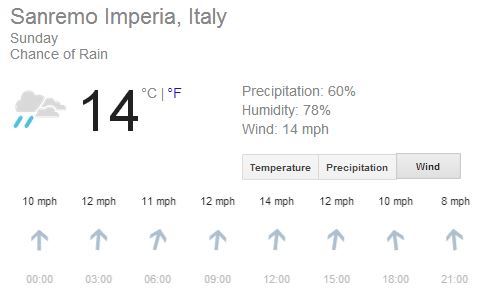 The weather, thankfully, looks a lot better than last year's edition, with a mild 14º forecast with a manageable northerly wind of around 12mph. There is roughly a 30% chance of rain predicted, they expect it to be showery. So it might get a bit sketchy on the descent of the Poggio - but they will have a tail-wind going up it and a head wind in parts coming back down to the course.
Course Details
Map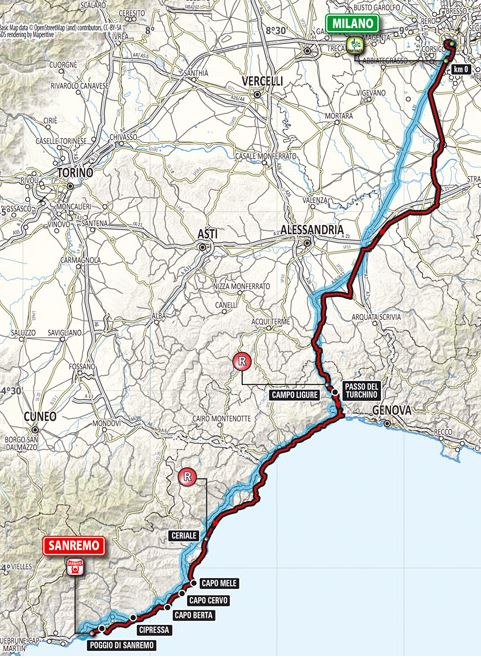 Profile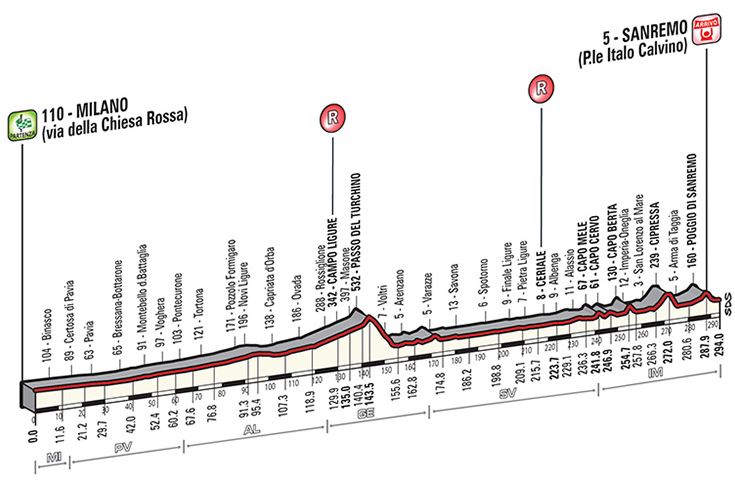 Passo Del Turchino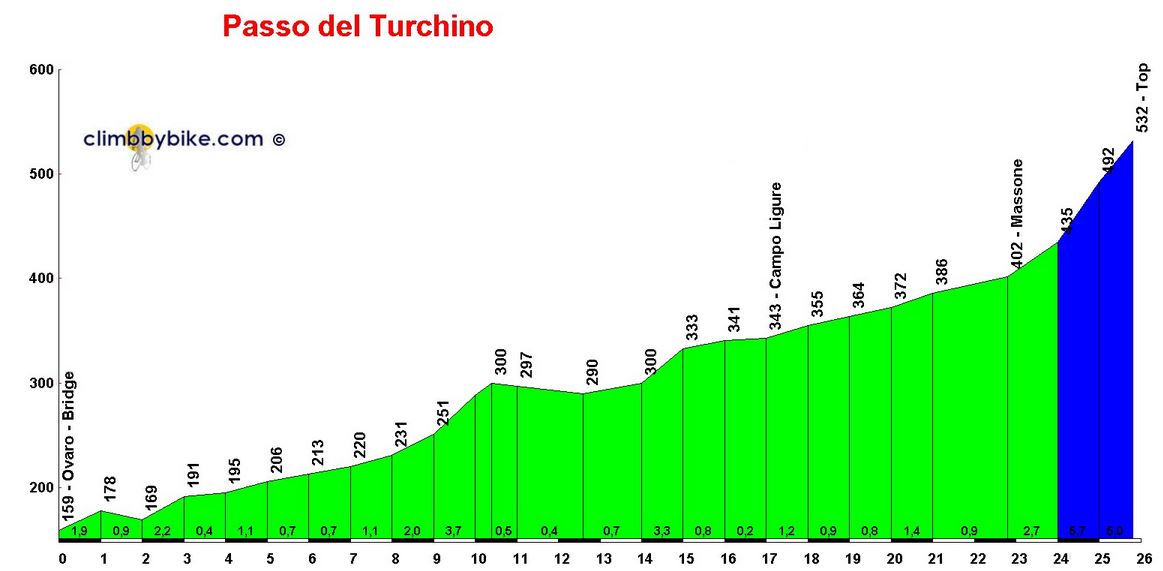 Cipressa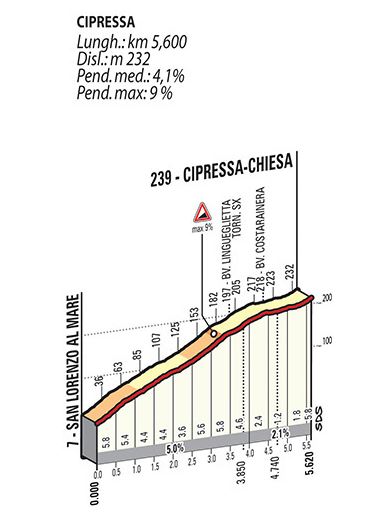 Poggio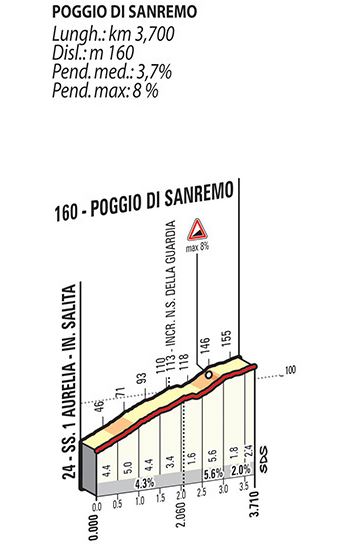 Closing Kilometres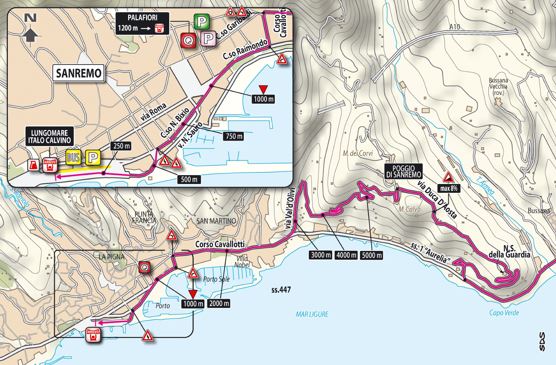 Contenders and Favourites
Where do you start?! There are so many riders who could win this this year, going from the sprinter favourites right through to puncheurs and strong classics men like Cancellara or Van Avermaet, the problem is going to be narrowing down the field to some worth backing!
Several teams are mob handed with a number of potential winners so it can often come down to who is feeling the best on the day with 20kms to go that decides who goes for it. If the weather is bad, as is expected, the complexion of the race can change and there is also the added danger of crashes and punctures at innoportune times, just ask Wilco Kelderman about that after Paris-Nice!
Favouritism is currently split between Sagan and Cavendish depending on which bookie you look at, with Sagan ranging from a low of 11/4 to a high of 4/1 and Cavendish ranges from a low of 7/2 to a high of 11/2. You can make very strong cases for both of them - Peter Sagan was 2nd here last year and excels on a course like this with tough hills to get over. A superb, canny finisher, he is coming in to good form as you would expect at this time of the season, his 2nd in Strade Bianchi was followed up by an excellent stage win and the points jersey in Tirreno.
Expect him to be right at the front if things are still more or less together going up the Poggio, Moreno Moser looking after his team captain. Depending on who gets away in the last part of the Poggio/descent to the finish then he has a fantastic chance. If Cavendish, Greipel or Degenkolb are there then he probably won't win, but will be very close.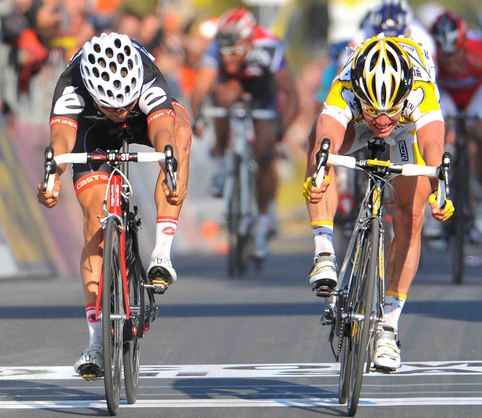 Cavendish won this in 2009 from a mass bunch sprint - I say mass bunch sprint but in actual fact Cavendish shot clear of the bunch in the last 100m to nail the unlucky Heinrich Haussler right on the line. He is delighted that they are back to that kind of route again and his performance in the 6th stage in Tirreno was bloody impressive, albeit helped by the lack of Kittel and Greipel in the sprint. If he gets to the finish with a bunch then he has a massive chance. OPQS will probably drill it up the Poggio to try to shake off Kittel and Greipel and with Boonen tragically missing out due to a family tragedy, Cavendish is definitely no.1 for them.
I just can't bring myself to back him at prices around 4/1, 11/2 is just bordering on acceptable though, so if you are a Cav fan, it's worth backing. I'd go win only too though, he either wins or comes nowhere. The 11/2 is with Bet365, if you don't have an account with them, click here to open one now and get a 100% deposit bonus up to £200!
Next we have John Degenkolb at best price 9/1 but he has been backed in to 13/2 in places this week. I've been backing Big John quite a bit this year and he hit the post twice for me in Paris-Nice in the first two stages, finishing 2nd, but finally got it right in stage 3. He has had a brilliant start to the year and will relish the sort of finish in this race. 5th in 2012, or 2nd in the bunch sprint behind Sagan you could say, the inclusion of La Manie that year wasn't even enough to stop him and they miss out on it this year. I think he has a big chance on Sunday and could well make the podium.
*UPDATE* - I made my move this morning (22/3/2014) as I think Degenkolb has a really solid chance. This was from the man himself today - "I had a few days of good training at home after Paris – Nice before coming out here. Races like this suit me, long distances and a race of attrition, plus we have a strong team here so we can be confident, but anything can happen in this race."So I have had a point each-way at 8/1 with William Hill, I should have taken the 9/1 a few days ago!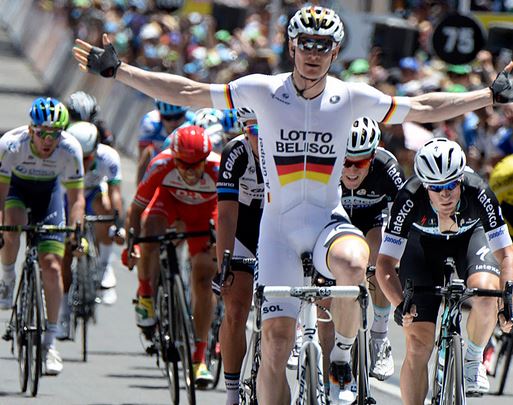 André Greipel really splits the bookies and fans alike as he ranges massively from 5/1 with Coral to 15/1 with Bet365. He also has had a brilliant start to the year with 9 top 3 placings, including 6 victories and has been prepping well over the last week in Tirreno despite only managing a 3rd place at best. His 7th place on stage 3 though was impressive as he was the only pure sprinter to finish at the front on the uphill drag to the line that peaked at 11% (Cavendish was 49" back in 93rd). He has a super strong team with him and I think he could be a real danger at the finish as long as gets over the Poggio with the leaders. His team manager Marc Sergeant is confident he can do it too. I missed the big prices on him but took some 14/1 (I thought he should have been a 10/1 shot or so) on the 28th Febraury. I am happy with my 1pt each way and I think at 15/1 he is a decent bet for a top 3 place.

Cancellara and Gilbert are next around the 14-16/1 mark, but I think both of them, although they are sure to go well and be involved at the business end have ambitions for the northern classics in a few weeks. Michael Matthews (28/1) has a chance if he can get away with a small group on the Poggio - if he comes to the finish with the three main sprinters already mentioned then I think he will be 5th to 10th.
Sacha Madolo comes to MSR with a lot of confidence and big ambitions. He was 4th in this in his first year as a pro in 2010 and has had a really positive start to the year building up to this with wins in San Luis,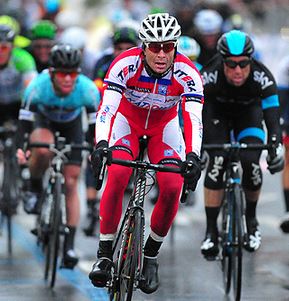 Majorca and the Volta ao Algarve. Former winner Pozzato will be looking after him and Ulissi could go for a long one to stretch things out and make OPQS and Lotto chase and Modolo will be sitting quitely waiting for his chance. He's a big looking 28/1 with Bet365 and could be one for the short list if you want to take on the sprinter favourites.
Alexander Kristoff is one that I will be cheering loudly for on Sunday as I am on him for a half a point each-way at 80/1 from the 28th Feb also. He 'won' the group sprint last year, beating Cavendish just a few seconds behind the winners. He likes it when it is wet and cold and he will have Moreno, Caruso and Kolobnev to help him Sunday. He is still as big as 40/1 with Bet365, is generally 25-33/1 and I think that still represents value for someone who is sure to be fighting for a top 3 place.

Another who rode brilliantly for no reward last year was Taylor Phinney - he broke away from the chasing peloton coming down the
Poggio and almost caught the leaders, coming agonisingly close, so close he was given the same time as the winners in 7th place. He has been going really well this year, winning in San Luis and the TT in Dubai and coming 7th in the Omloop. He has a team with a number of potential winners in Van Avermaet, Gilbert, Velits and Hushovd but at 150/1 I just had to have some today. *UPDATE - 21/03/2014, 17:30* - it was reported Friday afternoon Phinney has a fever and may not ride MSR. No further info than that at the moment.
Speaking of 150/1 shots, some have been talking up Ian Stannard's chances as he showed last year how he is perfect for this race (and possible conditions) and his performance in Omloop shows he has gone up a level again. He was 150/1 earlier today I believe, 80/1 best price now, but be careful - I have got word that's come from inside the Sky squad that he may not be riding MSR, so wait until it's definitely confirmed before you back him. There's no 'non-runner no bet' in this race! *UPDATE - 21/03/14* - Stannard is not on the official starting list for SKY's team for Sunday, no word as to why he is not yet though. I hope I put some of you off backing him..
Sylvain Chavanel was excellent in this last year and has been getting some good training in during Paris-Nice, with lots of long breakaways and taking 3rd in the KOM competition. I think he will almost certainly give it a go, possibly on the Cipressa and he might give you a run for your money again at 100/1 with Paddy Power . I won't have backed him but there will be two big fans cheering him home if he does do it Sunday!
And the quality just goes on - Simon Gerrans I backed small at 16/1 back in January when he won the TDU but he is twice that price now and the removal of the Pomeiana has scuppered the chance I thought he had at the time.
An 'outsider' at a massive price could be Roman Kreuziger - he was on babysitting duties for Contador in Tirreno and did an excellent job on stages 4 and 5 where he finished 4th and 7th and looked really strong. He was able to take it easy for the last 30kms of stage 5 as Contador was up the road and would have had an easy last two stages with the yellow jersey and his 3rd place more or less secure. He will have the freedom to try his luck I think and could launch an attack on the Poggio like he did in the Amstel Gold race last year and could well be involved in a race winning break. At 200/1 he was worth a few quid each way to win £500!
I haven't even mentioned last year's winner Ciolek (50/1 with Paddy Power ), Nibali, Démare, Vichot, Kwiatkowski, Goss, Meersman, Haussler, Bennett, Petacchi, Bakelants and so on.
So I have quite a few at good prices I will be shouting for - Phinney for the solo breakaway, Kristoff, Gerrans and Greipel in the sprint and as I think it will most likely come to a reduced sprint of some 50-60 riders I am probably going to back Degenkolb as well at 9/1 but might wait and see what price he is to place on betfair when there is more liquidity at the weekend.
Post your top 3 picks in the comments box below and let's see what you guys think!
Recommendations and bets placed ante-post:
0.5pts each-way at 150/1 on Taylor Phinney with BetVictor
1pt each way on André Greipel at 14/1 with Paddy Power
1pt each-way on John Degenkolb at 8/1 with
William Hill
0.5pts each-way on Alexander Kristoff at 80/1 with BetVictor
0.25pts each-way on Simon Gerrans at 16/1 with BetVictor
0.25pts each-way on Roman Kreuziger at 200/1 with Paddy Power
Watch here and on Twitter for updates closer to the off also.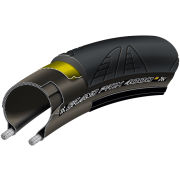 Get the best tyres money can buy with a CyclingBetting special offer!
Continental GP4000s clinchers for under £25 with free delivery!