Details

Published on Thursday, 27 March 2014 21:55
Sunday 30th March, 212kms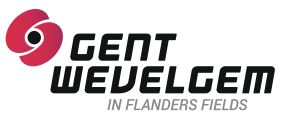 The big news on this year's Gent Wevelgem was the announcement on Friday that Mark Cavendish, who was one ot the favourites at 7/2 had pulled out of the race due to illness.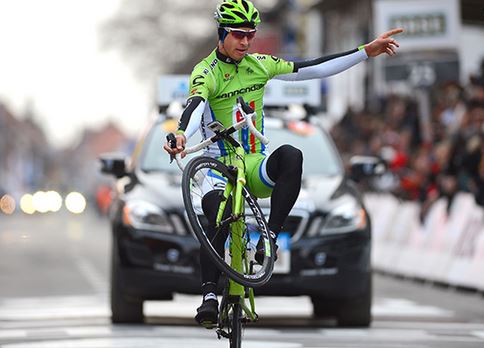 He is just the latest rider to be struck down with illness this season, there's been quite a long list of casualties in recent weeks. Richie Porte is also reportedly in doubt for the Giro because of the Gastroenteritis he has been suffering from in the last week or so.
Gent Wevelgem is another step though for the rest of the healthy peloton towards the monuments to come in the weeks ahead. It may have its cobbled sections, including the famous Kemmelberg it is generally a sprinters race, hence all the big guns are here. With the withdrawal of Cavendish, Reigning champion Peter Sagan has become favourite following his powerful showing and victory in the E3 Harelbeke on Friday over the cobbles. But he will be joined by some seriously good competition, some who are better out and out sprinters than he is. Men like André Greipel, MSR champ Alexander Kristoff, John Degenkolb, Arnaud Démare, Sacha Modolo and a resurgent Tyler Farrar.
Sagan won this pulling wheelies last year after soloing away in the last 4kms from a group of 10 in a race that had been shortened by some 90kms because of extremely cold weather conditions. But with the wind often having a major impact on the race it's not always a big bunch that gets to fight out the finish. Edvald Boasson Hagen (09), Bernie Eisel (10), Boonen (12) and Sagan (13) have won from reduced bunches and small breaks.
Tom Boonen has a great record in this race, like in most Belgian Classics, winning it in 2012 and 2011 and again as far back as 2004 when he beat Magnus Backsted as a prodigious 23-year old. It was a fantastic E3 Harelbeke on Friday with Cancellara looking like a machine at times when trying to chase back on after a crash, Sagan won it with power and style, Geraint Thomas showed similar form to last year when hitting a top three and OPQS did everything but win. It sets it up nicely then for a cracking race on Sunday.
The Route
The race starts in Deinze and heads in a west-north-west direction towards the coast until they reach Adinkerkeand then start heading south back inland. Things start to get interesting (unless the winds near the coast have already caused splits) when they reach the south-western corner of the course and head in to the Hellingen, or cobbled climbs.
There are nine key Hellingen which could cause breaks to go and splits to happen, they are listed in the graphic below. The first one (Casselberg) comes after 115kms and the last one (Monteberg) comes after 197kms with just 26kms to go. The Casselberg or Mont Cassel as it is known, may be cobbled but there are large sections of it that have been tarmacked over so it isn't all that difficult on the face of it, but it hits 19% in parts!
The Kemmelberg is similar in that it is partly paved, partly cobbled but can be very rough in parts and is one of the steepest slopes in the whole country. The ascent is steep and rough, but the descent is even worse - a very narrow, dangerous track that barely passses as a road. It has been used as a launch pad for attacks before, such as in 2007 when Marcus Burghardt blew it apart on the descent with four others before he went on to win. Same the year before when Hushovd won it after escaping with a bunch of 32 riders on the roads after the top of the Kemmelberg.
That and the Monteberg are the last opportunities for breaks to go so the sprinters and their teams will need to be on their guard as the run in to the finish is pretty flat and straight and perfect for setting up their speedsters.
Map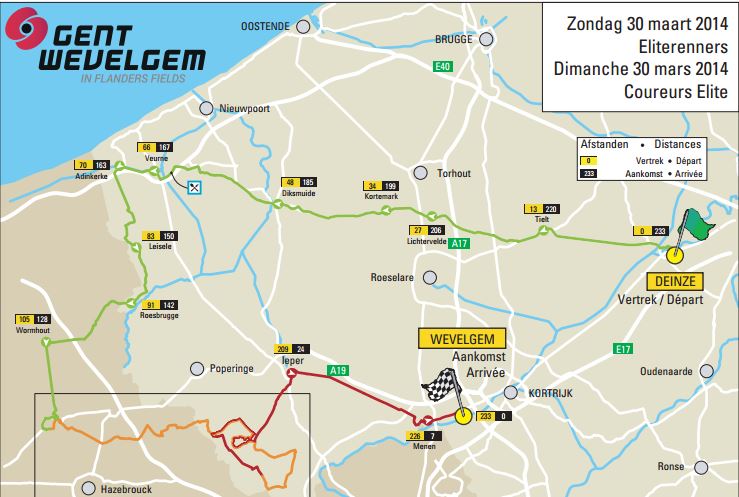 Profile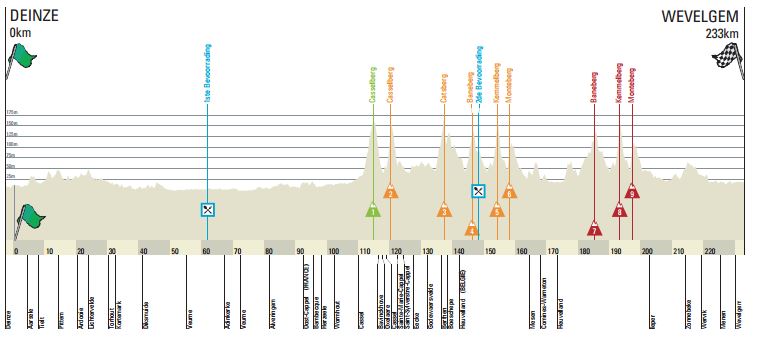 Key Hellingen

Contenders and Favourites
Peter Sagan comes here as hot favourite after his comfortable victory in the E3 Harelbeke on Friday. He has a lot going for him - the reigning champ, who soloed away from the rest last year, he was also second the year before in the sprint behind Boonen. He looked a little at odds a week or so ago but definitely seemed in much better shape on Friday, even if he was dropped on the Kwaremont when G and Terpstra put the hammer down. He showed the power he has though by easily getting back on and then instigating the winning move when it did come to split the final break.
There are a few ways that he could win this - another solo victory isn't out of the question, possibly from a reduced peloton like last year. Or if it is fast and hard he could be one of few sprinters that make it to the line in a small break and would be very hard to beat in the sprint. But the thing that concerns me is that if it does come down to a bigger bunch sprint then he is beatable by some of the speedier types in a flat-out sprint.
One of those speedier types who I really like for tomorrow is André Greipel. He is also in good form, was very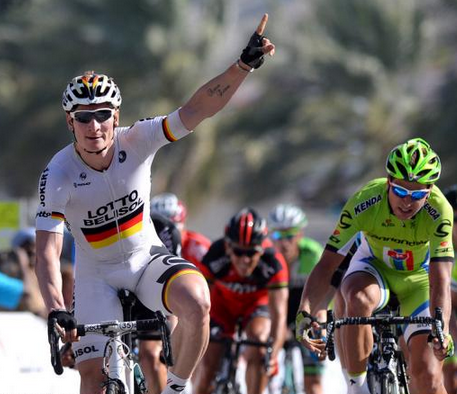 unlucky at the MSR as he almost hung on all the way up the Poggio, but when he crested the top he was maybe 10" off the leaders. This meant he had to chase really hard for the last 6kms or so and when he finally made it back on he suffered from cramps and was unable to contest the sprint.
That was unusual for him but that was after 294kms in horrible conditions but I think he will be fired up for this and the Lotto train will look after him very well. They have a super strong squad here with Jurgen Roelandts, Debuschere, Bak, Gallopin and Sieberg to tow him to the line and I fully expect them to deliver him to the last 300m. He was 9/2 early in the week with 888 Sport and I thought that looked ok, but BetVictor have come out with 6/1 and I think that is a good bet. I'm backing him to win at 6/1 (back him each-way if you want more chance of a return if he gets pipped) but instead I am also backing him for a top 3 finish with 888 Sport at 11/10, works out better for the place element than backing him at 6/1 (pays equivalent of only 1/4 if he only finishes 2nd or 3rd)

Arnaud Démare is here and he likes a long tough day in the saddle with a a hard sprint at the end. If he gets to the finish with the winning move then he has a great chance - it's going to be up to Lotto-Belisol, Cannondale and Katusha to push it hard in the Hellingen to try to shake the likes of Démare off. I'm not tempted at 14/1 for that reason, he doesn't have a great team with him and he may find himself exposed.
Alexander Kristoff was a brilliant winner for me of MSR and will be full of confidence, but I'm not sure what frame of mind he might turn up in. It's different when you are say Luca Mezgec at the Volta where you have no distractions and you are focused on the next stage and your form is red hot. With Kristoff he has had a week of interviews, celebrations, distractions and so on and he may be just off the boil a little after such a high last week. For that reason I am leaving him too.
Tom Boonen of course has a great chance, being a multiple winner with a great team with him but he didn't seem in great form for the E3 and his mind might understandably be elsewhere for a little while. He has also injured his thumb in a crash in the E3 so he won't be going too hard with Flanders only a week away. Maybe it's a case of getting another race out of the way before the big one next weekend.
John Degenkolb is an interesting contender - he was going really well in the E3, at one point being one of the few to hold on to Geraint Thomas and Terpstra when they did put the hammer down. He did fade towards the end but he was impressive I thought. This is far easier in terms of terrain and he could be one of those that might make the final selection if there is a split at the front. He would be my second choice behind Greipel I think. 10/1 looks interesting as does the 9/4 with 888 Sport to finish in the top 3.
Fabian Cancellara was super impressive in his chase back on Friday in the E3, it was insane at times how quickly he was going past some of the back markers. He couldn't do it all himself though and I think once he realised they were not getting back on he wound things down and saved himself. I think tomorrow could be a training ride ahead of Flanders so I am not interested in backing him at 16/1 with 888 Sport and definitely not the 6/1 with BetVictor.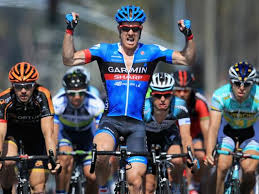 You then have the likes of Sacha Modolo who could go well and the in-form Tyler Farrar who could be a good shout for the top 3 at 7/1. Farrar 'won' the sprint in the Dwar Doors Vlaanderen during the week, but unfortunately for him Terspstra was already doing winner's interviews. He has a love for the Flanders races and area as he lives in Ghent and I think at 7/1 for a top 3 he is worth a chance. Sam Bennett of NetApp Endura and Ciolek of MTN could also have a say in the sprint. At 66/1 I am tempted to have a few quid on Bennett but as he's new to the cobbles I fear he may not make it to the finish with the leaders.
Of course there are plenty of others who could have a say in this - the longer range, breakaway power men like Greg Van Avermaet, Geraint Thomas, Pozzato, Phinney and so on who could look to split things on the Kemmelberg and get rid of all the sprinters. But I'm sticking with my main sprinter picks above and hoping to get one or two of them to land at least.
Recommendations:
André Greipel - 1.5pts win at 6/1 with Bet Victor
André Greipel - 2.5pts to finish in the top 3 at 11/10 with 888 Sport
Tyler Farrar - 1pt to finish in the top 3 at 7/1 with 888 Sport
John Degenkolb - 1pt to finish in the top 3 at 9/4 with 888 Sport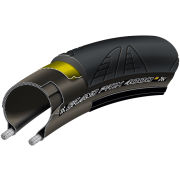 Get the best tyres money can buy with a CyclingBetting special offer!
Continental GP4000s clinchers for under £25 with free delivery!
STARTLIST
Cannondale
1.SAGAN Peter
2.BODNAR Maciej
3.GATTO Oscar
4.KING Edward
5.KOREN Kristjan
6.KRIZEK Matthias
7.LONGO Paolo
8.MARANGONI Alan
AG2R La Mondiale
11.APPOLLONIO Davide
12.BAGDONAS Gediminas
13.CHAINEL Steve
14.DANIEL Maxime
15.GAUDIN Damien
16.HOULE Hugo
17.HUTAROVICH Yauheni
18.MONDORY Lloyd
Astana Pro Team
21.BOZIC Borut
22.GAVAZZI Francesco
23.GRIVKO Andriy
24.GRUZDEV Dmitriy
25.GUARNIERI Jacopo
26.IGLINSKIY Valentin
27.KAMYSHEV Arman
28.MURAVYEV Dmitriy
Belkin-Pro Cycling Team
31.BOOM Lars
32.FLENS Rick
33.WAGNER Robert
34.LEEZER Tom
35.TANKINK Bram
36.TJALLINGII Maarten
37.VANMARCKE Sep
38.WYNANTS Maarten
BMC Racing Team
41.HUSHOVD Thor
42.LANDER Sebastian
43.LODEWYCK Klaas
44.OSS Daniel
45.PHINNEY Taylor
46.QUINZIATO Manuel
47.SCHAR Michael
48.VAN AVERMAET Greg
FDJ.fr
51.BOUCHER David
52.DELAGE Mickaël
53.DéMARE Arnaud
54.FISCHER Murilo Antonio
55.GESLIN Anthony
56.LADAGNOUS Matthieu
57.LECUISINIER Pierre-Henri
58.OFFREDO Yoann
Garmin Sharp
61.BAUER Jack
62.FARRAR Tyler
63.NORMAN HANSEN Lasse
64.LANGEVELD Sebastian
65.MILLAR David
66.NUYENS Nick
67.VAN BAARLE Dylan
68.VANSUMMEREN Johan
Lampre - Merida
71.BONIFAZIO Niccolo
72.CIMOLAI Davide
73.DODI Luca
74.FAVILLI Elia
75.MODOLO Sacha
76.PALINI Andrea
77.POZZATO Filippo
78.RICHEZE Ariel Maximiliano
Lotto Belisol
81.BAK Lars Ytting
82.BOECKMANS Kris
83.DEBUSSCHERE Jens
84.GALLOPIN Tony
85.GREIPEL André
86.ROELANDTS Jurgen
87.SIEBERG Marcel
88.WILLEMS Frederik
Movistar Team
91.AMADOR Andrey
92.DOWSETT Alex
93.ERVITI Imanol
94.GUTIéRREZ Iván
95.LOBATO Juan Jose
96.MALORI Adriano
97.ROJAS José Joaquin
98.SüTTERLIN Jasha
Omega Pharma - Quick-Step
101.BOONEN Tom
102.KEISSE Iljo
103.MAES Nikolas
104.STEEGMANS Gert
105.STYBAR Zdenek
106.TRENTIN Matteo
107.VANDENBERGH Stijn
108.VELITS Martin
Orica GreenEDGE
111.DOCKER Mitchell
112.DURBRIDGE Luke
113.GOSS Matthew
114.HAYMAN Mathew
115.KEUKELEIRE Jens
116.MOURIS Jens
117.TUFT Svein
118.YATES Simon
Team Europcar
121.COQUARD Bryan
122.COUSIN Jérôme
123.DUCHESNE Antoine
124.ENGOULVENT Jimmy
125.GENE Yohann
126.LAMOISSON Morgan
127.PICHOT Alexandre
128.THURAU Bjorn
Team Giant-Shimano
131.ARNDT Nikias
132.CURVERS Roy
133.DE KORT Koen
134.DEGENKOLB John
135.DEVENYNS Dries
136.JANSE VAN RENSBURG Reinardt
137.SINKELDAM Ramon
138.TIMMER Albert
Team Katusha
141.ISAYCHEV Vladimir
142.KRISTOFF Alexander
143.KUZNETSOV Viacheslav
144.PAOLINI Luca
145.PORSEV Alexander
146.SELIG Rüdiger
147.SMUKULIS Gatis
148.TSATEVICH Alexey
Team Sky
151.BOASSON HAGEN Edvald
152.EISEL Bernhard
153.KNEES Christian
154.PUCCIO Salvatore
155.RASCH Gabriel
156.ROWE Luke
157.STANNARD Ian
158.THOMAS Geraint
Tinkoff-Saxo
161.BENNATI Daniele
162.BOARO Manuele
163.BRESCHEL Matti
164.JUUL-JENSEN Christopher
165.KOLAR Michael
166.MøRKøV Michael
167.TOSATTO Matteo
168.TRUSOV Nikolay
Trek Factory Racing
171.CANCELLARA Fabian
172.DEVOLDER Stijn
173.POPOVYCH Yaroslav
174.RAST Gregory
175.ROULSTON Hayden
176.SERGENT Jesse
177.IRIZAR Markel
178.VAN POPPEL Boy
Androni Giocattoli
181.BANDIERA Marco
182.OCHOA Carlos José
183.FACCHINI Patrick
184.HOOGERLAND Johnny
185.PARRINELLO Antonio
186.TESTI Nicola
187.VAN HUMMEL Kenny
188.ZORDAN Andrea
Cofidis, Solutions Crédit en Ligne
191.CAMMAERTS Edwig
192.GARCíA Egoitz
193.JõEääR Gert
194.LEMOINE Cyril
195.PETIT Adrien
196.SENECHAL Florian
197.VERHELST Louis
198.ZINGLE Romain
IAM Cycling
201.AREGGER Marcel
202.HAUSSLER Heinrich
203.HINAULT Sébastien
204.KLEMME Dominic
205.KLUGE Roger
206.PELUCCHI Matteo
207.REYNES Vicente
208.SARAMOTINS Aleksejs
MTN - Qhubeka
211.CIOLEK Gerald
212.KONOVALOVAS Ignatas
213.REGUIGUI Youcef
214.REIMER Martin
215.SBARAGLI Kristian
216.STAUFF Andreas
217.THOMSON Jay Robert
218.VENTER Jaco
Team NetApp – Endura
221.BENNETT Sam
222.DEMPSTER Zakkari
223.JARC Blaž
224.MCEVOY Jonathan
225.SCHILLINGER Andreas
226.SCHORN Daniel
227.THWAITES Scott
228.VOSS Paul
Wanty - Groupe Gobert
231.DE TROYER Tim
232.DE VREESE Laurens
233.DRUCKER Jean-Pierre
234.KREDER Wesley
235.LEUKEMANS Bjorn
236.SELVAGGI Mirko
237.VANLANDSCHOOT James
238.VEUCHELEN Frederik
Topsport Vlaanderen
241.DECLERCQ Tim
242.HELVEN Sander
243.STEELS Stijn
244.VAN ASBROECK Tom
245.VAN HOECKE Gijs
246.VANBILSEN Kenneth
247.VANSPEYBROUCK Pieter
248.WALLAYS Jelle