Details

Published on Monday, 07 July 2014 22:56
Le Touquet-Paris-Plage to Lille Métropole
Tuesday July 8th, 163.5kms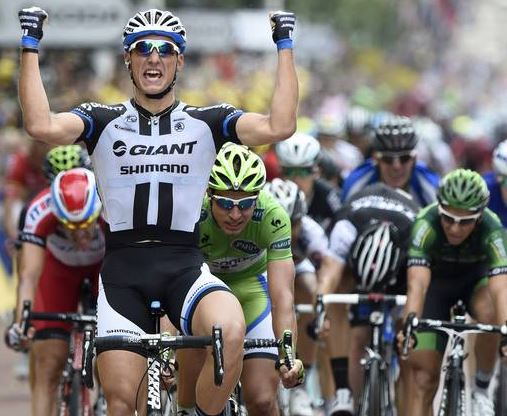 After three brilliant days in front of millions of fans, the Tour returns back across the Manche. When the riders were being warned that it was going to be tough here I don't think they expected a day quite as hard as stage 2. There were broken men coming past us with 20kms still to go, don't think many of them expected to be so far down the GC after just three stages.
Nearly half the peloton are already 15 minutes behind the surprise leader Vincenzo Nibali. Riders like Rodriguez and Paolini, Terpstra, Riblon, Izaguirre... All way out of it already. Hard to remember another Tour where so many of the riders are already so far behind. From Simon Yates in position 67 onwards all the rest of the 196 riders are already over 5 minutes back, with 118 riders over 10 minutes down.
But what a fascinating finish we had in stage 2. Froome, Contador, Mollema, Valverde, Costa - all were active and showed their hands a little, but it was the wily old shark, Nibali, who saw his opportunity. When he went there was a bit of a stall behind as they looked at each other and waited for someone else to chase him, but it was too late.
Stage 3 in London ended exactly as expected with Kittel crushing his rivals after great work from his Giant-Shimano team. Disappointments were Greipel and Démare who finished in 23rd and 14th after poor positioning in the last kilometre. So another winning day for us today making it three positive days in a row! Also, the Kittel to win 3 stages or more at 8/11 looks pretty much home and dry, should be sealed probably tomorrow! Peter Sagan is now in to 1/5 for the Green Jersey and that looks all over bar an accident too. Romain Bardet is in to 6/4 from 2/1 for the Young Riders jersey so all going well then.
The Route
They depart from the coastal town of Le Touquet-Paris-Plage and head east in a gentle jaunt through St Omer on the way to Lille. Along the way they skirt along the Belgian border, briefly dipping in to west Flanders. It's almost completely flat bar two Cat 4 little collines, including the Mont Noir (1.3kms at 5.7%). There are a couple of little bumps in the last 10kms or so but nothing to stop this day from being a sprinters stage again you'd think.

The break of the day will probably go very early like it did today on stage 3 and should build up a 5-8 minute lead but will be pulled back with 10-15kms to go.
The forecast is for a shower in the morning as they're setting off around 10am, and a shower around 2pm but hopefully it won't last and the finish won't be affected.
Route Map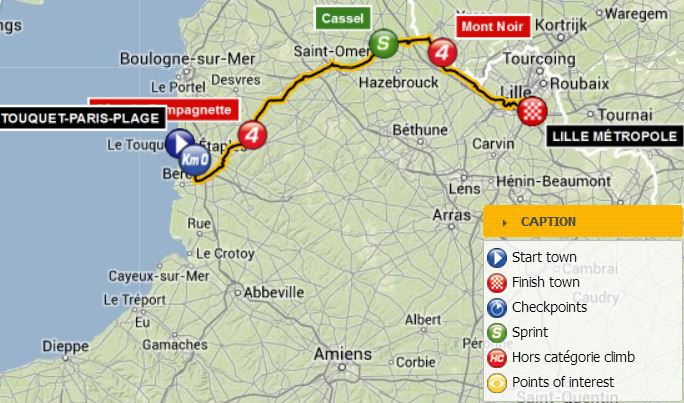 Profile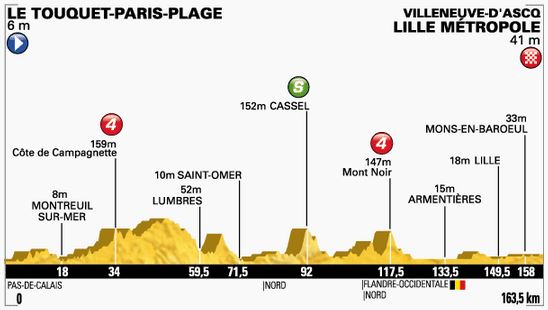 Last Kms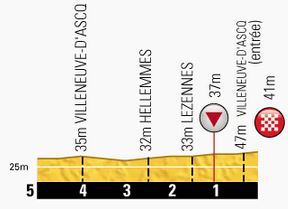 Contenders and Favourites
Straight to the point, it has to be Kittel again. Today's stage showed that there is no one on a par with him in this race. Cav is out (but is not on his level now anyway), Greipel was apparently 'scared' today in the finish but that says to me that he isn't in the best of shape and cannot beat Kittel right now. Peter Sagan got closest again as on stage 1, but again he fell short. Renshaw emerged as the sprinter in lieu of Cavendish but isn't going to beat Kittel in a straight up sprint, and Démare, Kristoff and Coquard showed inexperience and lack of power, they never really got in a blow, always a long way off Kittel.
Naturally he is very short at only 1/2 best price with the bookies but is slightly bigger with betfair at 4/7. I think he is an absolute certainty for tomorrow again and it's worth playing up some winnings again tomorrow on him at 1.6 on Betfair.
As to who can podium with him? Can André Greipel regain his mojo and get back in the mix? Maybe. But I don't want to back him at 7/1 best price. I think Sagan, the way he is riding probably will make the top 3 again, possibly even 2nd place again - if you fancy that one, the forecast is priced up with Skybet at 5/1. He is also slightly better value to place than Greipel at 11/1 each-way. Mark Renshaw surprised a little today by nabbing the 3rd place in the sprint thanks to the excellent work once again by the OPQS men, who have been drilled to be leading out Cav. In Renshaw's own words his are big shoes to fill but he did well today. Whether they can repeat that feat tomorrow is another question..
You would think that now they are back on French soil FDJ and Europecar will up their game and try to get closer than they did today with Démare and Coquard. Démare had a poor lead-out today and struggled in the last 500m to get close enough to challenge. I think he should get closer tomorrow, and at 28/1 with William Hill it might be time to take a chance on him. Unfortunately the bookies are only paying 1/5 the odds for the top 3 and not 1/4 like they normally do.
Danny Van Poppel came close today with a very good 6th place but I think that's about the limit of his abilities. I said in yesterday's preview that Kristoff will finish 5th, and in 5th place he indeed finished! I can see a similar result tomorrow though.
After that, there is little chance of anyone else really challenging - JJ Rojas, Romaine Fuillu and Heinrich Haussler all came in the top 10 today, but that more reflects on the lack of quality sprinters involved today more than a sign of race-winning form on their part.
Recommendations:
10 pts win on Marcel Kittel at 1.6 on Betfair
Arnaud Démare - 0.5pts each-way at 28/1 with William Hill
Forecast bet - 1pt win on Kittel first, Sagan 2nd at 5/1 with Skybet.
Match Bets
JJ Rojas to beat Heinrich Haussler - 8/11 with Ladbrokes (Think Rojas is more consistent than Haussler and expect him to finish higher tomorrow). 2pts win
Chris Froome to beat Alberto Contador - 10/11 with Ladbrokes. 2pts win..
NB: apologies to those of you looking for the Froome - Contador match bet. On looking at my ticket it turns out that this match bet was for the overall KOM prize.. Not sure how that happened, looks like Ladbrokes have bundled KOM match bets in with day match bets on their app and I didn't notice. As both of them have crashed out this will be a void bet which is lucky as with Froome crashing out first it looked like being a loser.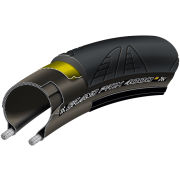 Get the best tyres money can buy with a CyclingBetting special offer!
Continental GP4000s clinchers for under £27 with free delivery!