Details

Published on Saturday, 12 April 2014 00:55
Sunday 13th April, 257kms

History beckons for Fabian Cancellara on Sunday as he bids to become the first rider in history to win the Flanders/Paris-Roubaix double three times. Winner of the double in 2010 and 2013, he is the hot favourite to win in Roubaix again this year.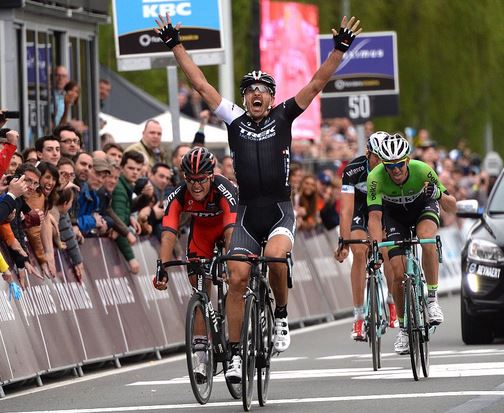 What a brilliant race the Tour of Flanders was last weekend - excitement for all the race, but especially the last 50kms or so. It's hard to really know what is going on out in the course when you are standing waiting on the Kwaremont, but once I got back I watched the hightlights twice over. And it almost went exactly to script. My main bet on Cancellara landed, but boy was it close, and not how it was supposed to happen!
This time he didn't have the extra gear to get away from them all on the Kwaremont, but his effort was enough to cause the split that left the likes of Boonen and Sagan behind who I had avoided backing and only Vanmarcke could go with him. In the end, two of whom I had picked to place in the top 3 - Vanmarcke at 2/1 and Vandenbergh at 16/1 were in the final selection of four. Unfortunately the bigger result of the two placers Vandenebergh came 4th, but it was still a good return on the day.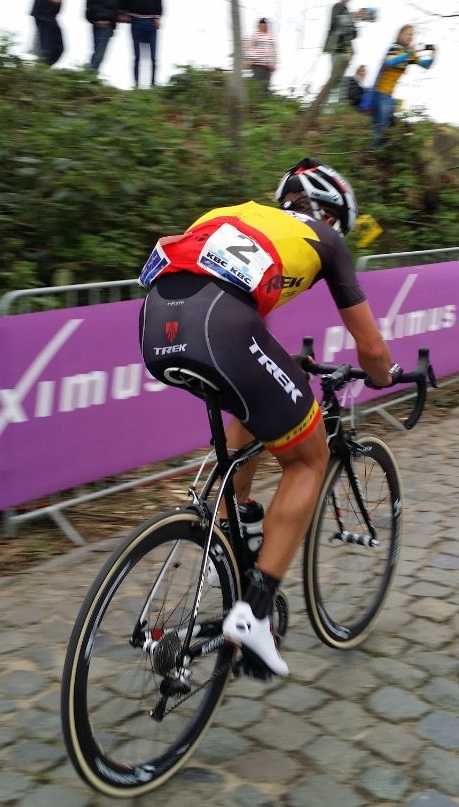 What a horror show though for my 250/1 man Stijn Devolder - two very heavy crashes saw him trying to chase back on with a swelling the size of a golf ball on his left elbow. Clearly in great shape given the ride he made to get back on, I think we were very unlucky with this one as I think he could well have been involved at the finish. Ah well, at least I have some 100/1 to look forward to this weekend too in his revenge mission! (not any more, he's out!)
Riding the course the day before was a brilliant experience though as you watch the race in a whole new light afterwards, identifying roads and corners and hills and I highly recommend a weekend jaunt over to it.
So what did the race tell us? First, that Taylor Phinney is in great shape and did an excellent training ride for PR. Boonen and Sagan were missing something as I suspected and Terpstra suffered from his exertions maybe in the 3 days of de Panne and Stybar isn't in the same shape maybe as this time last year. Van Avermaet rode a brilliant, aggressive race but once again lost out in the sprint.
Alexander Kristoff was a surprise and almost caught the leaders in the closing kilometres, which, if he had done, he'd have won probably. He could be a real dark horse for Sunday. Sky had Thomas, EBH and Wiggins in the mix but all faded when push came to shove. Others who rode eyecatching rides were Seb Minard and Bjorn Leukemans who were involved in the late moves and Sebastian Langeveld who rolled home in 10th despite bike troubles early on.
Paris-Roubaix is a different beast altogether though. The terrain may be flatter, allowing some riders a better chance than the hilly Ronde route, but it contains no less than 51kms of cobbles altogether in 28 sections. The organisers have re-categorised the cobbled sections this year but the Arenberg (section 18) remains the toughest of the lot.
Known as 'L'enfer du Nord' or the 'Hell of the North' it was first run in 1896 and is one of the oldest cycling races in the world. On a dry day it chokes the riders and cakes them in the dust blown up by the motorbikes and other riders. On a wet day it becomes an even more slidy, slippy dangerous roller-coaster.
The Route
Every year they start in Compiegne in the Place du Palais, just north of Paris and the first 97.5kms are pretty uneventful, flat and boring until they hit the first of the 28 cobbled sections at Troisvilles to Inchy. Then over the next 40kms or so they pass 8 cobbled sections covering a total of 14kms of pavé as they head predominantly northwards towards Valenciennes.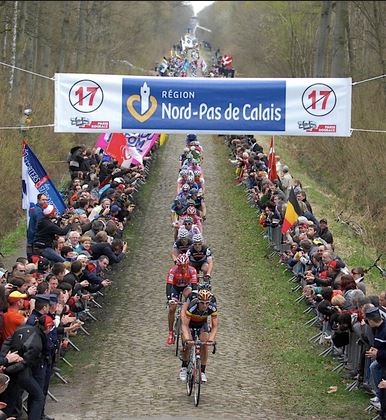 There are three 'Five-Star' sections of cobbles that have a major bearing on the outcome of the race. The first comes with 96kms left, section 18 of the Trouée d'Arenberg (the Trench of Arenberg) which is a punishing and very rough 2.4kms long.
First proposed by Jean Stablinski, a former world champion who used to work in the local mine, it's a stunningly ominous and iconic section of 'road' with the road-side trees a stark contrast to the wide open fields they ride through later on. This is where we will probably see Trek and OPQS put the hammer down to try to thin the peloton out. As Stablinski said more than 50 years ago "Paris-Roubaix is not won in the Arenberg but from there the group with the winner is selected."
It fell in to such a state of disrepair it was removed in 2005 but the Amis de Paris-Roubaix spent €250,000 repairing it and restoring it to its original 3m width and it was reintroduced again. Pippo Pozzato tried it out in training and said "It's the true definition of hell. It's very dangerous, especially in the first kilometre when we enter it at more than 60kh. It's unbelievable. The bike goes in all directions. It will be a real spectacle but I don't know if it's really necessary to impose it on us"
The next key five star section is the Mons-en-Pévèle section which comes with only about 50km to go and has been a race-shaper on a number of occassions in the past. In 2010 Cancellara launched his race-winning move just before this section of pavé. In 2012, Boonen kicked off his long solo effort just before this section, putting the hammer down and quickly building up a lead.
In 2008 Stijn Devolder attacked here and helped set up Boonen for another of his wins. It's 3km long and the first 1100m are in ok condition but then deteriorates and the last 1100m are quite rough with mud flowing from the fields adding to the difficulty.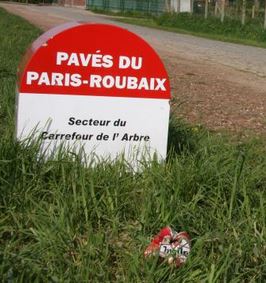 There's a series of tough cobbled sections that come one after the other in the last 40kms but it's the 4th last section of the Carrefour de l'Arbe with 17kms to go that can be a race maker or race breaker.
Not only is it a place the likes of Cancellara will try to shed any remaining hangers-on by hammering it at the front, but it is also a section which sees it's fair share of incidents and accidents. Last year both the OPQS riders in the final quartet - Stybar and Vandenbergh clipped over-enthusiastic spectators and their races were ended in seconds. Thor Hushovd also came a cropper here in 2009 when his wheels slid from under him taking a sharp left-hander.
Then on to the finish in Roubaix.. First, one last section of cobbles, but it's flat and easy, almost procession-like in the town as they approach the velodrome and pass under the 1km to go flag. Then on to the idiosyncratic finish, a lap and a half of the velodrome, which often sees the leading riders joined on their last lap by the chasers starting their first lap. It's seen plenty of solo winners, but equally plenty of tight sprint finishes.
Map Part 1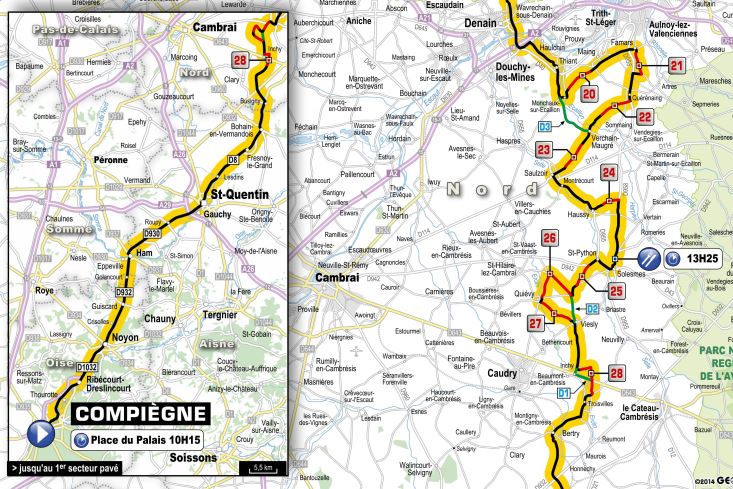 Map Part 2
Profile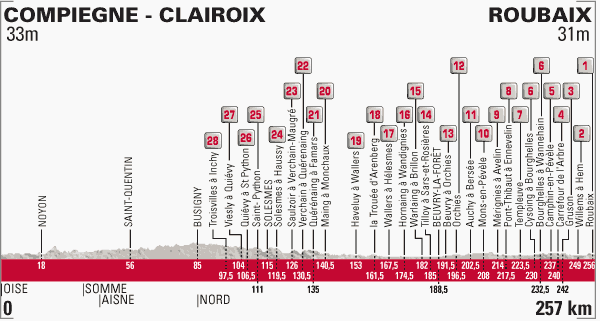 The 28 Cobbled Sections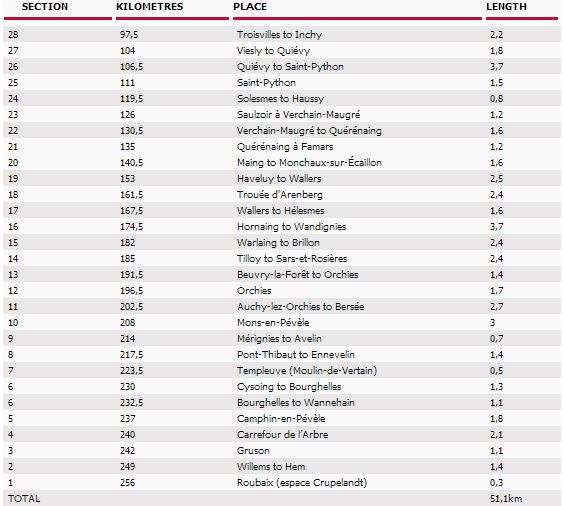 The Weather
Thankfully for the riders, the weather forecast for Sunday is really good. Apparently almost no chance of rain and temperatures of around 15º with light winds of around 8mph. This should help a little from the slippy mud point of view, but will throw up plenty of dust.
Contenders and Favourites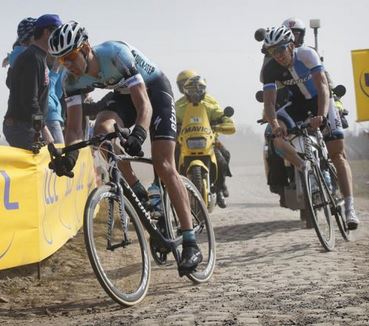 This is a race that can throw up all sorts of problems - just ask Stybar and Vandebergh last year who got taken out by spectators while in superb positions. The rough cobbles cause plenty of crashes and punctures and your race could be over before you know it even if you are feeling the strongest you ever have. Looking at the last nine years winners though shows that only Vansummeren in 2011 and O'Grady in 2007 have broken the Boonen/Cancellara monopoly.
Last year, it looked for a moment like Fabian Cancellara was in trouble.. he was drifting off the back as riders were shooting off the up the road and even went for a chat with the car. Carlton Kirby on Eurosport got very excited and proclaimed him 'done, it's over'... See the video below.. but he was playing a briliant game of poker. He accelerated soon after and picked his way through the remnants of the peloton before going to the front on the Camphin-en-Pévele and blowing it to pieces. Only Stybar could stay with him and they set off in pursuit of the two leaders Vandenbergh and Vanmarcke who were riding a brilliant race up until then, and the rest is history as they say.
Fabian Cancellara is hot favourite again this year at best price 2/1.This is around the same price he was on Sunday for Flanders, so the question is, is he the same value I thought he was last week when I backed him? Well the answer is simply yes, he is the most likely winner again. Even when seemingly not in the same devastating form he was in last year at Flanders he still won. Only Vanmarcke could stay with him this time, and like in Roubaix last year with Stybar, he bridged to the two leaders.
He has been working on his sprint this year and it has yielded a 2nd place in MSR and a win in Flanders. So he can either ride away from them all on the latter sections of cobbles or he can go to the last lap on the Velodrome and be pretty confident of beating most of his rivals.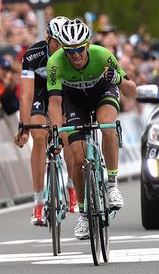 Sep Vanmarcke has been sensational again this season but despite making what looked like a celebratory fist punch after finishing 3rd on Sunday, he must have been disappointed to again finish a runner-up. What was that all about? (left) Why celebrate coming 3rd? Or was that an angry fist shake?
Has he got what it takes to beat Cancellara? Maybe. At 7/1 do I want to back him? I'm not sure. I think if he does push it at the front, Cancellara can mark him. If they go to the finish together or even with a few other diesel types, Cancellara probably wins. So you are probably betting on a place and there are better bets out there to have maybe than 7/1, although he is a fairly strong candidate for a top 3 and should something happen to Cancellara then he could well take it.
Tom Boonen holds the record with 4 wins in this race (with Roger de Vlaeminck) and comes here with a superb OPQS squad, a squad that blew a massive opportunity last year. I expect Boonen to go far better than he did at Flanders, but having said that I thought he rode really well with several feelers at the front and eventually finishing in 7th place, far better than I expected.
They also have Stybar and Vandebergh who did so well last year but I think they will be working for Boonen and Terpstra. Terpstra didn't have it in the legs last week as I suspected but he's had a week to recover and he could well be a major player this year. They also have Van Kiersbulck and Trentin to help keep control of things. I think OPQS can play a major part in determining whether Cancellara wins or not, in that they could come to the last 30kms with still 2 or 3 cards to play.
I thought Stijn Devolder would go well and would be fired up to make amends for last week when he crashed twice in Flanders. I took 100/1 for him in March and was hoping to at least get a good run out of him this week but he isn't riding after all.
Greg Van Avermaet is showing what a fantastic classics rider he has become, but he will have his work cut out again if he is to try to finally take a first place instead of a second place. I think he is in better shape than he was this time last year and he will have colleague Phinney with him I think until late in the race. Phinney did a great prep last week and is a former double winner of the Paris-Roubaix Espoirs for U23 riders in 2009 when he was still only 18 and again in 2010. He has been sounding very confident this week and could well be a dark horse also at 28/1.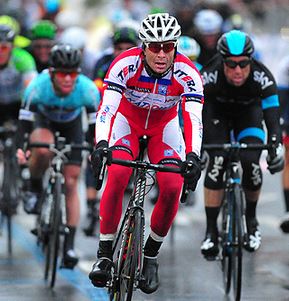 For me though, one rider who could really cause problems to the favourites is the big Norwegian from Katusha, Alexander Kristoff. A big winner for me in Milan San Remo, he excels over the longer distance races like these and rode brilliantly last weekend.
Just caught for speed on the top of the Kwaremont like everyone else apart from Vanmarcke when Fabian put the hammer down, he rode away from a strong chasing group on his own and almost caught the leaders. He was in the same camera shot for quite a while he was so close but even when Terpstra joined him they just fell short. He easily jumped Terpstra to take 5th at the finish.
He was right in the mix last year at the latter stages of Roubaix, but again missed the decisive move, but won the 'bunch' sprint easily for 15th place. I think he is a far better rider this year and must be riding with a real spring in his step. I think he has a real chance of making the final selection this year. If he does, I think there are very few who will be able to outsprint him on the boards of the velodrome. There is no 80/1 available about him this time but at 16/1 I think he has a really good chance of getting to the velodrome with a shot at winning this race.
Peter Sagan I am opposing again this week and will be looking to lay him for a top 3 place on Betfair at odds of maybe up to 5/2, hopefully less. Geraint Thomas and Brad Wiggins did ok at Flanders, we were very surprised to see Wiggins go right past us so near the front on the last ascent of the Kwaremont, but when the decisive moves went they were nowhere to be seen. I think it could be the same again on Sunday.
And what about team Sky? Bradley Wiggins has targeted this race and the extra weight he has gained this year (3-4 kilos) was supposedly to give him extra power for it. He has described it as like a long time trial with needing the power to get to the last 60km or so with the front group and then it's about fitness and luck. I think he may well have the power to get to the last 50km or so but I'm not sure he'll have the fitness to match the specialists when they go in the last 30km or so like last weekend.
Geraint Thomas and Edvald Boasson-Hagen were right up there for most of the race, with Geraint Thomas flashing past inches in front of us on the Kwaremont. He didn't have the pace to go with Cancellara and Vanmarcke and also missed the opportunity to jump across with Kristoff and Terpstra so I am guessing he was at his limit and the legs were cooked. He still managed to finish in a very respectable 8th place just behind Boonen though. He finished 79th in this last year after getting caught up in a pile-up on Section 14 of the cobbles, 'just as the race was getting warmed up' and up until then had been quite prominent. Hard to know how he will go this weekend but I'm not expecting a top 5 finish, but if you fancy him the 45/1 with 888 Sport is a good price, or if you want the security of four places, then take the 28/1 with Skybet, Kudos to them for paying 4 places each-way. I can't see EBH being involved at the finish either though, top 30 at best.
So they're the main favourites covered, Sylvain Chavanel isn't riding because of Bronchitis. Who else could maybe get a look in at big prices? One huge priced 'outsider' that was brought on to my radar this week is Martijn Maaskant. Andrew Hood wrote this great piece on Velonews earlier this week where he described how he finished 4th in his debut PR back in 2008 and is hoping for a big race this year. He has posted some reasonable results in the two Drenthe races in March and was 38th in San Remo. He was 500/1 when I read the article so took a small bet each-way, he is 250/1 best price now and could offer a wild outsider at a big price.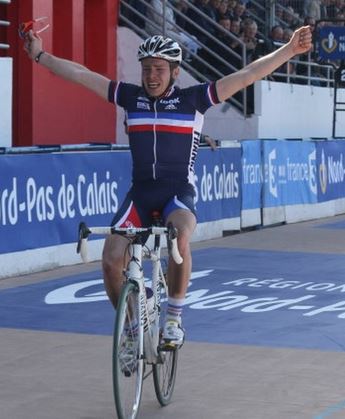 I mentioned Florian Senechal last week as a former junior winner of Paris-Roubaix (right) and that at 500/1 he might have been worth an interest last weekend, but he was a DNF. He is 300/1 this week but that is still worth a small bet each-way too, he may well be in the mix with 30km to go and who knows what might happen.
When watching highlights of last year's race just recently, one rider who really impressed with his ride was Damien Gaudin. He rode a great race in the colours of Europecar to take 5th place and looks a natural on the cobbles. He has moved to AG2R this year, but he doesn't look to be in good shape at all this year, with DNFs in Flanders and Kuurne-B-Kand placings in the 50-70th area in Omloop, E3 and Gent Wevelgem.
John Degenkolb of Giant-Shimano certainly has the power and the stamina to do well in this race following his strong showing in Flanders last weekend where he took a decent 15th place. He was 28th last year in Roubaix, nearly three and a half minutes down and I feel he might be caught for power in the last 30kms again this year and have to settle for a 10th-20th place at best.
Others who could be involved coming to the last 50kms but who may not be involved at the death are Pozzato, Démare, Paolini, Roelandts and Langeveld.
So to summarise - I think Cancellara is the most likely winner but I think there could be a chink in his armour this year that might see a slightly larger group of 4-6 that might get to the finish with him. This could include Kristoff, Vanmarcke, Van Avermaet, Terpstra and Phinney, but it will take an enormous amount of luck for all of them to get to the finish together. If they do, Kristoff wins from Cancellara and Vanmarcke, with Phinney 4th! It's going to be epic..
Why not post your thoughts and your first 3 in the comment box below and we see who gets the closest to the top 3?!
Recommendations:
Alexander Kristoff - 1.5pts each-way at 16/1 with BetVictor
Alexander Kristoff - 1pt win at 16/1 with
William Hill
Fabian Cancellara - 3pts win at 2/1 on
Betfair
Taylor Phinney - 1pt to come in top 3 at 8/1 with 888 Sport
Greg Van Avermaet to come in top 3 at 5.5/1 with
Betfair
Martijn Maaskant - 0.25pts each-way at 500/1 with Paddy Power (now 250/1)
0.2pts each-way on Florian Senechal at 300/1 with Paddy Power
Match-Bet - 2pts on John Degenkolb to beat Peter Sagan at evens with Bet365
Match-Bet - 2pts on Sebastian Langeveld to beat Bjorn Leukemans at 5/6 with Paddy Power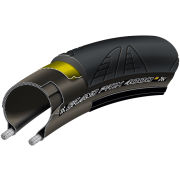 Get the best tyres money can buy with a CyclingBetting special offer!
Continental GP4000s clinchers for under £25 with free delivery!
STARTLIST
AG2R La Mondiale
BAGDONAS Gediminas
CHAINEL Steve
DANIEL Maxime
GAUDIN Damien
HUTAROVICH Yauheni
MINARD Sébastien
MONDORY Lloyd
TURGOT Sébastien
Astana Pro Team
BOZIC Borut
FOMINYKH Daniil
GRUZDEV Dmitriy
KAMYSHEV Arman [new]
HUFFMAN Evan
IGLINSKIY Valentin
TLEUBAYEV Ruslan
Belkin-Pro Cycling Team
VANMARCKE Sep
TANKINK Bram
VAN EMDEN Jos
BOOM Lars
WYNANTS Maarten
TJALLINGII Maarten
LEEZER Tom
WAGNER Robert
BMC Racing Team
HUSHOVD Thor
WYSS Danilo
BURGHARDT Marcus
VAN AVERMAET Greg
PHINNEY Taylor
DILLIER Silvan
QUINZIATO Manuel
SCHAR Michael
Cannondale
BODNAR Maciej
BOIVIN Guillaume
KING Edward
KOREN Kristjan
KRIZEK Matthias
LONGO Paolo
MARANGONI Alan
SAGAN Peter
FDJ.fr
OFFREDO Yoann
DéMARE Arnaud
BONNET William
BOUCHER David
DELAGE Mickaël
FISCHER Murilo Antonio
LADAGNOUS Matthieu
LE BON Johan
Garmin Sharp
BAUER Jack
FARRAR Tyler
NORMAN HANSEN Lasse
KREDER Raymond
LANGEVELD Sebastian
MILLAR David
VAN BAARLE Dylan
VANSUMMEREN Johan
Team Katusha
KRISTOFF Alexander
ISAYCHEV Vladimir
KUZNETSOV Viacheslav
GUSEV Vladimir
KUCHYNSKI Aliaksandr
PAOLINI Luca
SELIG Rüdiger
SMUKULIS Gatis
Lampre-Merida
POZZATO Filippo
BONIFAZIO Niccolo
CIMOLAI Davide
FAVILLI Elia
FERRARI Roberto
MODOLO Sacha
PALINI Andrea
WACKERMANN Luca
Lotto Belisol
BAK Lars Ytting
BOECKMANS Kris
DEHAES Kenny
DEBUSSCHERE Jens
BREEN Vegard
SIEBERG Marcel
VALLéE Boris
BROECKX Stig
Movistar Team
DOWSETT Alex
GUTIéRREZ Iván
HERRADA Jesús
LOBATO Juan Jose
SüTTERLIN Jasha
VENTOSO Fran
ERVITI Imanol
QUINTANA Dayer
Omega Pharma - Quick-Step
BOONEN Tom
KEISSE Iljo
MAES Nikolas
STYBAR Zdenek
TERPSTRA Niki
TRENTIN Matteo
VAN KEIRSBULCK Guillaume
VANDENBERGH Stijn
Orica GreenEDGE
KEUKELEIRE Jens
MOURIS Jens
BEWLEY Sam
DOCKER Mitchell
DURBRIDGE Luke
HAYMAN Mathew
HEPBURN Michael
KRUOPIS Aidis
Team Sky
BOASSON HAGEN Edvald
EISEL Bernhard
KNEES Christian
PUCCIO Salvatore
RASCH Gabriel
ROWE Luke
THOMAS Geraint
WIGGINS Bradley
Team Giant-Shimano
DEGENKOLB John
SINKELDAM Ramon
ARNDT Nikias
DE BACKER Bert
DE KORT Koen
JANSE VAN RENSBURG Reinardt
STAMSNIJDER Tom
CURVERS Roy
Team Europcar
PICHOT Alexandre
DUCHESNE Antoine
COUSIN Jérôme
ENGOULVENT Jimmy
JEROME Vincent
MARTINEZ Yannick
GENE Yohann
Tinkoff-Saxo
MøRKøV Michael
HANSEN Jesper
SøRENSEN Nicki
BOARO Manuele
JUUL-JENSEN Christopher
KUMP Marko
KOLAR Michael [new]
TRUSOV Nikolay
Trek Factory Racing
CANCELLARA Fabian
STUYVEN Jasper
VAN POPPEL Boy
POPOVYCH Yaroslav
ROULSTON Hayden
RAST Gregory
SERGENT Jesse
IRIZAR Markel
IAM Cycling
PELUCCHI Matteo
HINAULT Sébastien
PINEAU Jérome
HAUSSLER Heinrich
KLEMME Dominic
KLUGE Roger
AREGGER Marcel
SARAMOTINS Aleksejs
Cofidis, Solutions Crédit en-Ligne
VERHELST Louis
SENECHAL Florian
FOUCHARD Julien
GARCíA Egoitz
JõEääR Gert
LAPORTE Christophe
LEMOINE Cyril
PETIT Adrien
Bretagne - Séché Environment
KORETZKY Clément
PERICHON Pierre-Luc
JARRIER Benoit
LABORIE Christophe
FEILLU Brice
LE MONTAGNER Benjamin
LAENGEN Vegard Stake
CORBEL Erwann
Topsport Vlaanderen – Baloise
THEUNS Edward
DECLERCQ Tim
LAMPAERT Yves
SALOMEIN Jarl
STEELS Stijn
VANBILSEN Kenneth
VAN HECKE Preben
WALLAYS Jelle
Wanty - Groupe Gobert
VEUCHELEN Frederik
DE VREESE Laurens
DRUCKER Jean-Pierre
KREDER Wesley
VANLANDSCHOOT James
LEUKEMANS Bjorn
SELVAGGI Mirko
DE TROYER Tim
Team NetApp – Endura
BARTA Jan
BENNETT Sam
DEMPSTER Zakkari
JARC Blaž
MATZKA Ralf
MCEVOY Jonathan
SCHILLINGER Andreas
SCHWARZMANN Michael
UnitedHealthcare
BAZZANA Alessandro
FöRSTER Robert
FRATTINI Davide
HANSON Ken
WHITE Bradley
SUMMERHILL Daniel
MAASKANT Martijn
MURPHY John