Details

Published on Monday, 17 February 2014 22:42
18th - 23rd February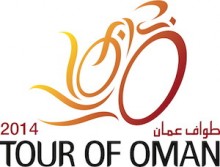 It's the fifth running of the Tour of Oman this week, completing the trilogy of short stage races in the middle eastern sands before the move back to the start of the European season proper and the countdown to the classics. Chris Froome kicks off his season attempting to retain his crown from 2013.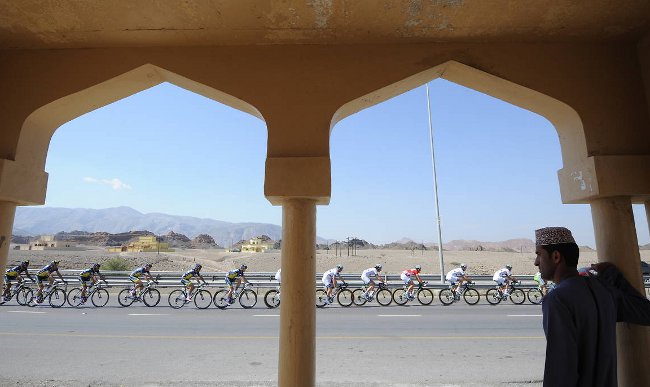 Previous Winners of the Tour of Oman
2013 Chris Froome (GBR) Team Sky
2012 Peter Velits (SLO) OPQS
2011 Robert Gesink (NED) Rabobank
2010 Fabian Cancellara (SUI) Radioshack
The Tour of Oman is different to the tours of Dubai and Qatar in that it has hills! A fact that is clear to see from the top 10 of last year's GC, a who's who of some of the best climbers in the world. Chris Froome won it from Contador, Evans and Rodriguez, with Nibali and Pozzovivo also in the top 10. The outcome and GC is usually decided on the slopes of Jabal Al Akhdhar (Green Mountain), where the last 5.7kms average over 10%. This stage was won last year by Rodriguez with Froome just 4" back to set him up for overall victory.
It's the first time that some of the main contenders for the grand tours come head to head and it will be a key battle early in the season to see if Froome can lay down an early marker like he did last season or whether his rivals can strike an early blow.
An interesting side show to the race is the return of the Schleck brothers, with Frank joining his brother Andy for the first time since his ban for Xipamide in 2012. I can't really see either of them featuring too prominently at the front of the race but it will be interesting to see if they show any glimpses of form.
There are time bonuses available on each stage - 3,2,1 for the intermediates sprints and 10,6 and 4 seconds for the first 3 home at the finish line. Some of the stages have intermediate sprints quite late on the route so it should make for very fast racing towards the tail end of the stages.
The Route and Stage Predictions
The 18 teams of 8 riders will face six stages with varying profiles, starting from two sprinter stages and then heading in to a more lumpy 3rd stage and then two mountainous stages which will decide the outcome of the race. The race then ends with another sprinters stage in the Matrah Corniche on Sunday the 23rd.
Click on each tab to read stage previews and recommendations.
Overall Contenders and Favourites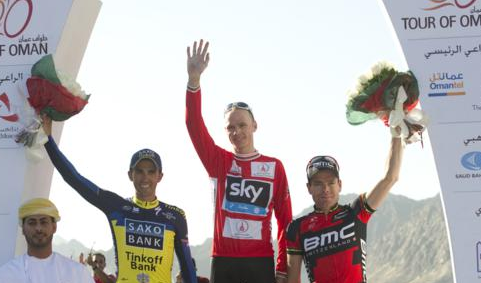 This year's field is once again a top quality field of GC riders and sprinters. Like Qatar, we are getting a mixture of riders who have some racing under their tyres already and those who are making their season debuts. This means we have some form lines to go on, albeit if some of them were taken at a more leisurely pace than others!
On the other hand, there are plenty of riders, who all we have to go on are their word, team press releases and little snippets and rumours about how their winter training has gone for them.
As mentioned above, there is the very high likelihood that the entire GC will boil down to 5.7km of pain up Green Mountain. However, there could also be some time gaps on stage 3 and stage 4. In Stage 3 which finishes in Al Bustan, the climb of Al Jissah should cause some splits before the run in to the finish as it did last year when Froome picked up some time over his main rivals. Stage 4 sees the riders crest the climb of Bousher Alamrat four times in the last third of the race, but the finish is some 13kms from the summit once they crest it for the fourth time. So although it may break up on the climb, there is a good chance the main GC men will be back together at the finish.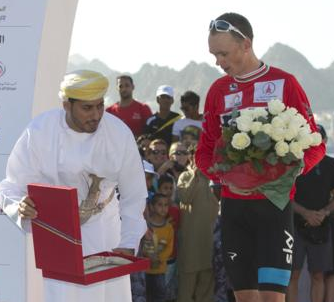 Chris Froome is the favourite of course following his all-conquering 2013, which included victory at this race 12 months ago. The course is perfect for him once again with the climb up to Green Mountain likely to see him take the leaders jersey with only a sprint stage left to complete. He faces a strong lineup though this year and he has yet to race this year, so it's hard to know for sure how he will go, but he started last season very well and there is no reason to doubt he will do likewise this year.
Froome is pretty confident going in to the race too. He recently said "I wouldn't say I have the same kind of pressure that I had last year for Oman. I'm a lot more relaxed coming into this season, but at the same time I feel just as eager and just as motivated to get stuck into the racing. I'm really looking forward to getting back into it.". Others use phrases like 'preparation', looking for fitness' etc, he seems be protraying a lot more conviction about his preparation and ambition.
He should be right up there again on stage 3 too like last year, one of the first over the top of Al Jissah, he may find a few of the speedier, classics types like Sagan too quick again, but shouldn't lose any significant time. In fact he'll probably give himself a little cushion over some rivals like he did last year. Sky's team is not bad with Cataldo, Lopez, Nieve and Henao there to help him in the hills, but chances are that he will be the strongest of them anyway. He is best price 11/10 at BetVictor and that is worth a bet if you don't mind taking short odds, I can't see many beating him.
Vincenzo Nibali lines up this year too following a 7th place showing last year, but there is the big issue of his baby's impending arrival hanging over his participation! The baby is due on Feb 20th and if it does arrive in the next few days, expect Nibali to be on the next plane out of Oman.. Even if the baby hangs in there for a little longer I'm not sure Nibali would have troubled Froome or the top of the podium this year either. His two showings in the Tour de San Luis and Qatar were clearly less than impressive, more the training rides of a man with his eyes on later in the season.. 44th in San Luis with 14th in the TT, he improved slightly on GC in Qatar (17th), but only thanks to 18th in the TT, in itself not a brilliant performance. And if the baby arrives on the 21st, it will be blessed with sharing a birthday with me!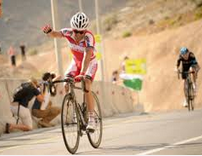 Joaquin Rodriguez finished just one place off the podium in 2013 and will be looking for a top 3 placing this year given the route. Stages 3 looks suited to an explosive attack on the last climb and a charge down to the finish, but he is likely to have victory on Green Mountain high up on his targets again this year. One of few who can stay with Froome when in full swing, he should be able to sprint away from him in the last kilometre like he did last year.
As his big target (the Giro) is earlier than Froome, Nibali and Van Garderen's he should be more fired up for it and he could be the one to give Froome the most trouble over stages 3,4 and 5. At 9/2 second favourite I think he is worth a bet if you want to take on Froome, he looks the most likely to steal his crown should Froome not be at 100%, so back him at 9/2 with Ladbrokes who are paying 1/4 the odds for the first 3 places.
Robert Gesink is also a past winner of both the stage up to Green Mountain and the overall in the Tour of Oman, dominating the race in 2011. A lot of time has passed since then but he is approaching the race with confidence following a good showing in the Tour Down Under last month. Gesink can climb with the best on his day and soloed to a comprehensive 47" victory on Green Mountain in 2011, although the field was nothing like the quality of this year's one. He will not be left such freedom this year though and I don't think he has the explosive kick to get away from the main GC contenders in this race. One to watch though with interest as he and his Belkin team may well look to stir things up - at 14/1 with Ladbrokes, he is worth a small each-way investment.
Tinkoff-Saxo have had a very quiet start to the year compared to the likes of Orica-Greenedge, OPQS and BMC but they come to the race with Roman Kreuziger looking to perform well. 3rd favourite in the betting at 10/1 best price, he has the support of Nicholas Roche, Bennati, Maoro, Breschel and Kroon. His early season results last year were pretty average up until he won Amstel Gold and I think 5th-10th is the best he can hope for.
Sergio Henao is high up the betting too at 18/1 but you would have to think something will happen to Froome in order for him to become team leader and win this race. He got better as the week went by in the Challenge2014 in Mallorca, finishing 92nd, 61st, then 10th so he should be going better than some at the Tour of Oman though. But at 18/1 he doesn't appeal to me at all.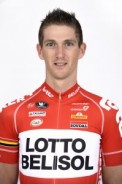 Jurgen Van Den Broeck comes here on the back of a pretty average start to the season with anonymous placings in San Luis and a 16th place finish in the same group as Henao in the Trofea Serra de Tramuntana last week. JVDB will be looking for some form ahead of the bigger challenges later in the year but the reports coming out of his camp are that he has recovered well from his injury suffered in the Tour de France last June and has had a very solid winter and is in better shape than he's ever been at this time of the year. Well, it that's the case he is keeping it disguised pretty well so far and I am not prepared to gamble on his true well being this week, even at 33/1.
Others that come here with chances, depending on how well their winter training has gone are Tejay Van Garderen for BMC, Leopold Konig (who looks big at 75/1), Domenico Pozzovivo at 20/1 and Dani Moreno at 30/1. Thibot Pinot reported today he had 'angine blanche' on Twitter, which is basically like tonsilitis, so I'll be steering clear of him - in fact, you can bet against him in a match bet by backing Leopold Konig at 3/4 and that's a bet I'd recommend given the info. (Edit: Pinot woke with a 39º fever on Tuesday morning and didn't start the race, so the bet was voided unfortunately).
To me though it will come down to the Green Mountain again and it should be a battle between Froome and Rodriguez for the overall. The climbs on stage 4 on the way to the Ministry of Housing shouldn't trouble him and he should finish with the leading group. It may come down to who wins on Stage 5 and by how much and if it comes to that then I think Rodriguez at 9/2 appeals a little more than Froome. And the reason I am picking one over the other rather than saying back Rodriguez each-way is because once again the bookies (Bet365 and BetVictor) have put out win only markets on a 144 runner field, a shameful and pathetic offering. They would never get away with that sort of market making on horse racing. Roll on the bigger races when there is some liquidity on Betfair. So no big stakes really on the overall markets, and if I was to stick a pin in two outsiders to do well at bigger prices, I would go for Gesink at 12/1 or Konig at 75/1.
*Note - since I first wrote this, Ladbrokes came out with a proper each-way market with better prices on most riders so I recommend taking a look at their markets..
Recommendations - that bookmakers grow a spine and offer each-way betting on a 144 runner, wide open event!!
2.5pts win on Froome at 11/10 with BetVictor
1pt e/w on Joaquin Rodriguez at 9/2 with Ladbrokes
0.5pt win on Robert Gesink at 14/1 with Ladbrokes

0.5pt win on Leopold Konig at 75/1 with BetVictor
Leopold Konig to beat Thibot Pinot at 3/4 in an outright match bet with Bet365 (bet voided as Pinot didn't start the race due to high fever)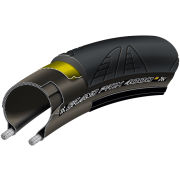 Get the best tyres money can buy with a CyclingBetting special offer!
Continental GP4000s clinchers for under £27 with free delivery!