Details

Published on Thursday, 16 January 2014 18:34
Adelaide, South Australia.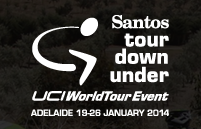 The 16th running of the Tour Down Under starts on Tuesday the 21st January in the town of Nuriootpa, north east of Adelaide. There are six stages in total in the race, taking the riders over 815.5 kilometers to the finish line at the end of a circuit race in Adelaide on January 26th.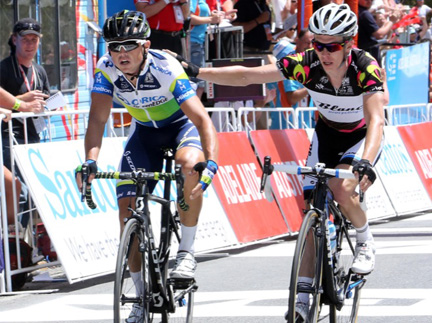 There are two riders who are going for hat-tricks of wins this year, with 2012 and 2006 winner Simon Gerrans and 2010 and 2008 winner André Greipel both taking to the start line. There is no place in the Orica Green-Edge squad for 2011 winner Cameron Meyer, who rode so well in the Nationals on Sunday. Neither will we see last year's winner Tom-Jelte Slagter, who won it on the penultimate day while riding in the colours of his then Blanco team, his wife is expecting their first child.
The race is preceded on the Sunday (19th) by the 'Peoples Choice Classic', a short race which usually sees all the same riders line up as will start the TDU. You wouldn't think the riders will risk accidents or injury but it might throw up some sprinter form clues.
Previous Winners of the Tour Down Under

2013 - Tom-Jelte Slagter (Ned) Blanco

2012 - Simon Gerrans (Aus) GreenEdge
2011 - Cameron Meyer (Aus) Garmin-Cervelo
2010 - André Greipel (Ger) HTC-Columbia
2009 - Allan Davis (Aus) Astana
2008 - André Greipel (Ger) Highroad
2007 - Martin Elmiger (Sui) AG2R Prévoyance
2006 - Simon Gerrans (Aus) AG2R Prévoyance
And speaking of sprinters, there should be some decent sprint battles between some top class sprinters. Some of the world's best have headed down under including Kittel, Greipel, Goss, Mattews, Viviani, Ferrari, Van Hoff and Van Poppel. This race has been win in the past by sprinters thanks to the time bonuses allocated to each stage, and it may well be the case that the time bonuses decide the outcome once again.
Having said that, Cadel has said in an interview today that he thinks that with the climb up Mangles hill on the very first day, it could be one of those "you may not win it there but you could lose it" types of stages. More likely though is that the penultimate stage with the two ascents up Willunga Hill will probably decide the outcome like last year, when Slagter rode away from the race leader Thomas and in to the orange leader's jersey. More on the course below.
It's hard of course to gauge form so early in the season with the Europeans hitting the road for the first time this season, taking on local Australian riders who are half way through their summer season. We got a few small pointers at the Australian Nationals last week though on the form of some of the Australians.
Simon Gerrans looks like he has recovered completely from his broken pelvis, winning the Aussie Nationals well on Sunday. He took it comfortably from Evans and Porte, but the full story is that his OGE teammates , and in particular Cam Meyer worked incredibly hard in order for Gerrans to get an armchair ride to the finish, as Evans and Porte had to do all the chasing. It also showed that Evans and Porte are in good form and primed to make the TDU an exciting race for the locals. I'll go in to the contenders in more detail later.
It's important to remember the impact time bonuses can have on this race: 10 seconds for the winner of each stage, six seconds for second place and four seconds for third. Intermediate sprints offer 3-2-1 seconds respectively for the first three places on each sprint.
The Route
Stage 1
Stage 1 - Nuriootpa to Angaston, 135km
Tuesday, 21st January 2014
Stage 1 takes the riders on a 2 lap loop of mostly flat to rolling countryside, but has a sting in the tail with just 15km to go. The riders suddenly take a sharp right and start heading up Menglers Hill Road for the KOM which comes with 123.3kms done. Mengler main section is just over 2.5kms long at an average gradient of 7.1%. The hill does roll along for a few kilometres more after the KOM, with great views over the Barossa valley before descending down to the finish in Angaston.
Cadel Evans, as mentioned earlier, is being cautious and warning about the importance of Meglers for the overall. He clearly has done his homework and he thinks that some will lose valuable time if they get dropped as there isn't much of the race left after it to try to get back on again. It shouldn't really phase most of the main contenders, but if anyone is off form at all they will be found out very early on in the race. The run in to the finish will be fast and furious, with only a slight left hander to worry about in the run in. The last 500m slope slightly upwards, so if some of the sprinters do make it over with the leaders and it comes to a sprint it will suit the power sprinters like Greipel, Kittel and Goss. Simon Gerrans will love this sort of run in though and I can see his OGE team doing their utmost to tear it apart for him and drop the sprinters.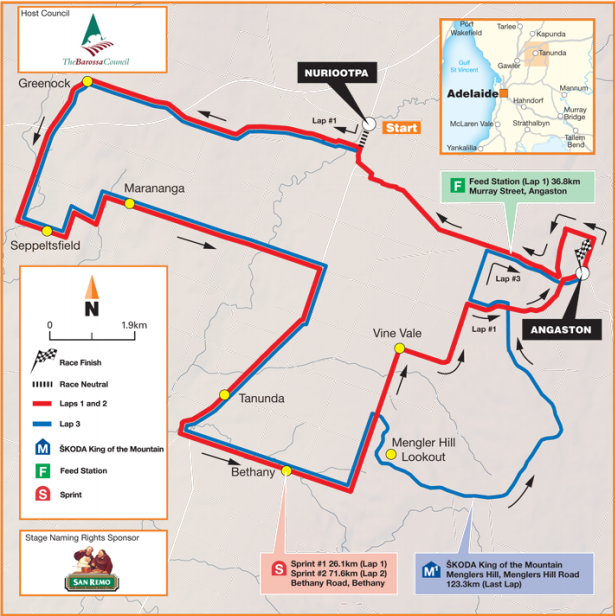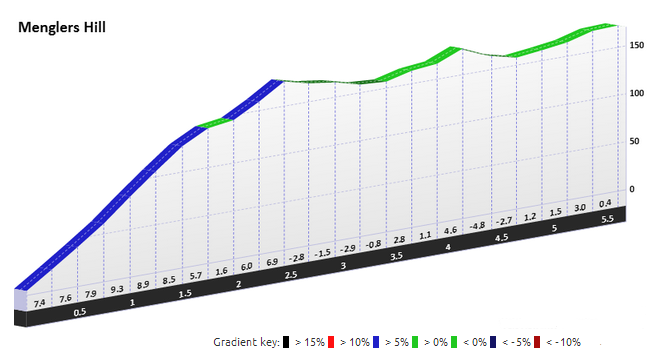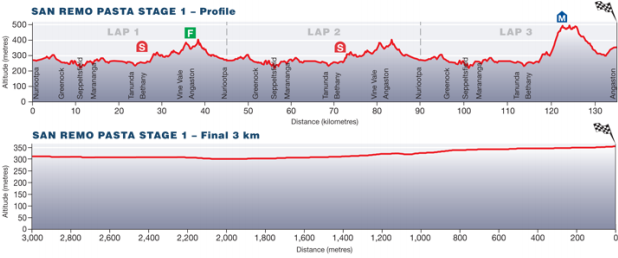 Stage 2
Stage 2 - Prospect to Stirling, 150km
Wednesday, 22nd January 2014
Stage 2 takes the riders on a saw-tooth profile loop to the east of Adelaide before taking in two and a half laps of a 20km finishing circuit around Mylor and Stirling. They will have to climb the hill up to Stirling three times, the final time to the finish line. With the two KOM prizes coming inside the first 57kms, it looks a day made for a long breakaway with the likes of Adam Hansen and some Drapac, Movistar, FDJ and maybe a Katusha and Sky man. I can't really see any of the overall GC contenders being overly worried about this stage though but the finish should see a lot of action. It was here that Tom Slagter won his stage that helped set him up for victory last year, the finish is a long tough drag to the line which will suit the strong sprinters and power men if they are near enough to the front with 3-500m to go.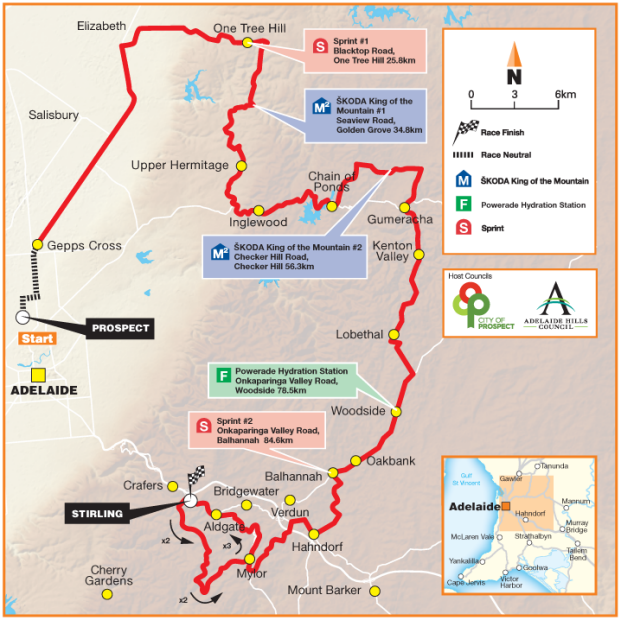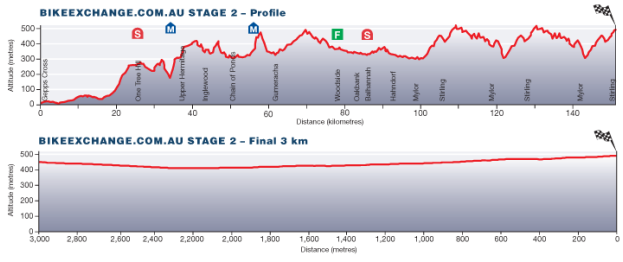 Stage 3
Stage 3 - Norwood to Campbelltown, 145km
Thursday, 23rd January 2014
Stage 3 takes in some of the areas passed through on stage 2 as the riders head a little bit further north-east this time past the Chain of Ponds. The route is a rolling course but it is pretty flat, so it should set it up nicely for the charge for the KOM on Corkscrew Road that comes with less than 7.5km to go!
It is short and sharp and there could be some splits that may not get back together seeing as there will be a super-fast descent to the finish in Campbelltown. It's the kind of finish that Philippe Gilbert would love, but as he is not here, we can expect the likes of Porte, Moreno, Bakelants or Ulissi having a go. If the GC guys aren't 100%, or get caught out in a bad position it could cost them time on the GC. This was where Slagter gained time last year on his way to overall victory.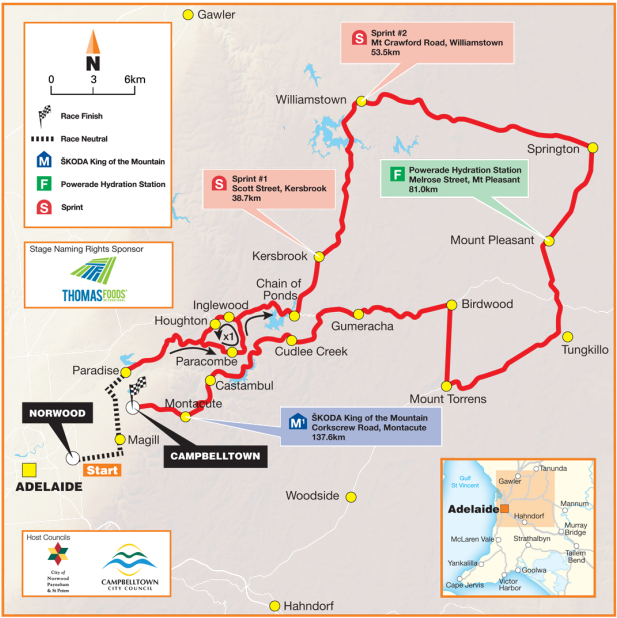 Stage 4
Stage 4 - Unley to Victor Harbour, 148.5km
Friday 24th July
Stage 4 should see the sprinters duel it out again, with only the early climb up Corkscrew Hill to really trouble them, and it comes so early it's not even worth mentioning almost! The scenery should be spectacular even if the racing may not be, an early break will probably go in the first 10km and they'll be reeled in with 5-10km to go. With a bonus sprint coming 40km from the finish they may even look to drag them back before that, depending on the gap. This should then end in a big bunch gallop where you have to favour the likes of Kittel, Greipel or Viviani.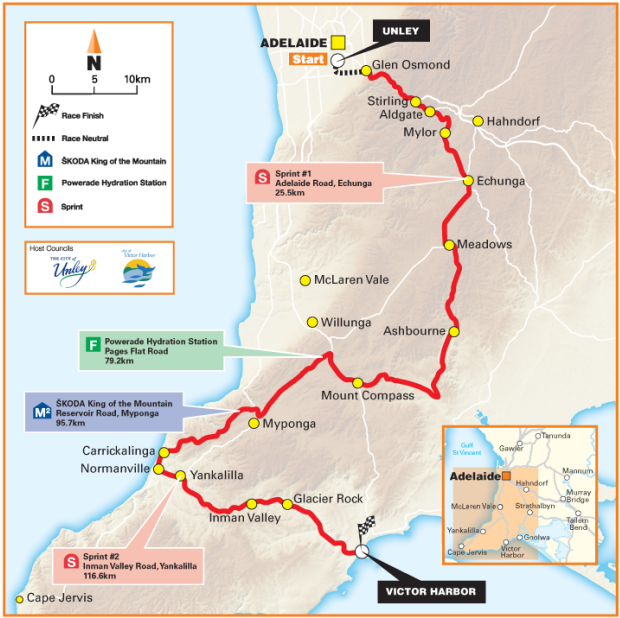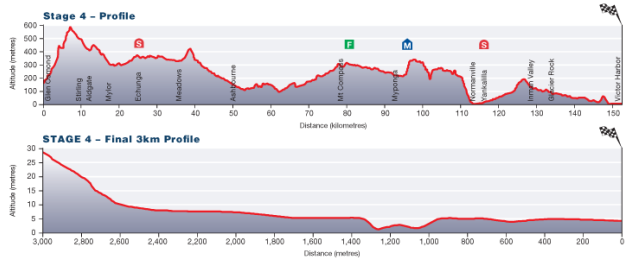 Stage 5
Stage 5 - McLaren Vale to Willunga Hill, 151.5km
Saturday 25th January 2014
Stage 4 is sure to play a huge part in deciding the winner of the Ochre jersey, with the two ascents, including the summit finish, up Willunga Hill. The course is a figure of 8 shape, where the riders do three laps of the west side part, passing by the base of Willunga as if to taunt them as to what lays in wait. The third time around though they take a sharp turn and start up the steep ascent of Willunga Hill.
It's a sharp, lung-busting climb that favours the more explosive, powerful type of climber over the long climb grinders. Expect to see Gerrans, Porte, Evans, Ulissi and co battle it out here for the overall.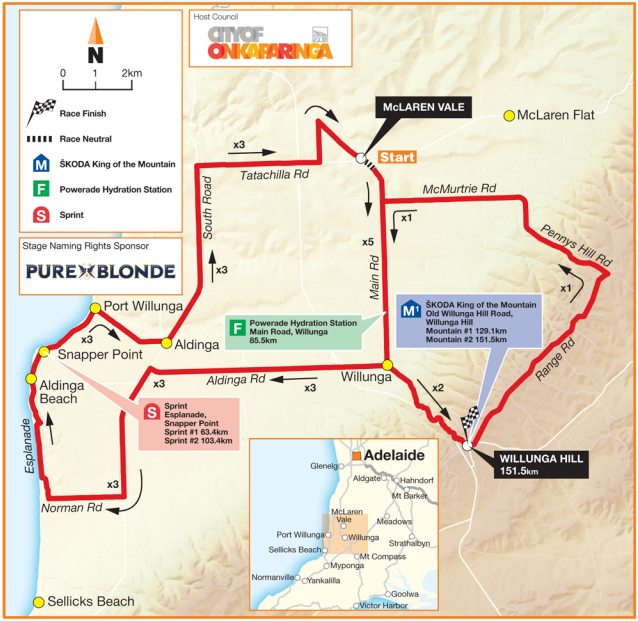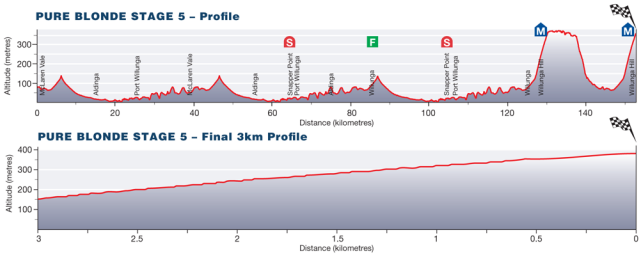 Stage 6
Stage 6 - Adelaide Street Circuit, 85.5km
Sunday 26th January 2014
Not a lot to say about this stage, other than it is a flat, fast loop of Adelaide, taking in 18 laps of a 4.75km circuit. There are 3 bonus sprints along the way, so if the overall GC is still in the balance, expect the action to be fast and furious. Two tricky bends in the last 500m will make it interesting too.

Exclusive Promo! Get an extra £10 off a £100 spend with Probikekit! Click banner and use code CPBK10 at checkout to qualify!
Contenders and Favourites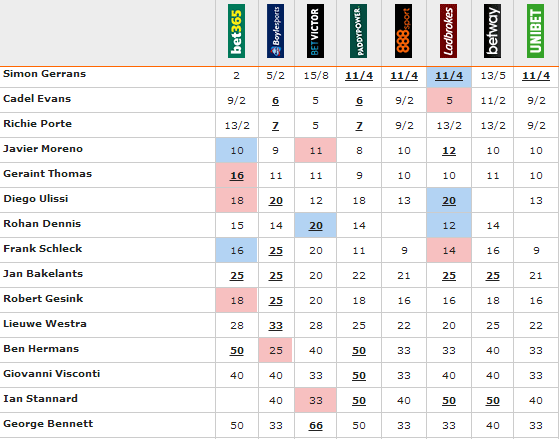 Two-time winner Simon Gerrans has been installed as the bookies favourite, ranging in price from 2/1 with Bet365 to 11/4 with Ladbrokes and Paddy Power and is a strong favourite in my mind. He didn't have a very hard race on Sunday as Cam Meyer, Durbridge and his other team mates did all the hard work for him. He just played it cool, made Evans and Porte do all the work to reel in Meyer and then jumped past them easily at the finish.
He has the sort of punchy, explosive climbing power that is perfect for these short, sharp challenges as he showed last year on Willunga Hill and has a superior sprinting kick to most of his GC rivals to steal valuable bonus seconds if the need arises. He has a very strong team with him and knows what it takes to win this race. His confidence will be high too given his National Championships win last week.
Why he may not be a good bet? He suffered from allergies last year in the early part of the race and there is the danger that could affect him again. He may not have had a hard race on Sunday, but maybe neither was he tested to the limits either. Willunga Hill will show just how good his form is, if he can put in a performance like he did last year then he will be very hard to beat for the overall.
Richie Porte and Cadel Evans share second favourite in the betting, depending on which bookie you look at they are 2nd or 3rd favourite. Evans ranges from 9/2 to
6/1 while Porte ranges from 9/2 to
7/1!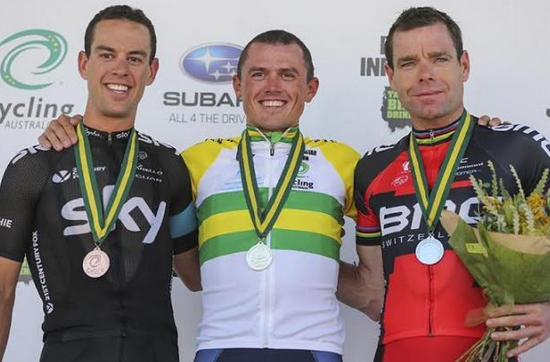 Richie Porte to me looked the weaker of the three on Sunday and his attempts at getting away were pretty average. Granted, he had to do a lot of the chasing, but so did Evans and he easily beat him at the finish. Maybe Porte wasn't tuned to anywhere near 100% and will 'improve for the run' but then you could say the same about the two who finished in front of him. He has made no secret of the fact this is a big target for him this year. He has a good team with a very able deputy in Geraint Thomas should he falter and the support of Bernie Eisel, Ian Stannard and Philip Deignan riding in his first race for Sky. I think he can top 5 it but I am not sure he can win it.
Speaking of Thomas, I have heard that he has a far bigger prize as a target later in the spring so I can't see him pushing for victory too much unless it all goes very wrong for Porte early in the race. He ranges from 9/1 to 16/1 and I don't think it is worth a bet each way, even at 16/1 with Bet365.
Evans looked strong and fit on Sunday for someone that really played down his chances. He doesn't appear too often at the TDU so I believe he will be giving this his best shot this year. I think he too could easily finish top 5 but I'm not sure he can finish top 3 - he could be caught out by the speedier types on Willunga and lose enough time to push him down the rankings. I think though that he will fancy stage 2 and 3 so they will be worth taking a look at closer to the time to see what sort of odds he will be.
Next up we have last year's runner up Javi Moreno who is priced around the 10/1 mark. Moreno was very strong last year, finishing 6th behind Slagter on the finish up Stirling Hill and finished 3rd in the stage up Willunga Hill, coming in just 10" down on Gerrans and Slagter to finish second overall on the GC. He was also 8th in 2012 while supporting Valverde so seems to come to this race with some very good form so early in the season. He seems to be off the radar a little despite his record and was available at 16/1 earlier in the week which looked a big price for a top 3 each-way bet. That price was quickly snapped up and he is now as short as 8/1 but there is still 12/1 available with Ladbrokes, who came out later with their prices so are probably not as exposed as those that went 16/1 on him!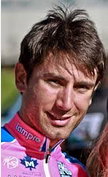 Diego Ulissi ranges from 12/1 to 20/1 and he is one that interests me a lot. He had a phomenal season last year, winning Coppi e Bartali, a stage in the Tour of Poland, Milano-Torino, Coppa Sabatini and Giro dell'Emilia. His victory in Coppi e Bartali was a step up from finishing 3rd and 2nd in the previous two years, and he also won the Tour of Slovenia in 2011, so he clearly is a very good short stage race rider. He doesn't have a great team with him but Valls-Ferri and Mori are old hands who can help him out, but he proved last year he is capable of fighting his own battles! He has said though that he is going to the TDU to build his condition so that may be a concern, but if he arrives in good form I think he has a serious chance of a top 3 finish. I see him doing very well on the climb up to Stirling and on Willunga Hill, stages that could decide the overall winner. At 20/1 I am having some of that on the Lionel Messi look-alike.
Other contenders? Robert Gesink comes ot the TDU with big ambitions, and as some are saying, he tends to ride better outside of Europe. I feel though that he has let his supporters (and backers!) down too many times to be trusted especially at odds of as low as 16/1! I think he will be found out on Willunga and lose 20-30" to the winner.
Forget Frank Schleck, I just can't see it happening unless he has been on the juice again, and his price of 9/1 with 888 is simply ridiculous. Even the 25/1 he is with Boyles I wouldn't take. I don't think Rohan Dennis can win it, despite the reports of this being a big target of his for the year and he reportedly being in good shape, remember he crashed in the TT and DNF the road race on Sunday. Too many ifs there for me. I don't think Liuewe Westra is good enough to win it from this field and the same could be said of Jan Bakelants, although at 25/1 he might not be a bad each-way bet as he is capable of a solo break that could get him a healthy advantage. Gasparotto finished over 12 minutes down last year, and I can't see him improving that much to put him in the frame this year.
The only other rider that interests me at the bigger prices is the New Zealander George Bennett, riding for Cannondale. He rode a superb race last year, finishing 5th in the young riders competition and 5th overall in the GC, just 1'02" behind Slagter. After finishing 9th in the NZ Nationals last week (2nd last year), Bennett is designated team leader for the TDU. At 58kg on a 5'11" frame he is superlight and very strong and could be in the mix on some of the hillier stages again. There are worse bets out there than an each-way bet at 66/1 with BetVictor.
In summary, I think Gerrans will take all the beating but will have a battle on his hands with Ulissi and Moreno. Evans and Porte can occupy the other top 5 places but Bennett and Bakelants at big prices might just make things interesting too. Whatever happens it will be a good race to watch and observe, there's a long season ahead yet.
**Update** I have got word from someone who spoke to Rory Sutherland of Tinkoff-Saxo today. He is confident of a big race - he has targeted this race and has come through the winter really well. He was available at 200/1 with Bet365 who are paying 1/3 the odds on FOUR places on each way bets. I had to have a little each way on that, they are now 150/1, but that could still be worth a bet given that info. **18/01, 20:00**
Main bet - 3pts win on Gerrans at 11/4 or better
1pt each way on Ulissi at 20/1
1pt each way on Moreno at 12/1
1pt each way on Bennett at 66/1
1pt each way on Sutherland at 200/1
Lay Porte for the top 3 when prices come out.