Details

Published on Saturday, 27 July 2013 23:12
Tour of Poland Stage 2:
Marilleva Val di Sole to Passo Pordoi Val di Fassa - 206,5 km
What a stunning start to the Tour of Poland for one reason - the sheer enormity of the time gaps already after just one stage! Wiggins and Nibali, two of the favourites for the overall have already lost over 9 minutes!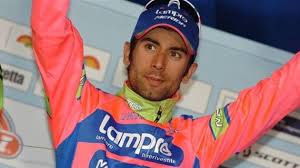 Diego Ulissi won the stage from a small leading group that formed in the last 16 kilometers and this group attacked each other relentlessly in the run in, with Pieter Weening being notably agressive. In the end Ulissi played his cards well, saving himself for the finish and easily outsprinting his companions. It was Ulissi's 3rd victory of the season, all three of which have come in Italy.
Winners on the day also you could say were Rafal Majka and Sergio Henao who finished in the leading group and put themselves in strong positions on the GC. After time bonuses, Ulissi leads on the GC but has the same time as Chris Anker Sorensen, then Atapuma is at 3", Majka at 6" and Henao at 10". Kangert lost 1' 03" and LL Sanchez 1'20" but those gaps are nothing compared to the 2'07" to Spilak, 6'29" to Uran and 9'23" to Wiggins and Nibali. I knew Wiggins was a shocking bet, but Nibali was a major disappointment. Shows what effect a lack of racing can have on a hard stage like this too.
Scarponi lost nearly 17' and Pinotti 25' after being in an early break on the stage. The race is already over for some after one day. Anyone still within 2-3 minutes though are still in the running with another hard stage tomorrow and the TT next weekend.
Stage 2
Sunday's stage two is also in Italy, another tough day in the saddle, and again will be very hard to pick a winner from.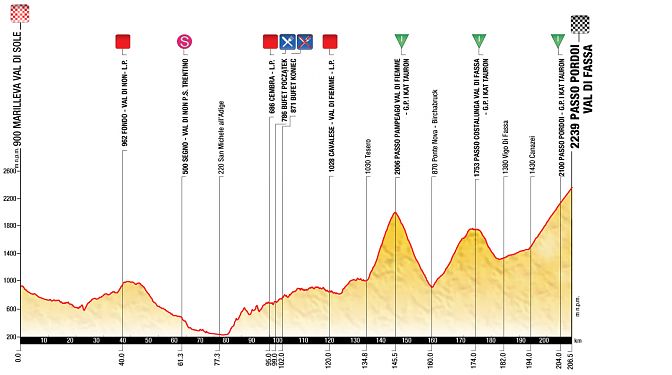 A lumpy, rolling early profile kicks up sharply once the riders hit the 130km mark and start the climb of the Cat 1 Passo Pampeago Val di Fiemme, which is 10km long and really steep in parts. The middle section averages 11.8% with the steepest part being 16%, and the last 2.7km average 9.7%. If a break hasn't gone before this climb then expect the race to be blown apart once again - although I fully expect an early break to have gone and built a healthy lead hitting this climb.
They then crest the not insignificant obstacle of the Passo Costalunga, which is 9.3km long and starts off with a section that hits 21%!! The rest of the climb isn't as bad, although it still averages about 7.5%. This again should be a stepping stone for maybe the next wave of attacks who want to try to get away ahead of the final climb of the day to the finish, the Passo Pordoi.
The Passo Pordoi summit finish
In terms of length it is the longest climb of the day at 13km but it is actually easier than the other two climbs, with the average coming in around 6% and the max only 9%. If someone, or a small group has got away on the Costalunga they might have a fighting chance of holding on till the finish. There is no levelling off or flat sprint to the line, this is uphill all the way to the line, with the final few kms averaging around 6%.
Favourites and picks for the stage
I have to commend Bet365 once again on being the only bookmaker offering odds at the time of writing on tomorrow's stage. The problem with that though is it is hard to try to pick out value bets when you are faced with only one set of odds. As it is, they have made Majka 2/1 favourite for the stage, and although he rode well today and finished with the leaders, that is a ridiculous price given how competitive and unpredictable the first stage was. So at 2/1 I am not touching that, if I could lay that price on Betfair I would lay it all day long too.. But unfortunately, there is no liquidity on Betfair tonight for the market..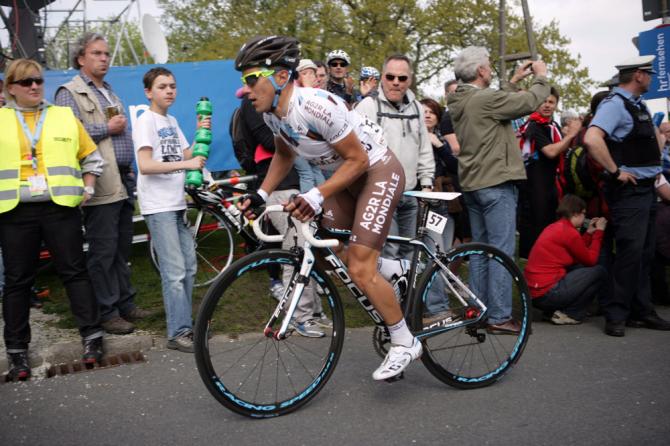 One who does catch my eye thoughis Domenico Pozzovivo at 11/1 - the pocket rocket had a good day today, finishing 6th on the stage, but he also managed to not do so without really showing his hand or having to work too hard on the front. I don't think he attacked all day and still had the legs to compete for the sprint at the finish. He will love that sort of climb at the finish and may well try to get away on the penultimate climb of the Costalunga.
Henao is a low priced 11/4 and I think that is worth steering clear of too. He did finish with the winning group today, so is going ok, but I think if he was really going well we would have seen him jump off the front at some point and try an attack to win the stage or gain time. I don't think I saw that happening while I was watching - so maybe he is going ok, but not great. Enough doubt to not want to back him at that price.
Ivan Basso rode well today to finish in the lead group but again, at only 15/1 to win the stage, that is too short. He has neither the power to get away on a long climb like that any more, nor a finishing kick to win from a reduced group of the likes of Pozzovivo etc.
Christophe Riblon came in a few minutes down today so is obviously still recovering from his Tour de France exploits, but tomorrow is the kind of stage that he will love to get in a breakaway on. At 66/1 he may give you something to get excited about for a few hours, and if he gets to that last climb with a few minutes, who knows - look at Alpe d'Huez!
After that it really is stick a pin in a page time as any one of about 50 more riders, like Ulissi today (or indeed Gallopin in San Sebastian) could come good on the day. A small e/w is recommended on Pozzovivo with a small win only on Riblon for a bit of fun at 66/1.