Details

Published on Friday, 19 July 2013 00:43
Stage 19: Bourg-d'Oisans to Le Grand-Bornand, 204.5KM
What a day, what a stage, what drama and action. The much-hyped double ascension of Alpe d'Huez lived up to its billing and gave us a day to remember for many reasons. Right from the flag drop there was furious action and we were lucky for once to have it live on Eurosport as riders attacked relentlessly trying to pressure Froome.
Right from the flag drop there was furious action and we were lucky for once to have it live on Eurosport as riders attacked relentlessly in the opening kilometers, trying to pressure Froome. It worked, sort of, in that after only a handful of kilometers the race was blown wide open, with a break up the road and the main GC group whittled down to a select few. Froome was isolated and Daniel Martin and several others were under pressure after less than 15km (Neil Martin, Dan's dad tweeted tonight that he is unwell...).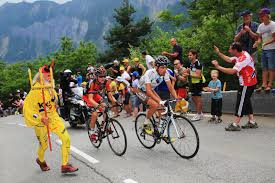 But it settled down after the Col de Manse and a break established a very healthy lead, one that would eventually see the winner, Christopher Riblon home ahead of the desperately unlucky Tejay Van Garderen. But the stage was packed with drama - the leading trio of Van Garderen, Riblon and Moser hit the descent of the Sarenne with a 7 minute gap. TVG dropped his chain and had to stop. Riblon lost control on a slippy bend and ended up in the grass verge, luckily it wasn't one of those bends with a precipice at the edge. I backed TVG at 5/1 in play for the stage at this point as he looked the strongest of the three. Then Van Garderen caught, and rode away from Riblon and established a 45" gap the last time up l'Alpe. It looked all over and he traded to 1/5 where I traded back out of my bet, as I posted on twitter at the time.
In the end, Riblon caught and passed him for a superb first stage win for France and his first win since 2010. Behind the drama continued. Froome and Porte put Contador and Valverde out the back door. Froome attacked, Quintana and Rodriguez covered it. Then Froome was in trouble - he clearly bonked and needed some sugars, Porte went as delivery boy, Quintana attacked and gained a minute at the end. Froome was also docked 20" for feeding in a restricted area, but the 20" penalty was probably worth it considering what he could have lost in the final 5km after hitting the wall. I tweeted that I layed him at 4/5 for the top 3 with about 30km to go so that bet won.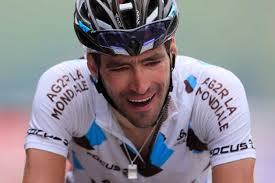 Andy Schleck gave it a go like I expected him to and traded to about 10/1 from the 36/1 I backed him at, but he attacked when the gap was 8 mins and was too tall a task. Valverde struggled but recovered well to finish just 4" behind Froome. I was sure Rodriguez was going to land the top 3 bet as he and Quintana went in chase of the leaders, but suddenly the cameras cut to the forgotten man Moser, who crossed the line just ahead of them in 3rd. In the end Quintana showed superb strength to pull away from Purito so he wouldn't have taken third anyway! So with the in play trading on Van Garderen and the lay of Froome for the place I finish with a small loss. The match bets came very close too, 5 of the 6 won, with just Fuglsang pulling out a storming ride to finish 15" ahead of Kreuziger, who had to wait for Contador - so very unlucky on landing a 6/1 winner there. Mollema suffered as I expected too, so the lay of him for a top 6 at odds on was a good bet, he is now 5/1 despite still being in 6th place..
On to tomorrow's stage, and it is going to be another monster. There is actually more climbing in tomorrow's stage than today's with the fearsome Col du Glandon early on followed by the equally hard Col de la Madeliene. These two HC climbs should see some furious action early on and we could see the same tactics from Movistar and Saxo employed again, looking to isoloate Froome early on. On that point, Richie Porte was simply awesome today and without him Froome could have lost 3 or 4 minutes. The way he rode back up to the leader with about 8km to go was just extraordinary. Froome on the other hand struggled for once and had to go deep in to his reserves to fight to the finish. It will be interesting to see how well he recovers, but you can be sure that the opposition smell blood.. What a tour we would have without him by the way, with only 47" still seperating 2nd to 5th!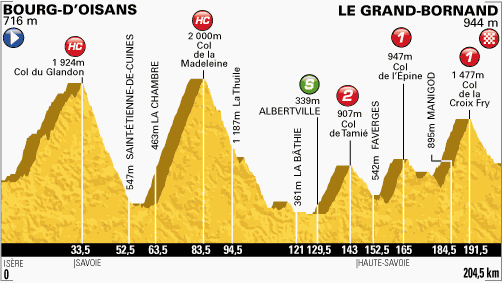 We are probably going to see a break go on the Glandon that may ride most, if not all the way to the finish. They will find it very difficult to stay away though, given the profile of the run in, and especially if the pack are attacking Froome for the GC. There were a lot of shattered bodies on the Alpe today and I wouldn't be surprised if some really struggled again tomorrow. It's been a hard tour and riders are getting very tired now. One thing that will probably have an influence on the day's action will be the fight for the polka dots, and with Froome and Quintana more focused on the bigger prize (and the white jersey) it will fall to Nieve, Riblon, Van Garderen and Rodriguez to fight for it as only 18pts seperate them, and there are 75pts up for grabs.
It's actually a really hard stage to call as any one of many many riders could win tomorrow. If a break, or a solo from a break wins it, it will be an epic ride. Most likely it will be reeled in though ahead of the final climb so who will be left and who is likely to win?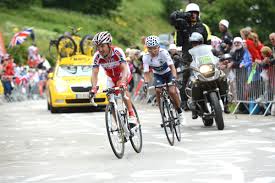 Van Garderen and Riblon had a very hard day so I doubt they can go in an early break away tomorrow in the search for points. Rodriguez to me is an ideal candidate for the stage again tomorrow given the profile of the closing 60km or so. If the key GC guys are together going over the Col de la Croix Fry he will surely fancy the stage - he has been training on these roads in preparation for it. He seems to be getting stronger and stronger but just found the high pace of Quintana on the Alpe a little too much today. He is just slight favourite at 8/1 but I think he has a great shout at winning this one. If there isn't any break goes due to relentless attacking by the GC chasers over the first two climbs, Rodriguez and Nieve could well battle for the points on the HC passes. I already backed Purito at 19/1 for the KOM prize before the Tour, and although it will take an incredible performance from him to take enough points tomorrow to take the jersey, it also wouldn't surprise me if he goes for it. If a select group of 5 or 6 get over the last climb together, he would be strong favourite to take it.
There should be some furious attacks on the final Col de la Croiz Fry, as it has some steep parts of 8 and 9% and it is only 13km to the finish from the top of it. If a lone break has a minute or so going over the top they will probably win the stage. I don't think Froome has any interest in winning tomorrow after the day he had today and is rightly 34/1 for the stage. Qiuntana may well attack on the final climb, but could be reeled in on the descent and done by a faster finisher like Purito. If he is reeled in, a passenger in that chase could well be Valverde and he too would have a chance tomorow given his strong finishing kick. Contador won't win it, save your money if you are thinking of backing him. Rolland won't, Voeckler won't and even though he is being backed a little, I don't think Nieve has the power to distance the favourites enough to stay away and win.
So who else could win besides my two fancies Valverde and Purito? Bart de Clercq has put in some seriously good performances in the mountains and is far enough back to maybe try one jump on the final climb and maybe be let go at first. John Gadret is another who has been under the radar but also putting in solid enough performances - with his colleague Riblon taking the stage today he might ride with a new found spring in his step and try something on the last climb, or maybe even before it. At around 70/1 each of them, they might be worth a small bet each. If Rui Costa can stay with the leaders until the last 2 or 3 climbs I wouldn't be surprised to see him try something similar to his stage winning ride - he rolled in with the grupetto 25 mins down today and will have saved some energy for another crack maybe tomorrow. At 38/1 or so he is worth a small bet too.
As ever I will be tweeting live updates in play, but for now, I have backed Rodriquez to win, with a small bet on Gadret and de Clercq and Costa.