Details

Published on Tuesday, 16 July 2013 23:39
Stage 17: Embrun to Chorges, 32km ITT
First a quick recap on Tuesday's stage, which was fast and furious right from the off as and a large break went and stayed away for the day as expected..
The break had three of my picks in it in Albasini, Adam Hansen and Philippe Gilbert, giving us plenty of reasons to get excited. Sagan tried an early break that got about 30 seconds and his price immediately tumbled from 11/2 down to 7/2, which I layed some of as it was far to short 5km in to the race! But Gilbert's break stuck, with some 26 riders gaining over 10 minutes on the Peloton who were in snooze mood.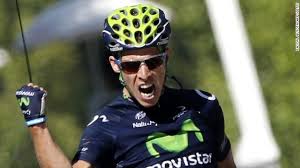 My 150/1 shot Adam Hansen was the first to kick things off on the final Cat 2 climb, but unfortunately he quickly ran out of gas. The pace went up and riders were shelled quickly, and also disappointingly, Albasini was one of them. The stage winning move came though from Rui Costa who powered ahead of Roche and the rest to solo to his second TDF victory, following a similarly powerful ride up to Super-Besse a few years back when he caught Vinokourov in the run-in.
Behind though, things were heating up too, as the peloton was also blown to pieces and the GC leaders battled going up, and down the Col de Manse. Contador pushed things a little too far, came off and almost caused Froome some issues, but he clipped out, steadied himself and took off again. They came in more than 10 mins down but more importantly, Ten Dam and Fuglsang lost a minute and both slipped down the GC. So we didn't pick a winner, but hopefully I put some of you off backing Sagan, Chavanel, De Gendt and Voeckler..!
So on to Wednesday's stage and the small matter of the Christopher Froome show. He is as short as 1/4 to win this TT, but there is some 4/9 available on Betfair. Let's face it - if Tony Martin was a penalty kick to win the first TT at 1/2, then Froome is the bet of the year. The only thing that will beat him is an accident or incident. There is a possibility of rain tomorrow afternoon and depending on where you look, the probability ranges from 40% to 70% chance of rain. I asked Australian journo and former pro Scott McGrory tonight whether he thought it would rain and whether the riders will be using road bikes as I expected they might or TT bikes. He replied to say he had just got it straight from a DS that most will be on road bikes with clip on bars and that he could see lightning over the Alps as he wrote that.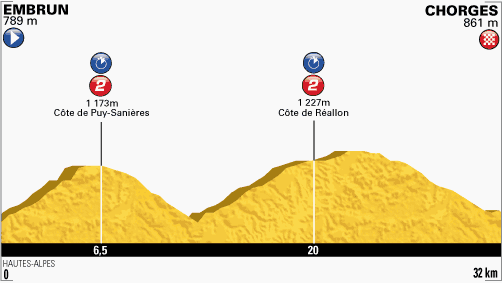 Why is ths important? Well tomorrow's stage is a really hard TT, even if it is only over 32km. It starts climbing right from the off up out of Embrun and up the Cat 2 Puy-Sanieres which averages over 6% (parts at 9%), then down a fast descent before starting the next climb straight away up the Côte de Réallon. This is also a Cat 3, averaging 6.3% for 6.9kms. Then a bit of a false flat before another tricky descent to the finish. The first rider, Svein Tuft, heads off at 10.17am (CET), the rain is forecast to hit around 2pm and Chris Froome is off at 4.33pm (CET). If the rain does come, then it may change the race a little.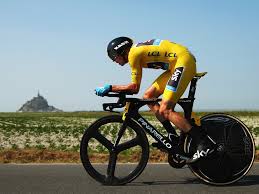 I honestly don't think it will change the outcome as regards the winner though as Froome could win this by well over a minute in normal circumstances. His performance in the TT in Mont-St-Michel was unbeliebable and he has clearly shown he is the best climber by a mile on Ax 3 Domaines and Ventoux. The one thing that will maybe be at the back of his mind (and mind you, on the back of the mind of most of the riders) is the fact they go over Alpe d'Huez twice the next day and have a very hard few days coming in the Alps. I still think he will want to win this stage and even going at 90% effort he should do it.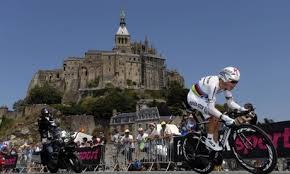 The battle for the other top 3 places is where the real action will be though. Tony Martin is currently second favourite around 18/1 on Betfair, but it is the 'Top 3' Market on Betfair I am interested for one big reason - the bookies have put on a pathetic showing for tomorrow's stage, with most not offering each-way betting at all, and others offering a pathetic 1/5 the odds on the first 2 home. Martin for example is a paltry 8/1 with the E/W betting, he is as big as 16/1 elsewhere, but no E/W. So I am sticking with the Betfair top 3 market tomorrow. I think Martin will secure a top 3 spot - he is clearly after recovering from his crash given his performance in the first TT, is actually a better climber than some give him credit for, and as he is going off before the rain is forecast to fall he could have an edge over some of the GC leaders. At 3/1 for a place, that's my main bet.
Contador is the next in the betting, but I won't be backing him at 13/8 to place. The course may suit him but I don't want to be backing him at that price, he is not the Contador of old and he didn't do a great first TT. I wouldn't be surprised if 2 or 3 riders beat him home, so he is actually a lay for me Betfair's top 3 market.
Quintana may well finish ahead of Bertie but he is a bit skinny at 5/2 so I might leave that. One that I think could put in a big performance at a big price though is Richie Porte who is 8/1 to place in the top 3. He has clearly got his legs back and can climb and TT with the best of them. The only worry would be that he had a hard day today chasing Contador and co. and also that he may be instructed to take it easy with the Alps in mind. So a small bet at 8/1 is advised given those caveats.
After that it is really up in the air, with Mollema, De Gendt and Kreuziger all with chances of doing a big TT, all are around 6/1 - 8/1 to place. Can't really see any other riders troubling the above for the top 3.
So a big bet on Froome if that is your thing, Martin to Top 3 it at 3/1, a lay of Contador at 13/8 and a little go on Porte at 8/1. I will add some match bets tomorrow maybe if I get a chance and see any that interest me. Watch the comments for that.