Stage 16: Vaison-la-Romaine to Gap, 168km
And on we go with stage 16, a short spin to Gap. The riders will have rested and recovered a little after their efforts up Ventoux on Sunday, but rest day can often be far from restful with media duties, family visits and so on.
Most of the riders will have gone out for a shortish training spin though just to keep the legs ticking over, but rest days can often have a funny effect on riders form after such hard racing every day. But they will have to be ready to go on Tuesday morning as it looks like this will be flat out from the flag drop with riders fighting to get in the break of the day, as there will almost certainly be one form early.
They tackle a Cat 3 climb after just 10km or so and almost straight after that start the Cat 2 climb of the Col de Macuegne which rises for about 25km, getting steeper in the final 10km. From there on though, any break that has established itself may well build up a big advantage as it rolls along for the next 100km or so. About 35km of it are downhill and then it starts a long drag for about 60km to the uncategorised La Roche Des Arnauds, before a short descent and then start the final climb, the Cat 2 Col de Manse where we are sure to see frenetic action.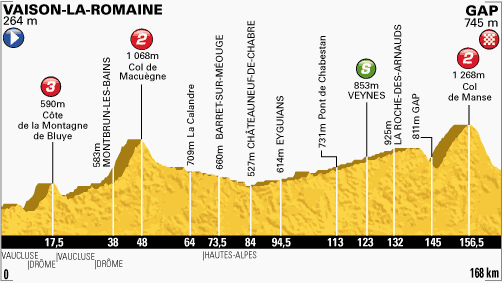 The finish to the stage is only 12km from the summit of the Col de Manse, down a tricky descent which has seen some drama over the years. Who can forget this incident when Beloki crashed out and Armstrong took to the corn field in 2003, and in 2011 Contador attacked Schleck repeatedly up the climb and together with Evans, aided by wet roads, pulled out a minute on Schleck by the finish. The forecast is for rain again tomorrow so watch out for more drama like that, we are sure to see Contador try to put Froome under pressure on the descent, given his performance against Nibali on that stage in Tirreno-Adriatico.
Sagan is favourite for the stage at a general 5/1. I looked at his price today on Betfair and it looked a generous 8/1 but I didn't back him then. I looked just now and he is 11/2 so I am not happy with myself! He is likely to try to get away in the break as he always does on stages like this, and if he does get in a break early on he will be 2/1 before you know it. If it comes to a breakaway sprint he is likely to win it. If the peloton reels in the break of the day but it is a drastly reduced peloton he will probably win it, as the other sprinters will not make it over the last climb with the GC boys. So if you fancy him to get in the early break, take the price, you'll be kicking yourself after 30km if he is in the break! I'm going to leave him alone though and look for value elsewhere.
I picked out Sergio Paulinho as a possible candidate for the break on Saturday but he didn't make it. He won a stage in to Gap in 2010 so clearly likes the area. With Contador probably not needing him tomorrow, and the possibility of him saving himself Wednesday in the hill TT, he may well be left have a go today. At 250/1 he is worth having a few quid on.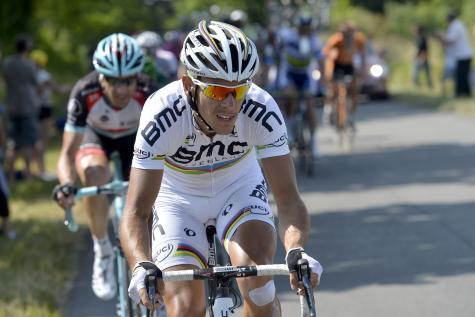 My next bet is one I have thought quite a bit about since watching his performance on Ventoux on Sunday - Philippe Gilbert. I was surprised and pleased to see him find some form and some climbing legs as he rode with the leaders for quite a bit of the climb, up until Sky started to turn the screw. That was not a big deal getting dropped then, there were far better climbers than him in trouble long before that. He has been very quiet so far, has had few opportunities but BMC really need a stage win and a big performance from the world champ before long. The terrain is his kind of terrain and if he is in the leading break nearing the top of the final climb I expect him to take a flyer with a km or two to go to the top. At 14/1 he is worth a bet, I am trying to get matched at 18/1 on Betfair.
Michael Albasini almost hit the jackpot for us Saturday and I think he will be desperate to make amends for blowing what should have been his stage. Again, the route is perfect for him, he will easily cope with the climbs they face and should win from a breakaway sprint should it come to it (as long as Sagan isn't there!) He is a little shorter this time at 36s but still worth a bet I think. He is also worth backing to place just in case he gets pipped again. At 25/1 with Bet365 and Coral he is worth backing each way if you don't do betfair.
Of the other favourites, Chavanel I think will be too tired after his big effort on Ventoux on Sunday, although someone clearly fancies him as £500 was looking to back him at 16/1 on Betfair, £350 of it is still there. I am giving up on Voeckler now, looks like his injuries are still affecting his form, he has done nothing of note so far (watch him solo to victory tomorrow now after that call!). I can see De Gendt maybe saving himself for the hill TT on Wednesday so I don't think he will go either.
Plucking a few other long shots out of the air for likely breakaway candidates, Adam Hansen has been quiet but won a wet stage over lumpy terrain in the Giro so he might get involved tomorrow, worth a small bet at about 150s on Betfair, the only other bookie pricing him up is
Paddy Power who go 66/1. I picked Fedrigo on Saturday, he got in the break Sunday instead, so must be in ok form. FDJ need some success though given Pinot's abysmal showing so he could go again at around 33/1. Finally, a break wouldn't be a break without Flecha yet he has missed the last two big breaks! Either he is tiring after all his action in the first week or else we may well see him again tomorrow - I missed the big prices (as big as 180s traded on Betfair, as low as 38s (!) - lunacy given he is freely available at 66/1 elsewhere...)
So Gilbert the bet of the day for me with Albasini, Paulinho, Hansen, Fedrigo and Flecha taking small stakes at big prices for a bit of fun.
Good luck, and as ever, these are my own opinions, make of them what you will and please gamble responsibly.