Stage 12: Fougères to Tours, 218km
So the forecast of Martin-Froome came in as expected, but boy was it closer than I or many others thought it would be with some frantic market moves in the last 10 minutes or so!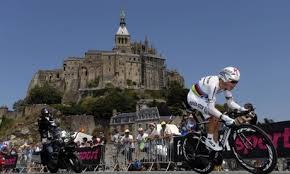 Tony Martin did as I expected him to do to land the odds of 1/2, but that doesn't tell the full story.. The 'Panzerwagen' blitzed the course in his 58x11(!) to clock an unbelievable 54.27kmph for the 33kms. No one came close to him all day and he traded to a low of 1.08 as Froome hit the road with over a minute lead on his closest rival.
But then the splits came - Froome was slightly ahead! Then he was 2 seconds ahead at the second split! Cue panic in the market as Froome traded odds-on from 6/1 and Martin went odds-against. I tweeted at the time that Martin's last third had been particularly fast, seemed to be where he made a huge difference to his time, and I was confident that Froome wouldn't hold the pace all the way.. so I couldn't help but lay Froome at 1.9 and back Martin at 2.06.
Some say he may have purposely eased off to save energy and avoid the scrum and media hassles of stage winner after.. maybe so, but either way I think Martin had him anyway! No matter what though, it was an unbelievable ride from Froome too as he all but destroyed all of his GC rivlas to extend his lead to 3'25". Kwiatkowski rode a great TT but just fell short of landing us the place money, coming in 5th, just 30" behind 3rd place, which was filled by a stunning ride by Thomas de Gendt - he was 90s to place before hand!! There was a bit of a shake up in the GC with Mollema moving up to 3rd and Kwiatkowski moving up above Quintana in the fight for the White. Dan Martin slipped down to 13th, but there's only 68 seconds separating positions 7-13.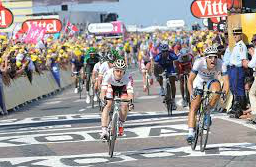 So on to Stage 12, another day for the sprinters, another battle royal between Kittel, Cav, Greipel and Sagan should be the outcome. Cav is once again the favourite at 6/4 on
Betfair, despite the calamitous finish to Stage 10 two days ago. There isn't much between the two Germans then, with Greipel edging it slightly at 9/2, Kittel is 5/1. Personally, I think Cav knew what he was doing when he gave Veelers that nudge, it was a 'don't try that move on me pal' type of bump as Veeler's eased in to his path a little. I don't for one minute think he wanted to bring him down though, he isn't that type of rider, just wanted to try to put him in his place a bit.
So there are two ways things could go for Cav tomorrow I think - he either bounces back and shows the world he's the boss, full of power and rage after Monday (and Tuesday's pee-throwing incident!) and lands the generous looking 6/4 odds; or else he gets in a bad position again, isolated by his stuttering leadout train and decides, sod it, I don't want another incident and eases off - in which case a lay of him to place at 4/7 would be the bet!
Greipel looked the winner on Monday only for the cobbles to break his momentum and Kittel's late surge was super fast. The route for today's stage is flat and straight, but the organisers, rather devilishly given the outcome on Monday, have included TWO 90 degree turns in the last Kilometre!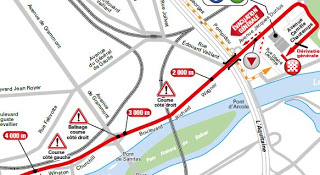 So positioning and leadouts will be vital - whoever goes through the last bend in 2nd wheel behind his leadout man will probably win. That scenario would point to Greipel as his leadout train seems to be functioning the best, but OPQS could pull it out of the bag if Steegmans can get it right this time. But don't rule out the bike handler supreme Sagan, he may well pick the right wheel to dart through that last bend in a great position. And of course there may well be carnage with all those sprint trains fighting for those last two bends!
So it is actually a hard race to call a winner from. I do think though that the 6/4 on Cav right now on
betfair is a price worth taking as he will definitely shorten to closer to evens closer to the finish. He is best priced 11/8 with
Paddy Power. It might be worth laying off a little then if so in case something happens. If you do think there is a danger he gets squeezed out and eases then it might be worth a place lay at 4/7 as a sort of hedge against the win bet. I think Argos-Shimano may not be as brave tomorrow though and wouldn't be surprised if Kittel loses out to Sagan in the top 3 - Greipel I think is a solid top three bet at 5/6, and may even make it three German stage wins in a row!
Oh and one for fun - Cyril Lemoine is the local boy today, like Julien Simon on Monday, expect to see him in a break so a bet at 250/1 with Bet365 might give you a little fun.
Bets: Back Cav at 6/4 (2.48), lay some around evens with 5km or so to go.
Back Greipel for top 3 place at 4/5 (1.80)
Lay Kittel Top 3 at 4/5 (1.81)
Bet £50 to get a £50 free bet with Paddy Power! Click here to avail of this great offer!